Preston North End

v

Ipswich Town

Friday 19th April 2019 – 15:00


Deepdale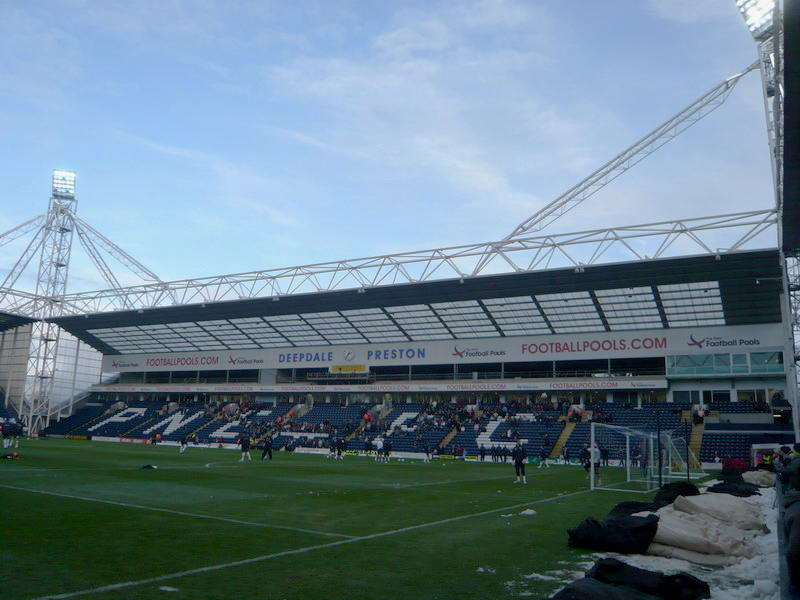 Pre-Match Thoughts - Bluemike
We Knew It Was Coming But......




1962, 1978, 1981, 2000, 2019, all dates that have embedded themselves firmly in the annals of the history of Ipswich Town Football Club, of course Four of them remind us all of glorious glorious times which will forever be remembered by us all, sadly the latest date is going to go down in our history for all the wrong reasons, after a stay of over Sixty years in English Football's top Two divisions we now find ourselves consigned to plying our trade in the Third tier for the first time in mine and many other Town fans life time.

As I stood on Saturday watching the game and with it our time in the Championship ebbing away I could not stop the flashbacks in my head of happier times, remembering how I stood as a kid just a few feet away from where I stood Saturday, watching us take apart Man Utd 6-0, Barcelona 3-0, WBA 7-0 etc etc, the list is endless, cheering on the greats, Beattie, Wark, Mariner, the Two great Dutchman, again the list is endless, every now and again coming back to the here and now and what was unfolding in front of my very eyes and the reality of what it means, we had all been expecting it for some weeks and yet deep down realisation was hitting me with a vengeance.

The blame game as to who is responsible can go on forever and a day and this is not the time or place that I want to go over it again, right now I am tired of it but all I will say is it goes back much further than many realise. The final whistle brought a lump to my throat but this was not to be the end of my emotions by any means, with relegation now confirmed the players stood rooted to the spot, some fell to the ground, Chambers in tears, Nsiala in tears, Judge holding his head, but there was no booing or unrest, instead what we delivered was something I will never forget, the North Stand rose to a a man and saluted our beaten players in a way I never dream't was possible, it was a incredible few minutes, Paul Lambert stood and just gazed in amazement with his players doing likewise as if to say how can this be !!

The fightback starts now, it has to, we don't belong in League One and hopefully the stay will be brief but it won't be easy, far from it but with a togetherness like what I saw on Saturday we have a chance, keeping it together is the key, some will try to derail it with their negativity no matter what happens going forward but hopefully they remain in the minority, we are all despondant after all but it's how we react to the situation that will determine how quickly we bounce back.

I honestly thought I was well prepared for Saturday and accepting of our situation, I wasn't. Having left the stadium and starting the long walk home the battle to hold back the tears was tough, clearly my attempts were fruitless as it took a comforting hug from HallamBlue who was clearly aware I was feeling it, ITFC are a massive part of my life and it means something so it had to come out. Already that is in the past and it is the future I am focusing on now, I think it is vital that for me at least I have to believe better times are ahead, from what I have seen in recent weeks we need fear nobody but that is for another day, this season needs to be concluded first and the sooner the better but next up is Preston North End, will I be there, you betcha. ITID.
The Opposition – Preston North End
Preston North End was originally founded as a cricket club in 1863, by Mr Walter Pomfret of Deepdale Road, who was the first person to rent the field on which North End has always played. The original rent was £8 per year. As Preston already had a strong town's club, they adopted the "North End" suffix because they moved to the North End of the town when Moor Park opened, playing their matches at Moor Park. Prior to that they played at Bow Lane. The club adopted rugby union code in 1877, but one year later they played their first game under the rules of association football, and in May 1880 unanimously passed a resolution to adopt the association code.

Preston North End were famously successful during the early years of professional football in England. In 1887, Preston beat Hyde 26–0 in the First Round of the FA Cup, still a record winning margin in English first-class football. Preston forward Jimmy Ross scored eight goals in the match, going on to score 19 goals in the competition that season, also still a record.

In 1888–89, they became the first league champions and the first winners of "The Double", becoming the only team to date to go throughout an entire season unbeaten in both the league and FA Cup – winning the FA Cup without conceding a goal.

Preston were league champions again the following season, but have not won the title since. The club's last major trophy was an FA Cup triumph in 1938.

Preston were relegated to the Second Division in 1961 and have not played in the top division since. The club did reach the FA Cup final in 1964, but lost to West Ham United. Preston were relegated to the Third Division in the 1969–70 season. The club won the Third Division title at the first attempt and so returned to the Second Division.

Bobby Charlton, an England World Cup winner from 1966, was appointed Preston manager in 1973, but was unable to prevent the club from sliding into the Third Division in his first season and left after two years in charge. A brief respite in 1978 saw Preston win promotion back to the Second Division, but go down after three seasons. In 1985 the club fell into the Fourth Division for the first time in its history.

In 1986, Preston finished second from bottom in the Fourth Division and only avoided dropping into the Football Conference because the other Football League members voted in favour of the division's bottom four teams retaining their senior status.
A year later Preston won promotion to the Third Division and they were still at this level until 1990 when they were relegated from the first season of the new Division Two.

Preston were Division Three title in 1997, and in February 1998, 34-year-old defender David Moyes took over management of the club. Preston quickly developed into Division Two promotion contenders under Moyes, reaching the 1998–99 play-offs but losing out to Gillingham in the semi-finals, before finally being promoted as champions a year later.

Preston began the new millennium by winning promotion from Division 2 in the 1999–2000 season as champions. The club almost made it two promotions in a row in 2001 but lost 3–0 to Bolton Wanderers in the Division One play-off final. Moyes left for Everton in March 2002.

Preston were little more than a mid-table side until the 2004/5 season when Billy Davies took over and guided Preston to the Championship playoff final in his first season as manager, but they lost to West Ham United. The club reached the play-offs again the following year, this time losing out at the semi-final stage.

Preston spent much of the 2006–07 season in the automatic promotion or play-off places. However, from March 2007 the club slid rapidly down the league. On 11 July 2007, Nugent, the first Preston player to win an England cap for 50 years, left the club to join Portsmouth for a reported transfer fee of £6,000,000 and they did not recover from their poor run of form.

After a bad start to the 2007–08 season which saw the club pick up just three wins, Paul Simpson was sacked as manager on 13 November 2007 and Alan Irvine was appointed as Preston's new manager on a three-and-a-half year deal. He achieved his first objective as manager by finishing in 15th place, thus securing Preston's survival in the Championship.

The following season, he led Preston to 6th place in the Championship after a good run of form towards the end of the season, qualifying for the play-offs.

On 29 December 2008, Irvine was sacked after a poor run of results, with the club appointing Darren Ferguson as his successor and he narrowly secured their survival in the Championship.
In the 2009–10 season, Preston finished in 17th place and in the following season they were bottom of the Championship when Ferguson was sacked at Christmas.

Former Hull City manager Phil Brown was appointed as Ferguson's replacement, but could only achieve his first win in his 13th game in charge. This sparked an improved run of form, but could not prevent relegation to League One.

Brown was sacked on 14 December 2011 after less than a year in charge. After four weeks of interviews, Preston approached Stevenage manager Graham Westley and he was appointed manager on Friday 13 January 2012. Following a poor string of results, including a club record run of 12 home games without a win, Westley was sacked as Preston manager on 13 February 2013.

On 18 February 2013, it was confirmed that Simon Grayson had taken charge of Prestonand by the end of the 2012–13 season Preston were safe in 14th place, 11 points clear of relegation.

Preston won promotion to the Championship after beating Swindon Town 4–0 in the League One play-off Final on 24 May 2015, having failed in their previous nine appearances in the play-offs.

Since promotion to the second tier, Preston have achieved two successive top-half finishes despite having the third-lowest budget in the Championship, relying on a shrewd transfer policy and the development of young, relatively inexpensive players.

Last season Preston just missed out on featuring in the playoff's, finishing in 7th place with 73 points.

The Manager – Alex Neil
Form Guide
Preston Last 5 Matches - Currently in 12th place with 57 points
16 Mar Preston 1 - 0 Birmingham City


30 Mar Reading 2 - 1 Preston


6 Apr Preston 0 - 1 Sheffield Utd


9 Apr Preston 0 - 2 Leeds Utd


13 Apr West Bromwich 4 - 1 Preston
Ipswich Last 5 Matches - Currently in 24th place with 28 points
16 Mar Ipswich Town 1 - 1 Nottm Forest


30 Mar Ipswich Town 0 - 2 Hull City


6 Apr Bolton 1 - 2 Ipswich Town


10 Apr Brentford 2 - 0 Ipswich Town


13 Apr Ipswich Town 1 - 1 Birmingham City
Marko's Caption Contest
Birmingham scores:



Frosty 5pts
Bluemike & Tangfastic (face transplant) 4pts
BluePeter & Nicscreamer (finger) 3pts
Number 9 & Shed on Tour 2pts





LEAGUE TABLE




ANDO 98
NICSCREAMER 93
DERICKIPSW 91
FROSTY 73
BLUEMIKE 71
TANGFASTIC 64
AYLESBURYBLUE 64
BLUEBLOOD 55
NUMBER 9 49
IPSWICHTOWNNO1 39
WATERSHIP DOWN 24
BLUEPETER 21
KERRY BLUE 15
JOHNNYB 15
BLUE WILF 14
PATTHEGIMP 12
SHED ON TOUR 10
TODD66 6
MASSEYFERGUSON 6
BARMY BILLY 6
QUASAR 4
ASHFORDBLUE 2
MARVINBAY1973 2
GOLDANDBLACK 1
CHARNWOOD 1
KL BLUE 1
OHIOTRACTORBOY 1





PNE CAPTION



Match Referee – Stephen Martin
PRESTON NORTH END

1

IPSWICH TOWN

1