Ipswich Town
vs
Sheffield United

Saturday 22nd December 2018 - 15:00


Portman Road
Pre Match Thoughts - Mike
Build On It !!


I think it is fair to say that we have had very little in the way of luck or good fortune this season, especially in the early days of Paul Hurst's reign when some absurd decisions were coming our way, so I was overjoyed when Freddie Sears shot took a deflection to divert the ball past the Wigan keeper Saturday past, I think it is no more than we deserved and if the old saying is true that luck evens itself out over the course of the season then we still have a fair few strokes of it to come our way which could go am long way in us pulling off the great escape.

The game itself was played in atrocious conditions, bitterly cold, swirling wind and rain, you name it but it mattered not at 4.55 Saturday evening as we claimed our first win under Paul Lambert's leadership, it may only be One win but it could prove to be massive, winning breeds winning and helps build confidence and with some very winnable games coming up the timing could not be better. With results elsewhere going pretty much exactly how we wanted them to go the gap is again down to a far more manageable Five points and that is around where we need to be come January 1st. Before that we have Three very tricky looking games to overcome and I would be over the moon if we could glean Three of Four points from them, a tall order indeed but this is a notorious time of the season for strange results and upsets so nothing can be discounted.

I think we are all too aware of the old saying that if you are bottom at Christmas you go down and as we are guaranteed to be bottom on Christmas day the omens are not good, I believe only once before have a team escaped form that precarious position so while the odds are heavily stacked against us it is not impossible to do, I am certain Lambert and the boys are confident we can get out of it and with the prospect of new faces coming in that should also give us a big lift with some new faces around the place. The gaffer has made no secret of the fact the fans play a major part when onside and the atmosphere against Wigan was once again superb, away from home the support is incredible and needs no geeing up so to get it at home too is a big plus and can act as the extra man, we really do have to keep it going and ramp it up even more.


New Faces


Talk is already doing the rounds on who we may or may not be looking to bring in during the window, some names excite me while One or Two others leave me deflated, of course as yet it is all speculation but to have the likes of Gestede, Carter-Vickers & Marshall linked is quite inspiring as I believe these are the type of quality of player we need and if we secure them we will stay up, I am certain there will be One or Two that go under the radar too and arrive as surprises. The likes of Waghorn, Wickham & Murphy have also been mentioned but it is a massive no thanks from me for all of them to be honest, sicknotes and yesterdays men as far as I am concerned and we just cannot afford to take risks on anyone and get this wrong, we will only have one shot, lets not blow it.

Having the likes of Tristan Nydam, Luke Woolfenden, Josh Emmanuel & Ben Morris back would be like new signings too and I would not be adverse to all of that quartet returning, Nydam in particular should never have been sent out in the first place and was looking good in Pre Season.


Time To Blunt The Blades


I've got to be honest when I plotted our way to the great escape a couple of weeks back I didn't have us down as getting anything from this game against "The scum of the North" so anything from it would be a bonus, however that said we need to keep the momentum going and being at home we have to at least try and take the game to them, clearly the second half showing against Wigan would not be good enough so we have to up our game. The Blades still sit in Fifth place in the table but are going through a bit of an inconsistent patch of late, in a certain David McGoldrick they have a player very much in form, sods law he's been fit all season long so I suggest Chambo clatters right into him early doors to keep him quiet, you just know if anyone comes back to haunt us it will be be Didsy !!

I think this may be a very tough game but an early goal for us and you just never know, a win here and I would be very confident that the great escape is not just a pipe dream, my head says draw at best but my heart is telling me a massive win for the boys in Blue, too tough to call, which Ipswich turns up may well decide it. COYB'S.


Merry Christmas


I would just like to wish each and everyone of you a very Happy Christmas with your families & loved ones and thanks to those who suffer my ramblings week after week, I hope it at least brings a bit of interest to One or Two of you.


The Opposition – Sheffield United
Sheffield United formed on 22 March 1889 at the Adelphi Hotel, Sheffield (now the site of the Crucible Theatre) by the President of the Cricket Club Sir Charles Clegg.

The Wednesday had moved from Bramall Lane to their own ground at Olive Grove, and the tenants of Bramall Lane needed to create a new team to generate income. Sir Charles Clegg was incidentally also the president of The Wednesday.

Undoubtedly United's heyday was the 30-year period from 1895–1925, when they were champions of England in 1897–98 and runners up in 1896–97 and 1899–00, and FA Cup winners in 1899, 1902, 1915 and 1925, finishing runners up in 1901, and also eleven years after their cup final win in 1936. United have not won a trophy since 1925, bar those associated with promotion from lower-leagues, their best performances in the cup competitions being several semi-final appearances in the FA Cup and Football League Cup.

Their darkest days came between 1975 and 1981. After finishing sixth in the First Division at the end of the 1974–75 season, they were relegated to the Second Division the following season and three years after that setback they fell into the Third Division. They reached an absolute low in 1981 when they were relegated to the Fourth Division, but were champions in their first season in the league's basement division and two years afterwards they won promotion to the Second Division.

They did fall back into the Third Division in 1988, but new manager Dave Bassett masterminded a quick revival which launched the Blades towards one of the most successful eras in their history. Successive promotions in the aftermath of the 1988 relegation saw them return to the First Division in 1990 after a 14-year exile. They survived at this level for four seasons (being founder members of the new FA Premier League in 1992 after peaking with a ninth-place finish in the last season of the old First Division) and reached an FA Cup semi-final in the 1992–93 season before being relegated in 1994.

They would remain outside the top flight for the next 12 years, although they did qualify for the play-offs under Bassett's successor Howard Kendall in 1997 and caretaker manager Steve Thompson in 1998.

They were struggling at the wrong end of Division One when Neil Warnock was appointed manager in December 1999, and a financial crisis was preventing the club from being able to boost their squad, but in 2002–03 they enjoyed their most successful season for a decade, reaching the semi-finals of both domestic cups and also reaching the Division One play-off final, where they were beaten by Wolverhampton Wanderers.

Three years later, however, Warnock delivered a Premier League return as the Blades finished runners-up in the rebranded Championship. They lasted just one season back amongst the elite, before being relegated from the Premier League amidst the controversy surrounding Carlos Tevez, the player who was controversially signed by West Ham United and whose performances played a big part in their remarkable escape from relegation. Neil Warnock resigned as manager after the Blades went down.

The club struggled to come to terms with life back in the Championship, with a spiralling wage bill not being matched by the quality of the players brought in, and a succession of managers within a short period of time. The Blades did reach the Championship playoff final in 2009 under Kevin Blackwell, but a period of decline then set in. The 2010–11 season proved disastrous, with the club employing three different managers in the space of a season, which ultimately ended in relegation to League One under Micky Adams, meaning they would play in the third tier of English football for the first time since 1989, and only five years after gaining promotion to the Premiership.

In the 2011–12 season, the club finished third in League One, narrowly missing out on automatic promotion to rivals Sheffield Wednesday, and entered the playoffs. With victory over Stevenage in the semi-final, United missed out on an immediate return to the Championship after suffering a penalty shootout defeat to Huddersfield Town. The Blades again made it to the League One playoffs in 2012–13 after a fifth-place finish, but were knocked out by eventual promotion winners Yeovil Town.

On 3 September 2013 it was confirmed that Saudi Prince Abdullah bin Musa'ed bin Abdulaziz Al Saud of the royal House of Saud had bought a 50% stake in United's parent company 'Blades Leisure Ltd' for the fee of £1 with the promise of providing "substantial new capital" with the aim of returning the Blades to the Premier League as "quickly as possible".

In 2014 the Blades began to be described by areas of the media as "giant-killers", having reached the FA Cup semi-finals at Wembley, losing 5–3 to Hull City.

In 2014–15 the team reached the quarter-finals of the FA Cup and semi-finals of the Football League Cup, and despite being eliminated they remained in contention for promotion to the Championship.

United secured promotion back to the second tier of English football in the 2016–17 season under the management of lifelong fan and former Blades player Chris Wilder.


Last season United finished in 10th place on the table with 69 points.


The Manager – Chris Wilder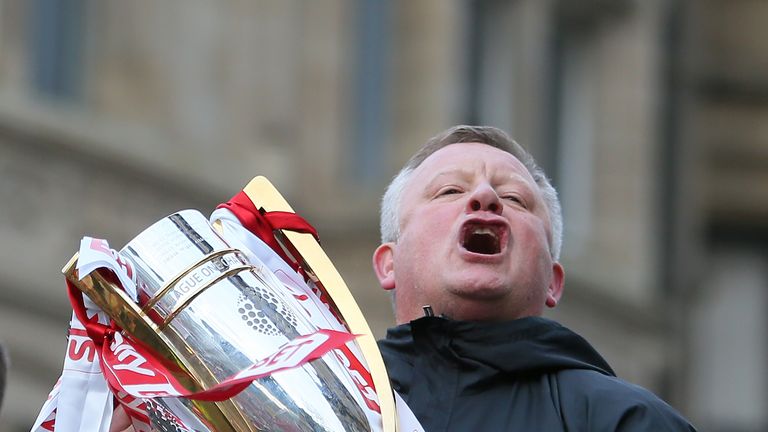 Media Watch - K L Blue
Form Guide
Ipswich Last 5 Matches – Currently in 24 place with 14 points
23 Nov Ipswich Town 1 - 2 West Bromwich


28 Nov Ipswich Town 2 - 3 Bristol City


1 Dec Nottm Forest 2 - 0 Ipswich Town


8 Dec Stoke City 2 - 0 Ipswich Town


15 Dec Ipswich Town 1 - 0 Wigan Athletic

Sheffield United Last 5 Matches – Currently in 5th place with 37 points
24 Nov Rotherham 2 - 2 Sheffield Utd


27 Nov Brentford 2 - 3 Sheffield Utd


1 Dec Sheffield Utd 0 - 1 Leeds Utd


8 Dec Reading 0 - 2 Sheffield Utd


14 Dec Sheffield Utd 1 - 2 West Bromwich

Marko's Caption Contest – THE DON CUP
Bit of an ill daughter at the moment so this is taking up my time. Don Cup scores next week.
Sheffield United picture:
Match Referee – Andy Woolmer
IPSWICH TOWN

1

SHEFFIELD UNITED

1