Wigan Athletic

v

Ipswich Town

Saturday 23rd February 2019 – 15:00



DW Stadium
Pre-Match Thoughts - Mike
Another Game Goes By




We really are heading into the run in now and still that elusive win we so desperately need just will not materialise, following on from the impressive display against Derby the previous Wednesday many Town fans believed we had what was required to dispose of a struggling Stoke City but alas it was not to be, yes Town did ok but it was nothing more than that, we never hit the heights of the Derby game despite a spirited second half display where we tried to take the game to our visitors who once again had been gifted a calamitous opening goal from a profligate Town defence. Thankfully we did at least get a last gasp equaliser to save us from defeat but to be perfectly blunt and with not wanting to dampen the celebrations at the full time whistle draws are no good, they are just not enough, week after week goes by and games diminish and yet many are happy with a point, yes it is clearly better than losing but the overall picture is getting gloomier with each passing week, let's not beat around the bush, on current form Stoke have been a joke, and yet we still couldn't get the job done.

Much has already been discussed about "that goal" but quite what Knudsen & Bart were thinking god only knows, initially in real time I thought it was Bart's error all day long, then watching it back that night I felt maybe Knudsen had more of a roll to play in the error but since then I have watched it and watched it and watched it and I have ended up back at my original conclusion, Bart has to take the blame as far as I am concerned, for me he either needed to be charging off his line earlier and with intention of getting the damn thing or do what he does best and stay rooted to his line giving Knudsen far more of a get out, but no he did neither and cost us dearly. I really wasn't keen on him before this mishap and having stated earlier in the week how much I dislike fans having scapegoats I do feel it is time for him to be moved on, in short I am sick of his shortcomings, of course he will never be a scapegoat as many still see him as some kind of messiah but he is not for me, thankfully there is about as much chance of me becoming Pope as there is of Bart hanging around for League One Football.




The Lambert Effect




On the face of it taking a glance at Paul Lambert's record to date as Town manager really does not make for good reading, far more defeats than wins has him I believe as the worst manager in Town's history where win percentage is concerned, he is actually lagging behind a certain Paul Hurst at this moment in time so just why has he endeared himself to the vast majority of Tractor boys & Girls in such a short space of time ? The only thing I can say is that you have to attend home games to truly appreciate the difference this guy has made to the club, if not results on the pitch. We were in severe trouble as a club, the fans were dwindling away and they had fallen out of love with their own team, that is a fact, throughout all the dark days of McCarthy all many wanted was "Their club back", for various reasons they feel they have it now. Some will have you believe that the toxic vibe at Portman Road was bigged up to be more than it was, well it wasn't, it was going down a bad path, scuffles and fighting on the terraces between fellow fans was becoming the norm, something had to change.

Paul Lambert has given the fans their club back, he praises the support every single game, he talks of blooding youngsters, that they are the way forward and the future of the club, he speaks of reducing the number of loans going forward, he payed for away fans travel out of his own pocket, (I now know for a fact this happened), the club are now rewarding some fans with hospitality as a thank you, that is no doubt down to Lambert, he has already committed his future to the club for the long haul of League One and tells us the journey will be a fantastic one once we get on the right path. Of course the most important thing is getting right on the pitch and I believe 100% he will do this and we will be entertained along the way. I can't lie, I never liked the guy but I am over the moon we have him now and it eases the pain of our impending relegation no end. just seeing him jumping with delight on the touchline when Keane scored Saturday told me everything, then the geeing up of the fans when we were still losing and the coming over to the North stand after every game and insisting every single player does the same, it may be small things but I love all that, yes he is great at PA but my god this club needed it.




Dare I Say It?




Wigan next up and WE HAVE TO WIN THIS !!!! It has got to that stage, in fact I believe with Reading following this we have a glorious chance of back to back wins and Six precious points, should we achieve that we would clearly cut the gap, yes I know I've already said we are down but we still have to go out to win every game, these Two can be won and that would suddenly see us on a Four game unbeaten run, unheard of, but it would build confidence and that is a key part of winning Football matches. If we can only start a game well, cut out the silly individual errors and take a chance or Two we could just do this, not much to ask I know. I feel a Town win here and seeing as we can't keep a clean sheet there may actually be some goals although I couldn't care less how it comes as long as we get it done. Hopefully Two or Three hundred hardy souls will have a happy journey home from Lancashire Saturday evening. Town win !!! COYB'S.

The Opposition – Wigan Athletic
Founded in 1932, the club plays at the DW Stadium since 1999, sharing the stadium with rugby league club Wigan Warriors. They previously played at Springfield Park for 67 years.

Wigan Athletic played in the lower Leagues until 2nd June 1978 when they were finally elected to the Football League after 34 attempts and near misses over the preceeding 46 years, including one controversial but headline-making application in 1972 to join the Scottish League Second Division.

They gained their first Football League promotion under the management of former Liverpool player Larry Lloyd in 1981–82, when a points tally of 91 saw them join the former Division Three for the first time, beginning a 10-year spell in English football's third tier, until they were relegated for the first time in the club's League history in 1992–93.

Wigan struggled in the fourth tier of English Football, finishing well down the table and average attendences fell to 1,845 by 1995.

Local entrepreneur Dave Whelan acquired the club in 1995, providing funds to move into the JJB Stadium, now named the DW Stadium in his honour.

Through Whelan's business connections in Spain he attracted three Spaniards to the club – Roberto Martínez, Isidro Diaz, and Jesus Seba – who became known as 'The Three Amigos'.

Whelan appointed John Deehan as manager during the 1995–96 season. Deehan took the Latics within two points of a play-off place in his first season; and the following year Wigan Athletic became Division Three champions.

In the summer of 2001, highly regarded young manager Paul Jewell took over as manager. His first season in charge saw mixed results, but Jewell's second season in charge was far more successful. Wigan Athletic went on a run to the quarter finals of the League Cup, and won the Division Two championship, securing promotion to the second tier of the English Football League for the first time in their history.

After losing their first ever game in Division One, Wigan Athletic confounded expectations to go unbeaten for the next 17 games and and finish seventh in Division One.

The following season in the last fixture at home the Latics won promotion to the top division of the English football for the first time in their 73-year history by finishing second in the League.

The club's first ever Premier League season (2005-06) saw a 10th place, which remains the club's highest ever league placing.

Over the next four seasons Wigan struggled for Premier survival with a number of managers taking the helm over this period.

Wigan appointed Roberto Martínez, then manager of Swansea City, as manager prior to the 2009–10 Premier League season.

At the beginning of the 2010–11 season, Wigan fell to the bottom of the league by the end of February. However, despite remaining in the bottom three for the majority of the season, Wigan managed to retain their Premier League status on the last day of the season.

In the 2011-12 season Wigan reached the FA Cup Final for the first time in their history and went on to beat Manchester City 1–0, with a goal in injury time, earning a place in the following seasons Europa League. Unfortunately for Wigan this season also ended their eight year spell in the Premier League and they became the first team to be relegated and win the FA Cup in the same season.

On 14 June 2013, Dave Whelan revealed that a deal had been agreed with Owen Coyle to become the new manager of Wigan Athletic replacing outgoing manager Roberto Martinez who left for Everton. Coyle left the club by mutual agreement on 2 December 2013 having won seven games out of twenty-three. Uwe Rosler replaced him on 7 December.

On 9 March 2014 Wigan beat Manchester City in the 6th Round of the FA Cup to reach the semi-final at Wembley for the second successive year, where they played Arsenal, and lost on penalties after normal time and extra time resulted in a 1–1 draw. After finishing 5th in the Championship, Wigan lost their Championship play-off semi-final to Queens Park Rangers.

Rösler was sacked in November 2014 with the club in the relegation places, and was replaced by Malky Mackay. Whelan resigned as chairman on 3 March 2015, remaining as owner but handing over the chairmanship to his grandson David Sharpe. The following month, with Wigan in danger of relegation to League One, Mackay was sacked and replaced by former Wigan captain Gary Caldwell, yet the team ended the season with relegation.

Over the coming summer the club underwent a transformation with the majority of the playing staff that had been relegated leaving and a raft of new signings arriving.

The club soon found themselves challenging for promotion in the play-off places by mid-November. Following an impressive run of form in the second half of the season where the side lost only once in 23 matches the club effectively sealed promotion at the first attempt.


In October 2016, following a poor start to the season, Caldwell was sacked as manager and replaced by Manchester United coach Warren Joyce. Results did not improve under Joyce, who was sacked in March 2017. Wigan were subsequently relegated back to League One in April and interim manager Graham Barrow left, ending a 15-year association with the club.

Paul Cook, who had just won League Two with Portsmouth, was appointed Wigan manager in June 2017.

The 2017/18 season was a good one for Wigan, the club finished 1st in League One and were promoted to the Championship. They reached the FA Cup quarterfinals after beating Premier League teams, Bournemouth, West Ham United and Premier League champions Manchester City. At the end of the season it was announced that the Whelan family had agreed a deal to sell the club, stadium and training facilities to the Hong Kong based International Entertainment Corporation in a £22m deal.



The Gaffer – Paul Cook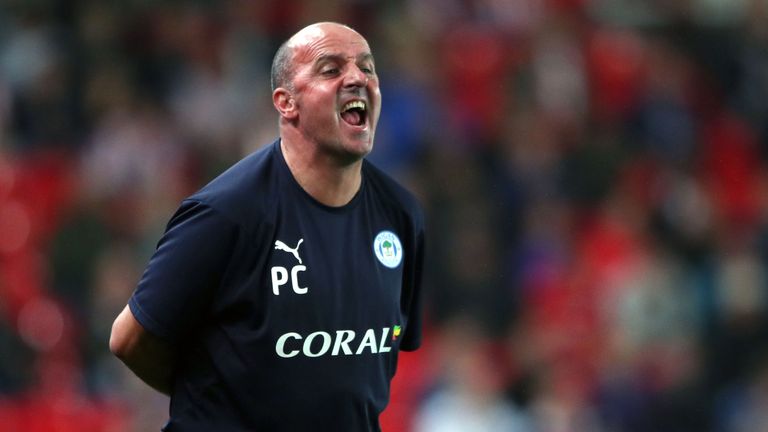 Form Guide
Wigan Athletic Last 5 Matches - Currently in 19th place with 34 points
19 Jan Sheffield Wed 1 - 0 Wigan Athletic


26 Jan Nottm Forest 3 - 1 Wigan Athletic


2 Feb Wigan Athletic 2 - 1 QP Rangers


9 Feb Rotherham 1 - 1 Wigan Athletic


13 Feb Wigan Athletic 0 - 0 Stoke City

Ipswich Last 5 Matches - Currently in 24th place with 20 points
26 Jan Aston Villa 2 - 1 Ipswich Town


2 Feb Ipswich Town 0 - 1 Sheffield Wed


10 Feb Norwich City 3 - 0 Ipswich Town


13 Feb Ipswich Town 1 - 1 Derby County


16 Feb Ipswich Town 1 - 1 Stoke City

Marko's Caption Contest – THE DON CUP
Sorry, 9, your caption would definitely have earned more points had it been posted earlier. Judges were down the waterhole off duty I think!



Derick picking up masses of points past two weeks, closing in on Ando & Nicsreamer. A name on the trophy for the second time? Or Nicsreamer? Last couple months of the season, all to play for.



Stoke scores:

Bluemike 5pts
DerickIpsw (Thor) & Nicsreamer 4pts
Ando (Valentines), DerickIpsw (Norse) & MasseyFerguson 3pts
Frosty, IpswichTownNo1 & JohnnyB 2pts



LEAGUE TABLE

ANDO 73
NICSCREAMER 69
DERICKIPSW 66
FROSTY 62
BLUEMIKE 60
AYLESBURYBLUE 54
TANGFASTIC 45
BLUEBLOOD 42
NUMBER 9 40
IPSWICHTOWNNO1 37
WATERSHIP DOWN 19
JOHNNYB 13
PATTHEGIMP 12
KERRY BLUE 10
BLUEPETER 10
BLUEWILF 7
MASSEYFERGUSON 6
SHED ON TOUR 6
BARMY BILLY 6
QUASAR 4
TODD66 3
MARVINBAY1973 2
GOLDANDBLACK 1
CHARNWOOD 1
KL BLUE 1
OHIOTRACTORBOY 1



Wigan caption picture



Match Referee - TBC
WIGAN ATHLETIC
1
IPSWICH TOWN
1