West Bromwich Albion

v

Ipswich Town

Saturday 9th March 2019 – 15:00


The Hawthorns
Pre-Match Thoughts - Bluemike
Out With A Whimper




The stage was set, biggest game of the season, 23,000 crowd, the start of the unbelievable escape had been bigged up all week by players saying we just had to win this One and a few felt we would win it, unfortunately that was where all the positivity ended, yes we gave it a go after the break but I am pretty fed up of talking about Town performances this season where we "gave it a go" after the break, for me that is not good enough, especially when the stakes were so high, we should be giving it a go from the very first blast of the Referee's whistle, instead we seem to love putting ourselves on the back foot, time and time again we do it, I would be intrigued to know if it is a tactic of ours that just doesn't work but going on how long Paul Lambert kept the players in the dressing room at half time I can only assume he gave them a bit of a rocket, a much improved second half would seem to suggest that but a Reading side that were there for the taking were allowed to escape with Three points which all but condemned us to life in League One.

Fans already seem divided on just how we should approach League One Football, some would like to see an influx of young talent, some seem to prefer as little upheaval as possible while some are suggesting Evans needs to open his wallet for once and let PL buy a few seasoned players that have the nous for this level. My take on it is that we need to build a team around the likes of Bishop, Lankester, Woolfenden & Morris etc while at the same time having enough experience in the squad to help them along, I genuinely believe we need to keep the likes of Chambers & Skuse while accepting they cannot and should not be automatic choices every week, I also players like Nsiala, Nolan, Edwards and Harrison as being very important parts of the jigsaw now as they all have experience at this level and in fact were some of the better players which is what prompted Hurst to go out and buy them in the first place. There are definitely some I feel need to be moved on, the likes of Bialkowski & Knudsen who clearly don't really want to be here and will feel it is beneath them to drop down a level have to go, others like Ward, Sears, Adeyemi, Spence etc bore me to tears and I want change in these areas.

The question has already been asked as to if we should already accept we are down and go with an experimental side in the games that remain, my feelings on that one is no we shouldn't, while it is possible to stay up we owe it to everyone to try and win every one of those Eleven remaining games, that is Thirty Three points and we should be going into every game believing we can win them, when that scenario changes then yes let's start planning for next season, I don't think young players need to be thrown into this mess that others have got us into just yet.




Fantastic Following




Next up is a trip to West Bromwich Albion, while I knew we had sold out our allocation I had no idea until a day ago that it was 3000 Town fans making the trip, if correct it is quite remarkable given our plight, the away support has been first class all season long and have little to cheer but week in week out we get behind the boys, that is what support is all about for me, it is our club no matter what the situation, the atmosphere will be superb even if the expected drubbing does materialise, if it was a league table on that kind of following we would be top without a doubt.

West Brom looks a real tough ask but we can play with a bit of freedom now and I expect the pressure has all but eased after the Reading defeat, that is not to say as I have already stated, we still need to go in to the game believing we can do it, it just means failure to do so will come as a surprise to nobody and that in itself should help the players a bit. I thought Brom would have had a better season than they have and while it isn't bad it hasn't really lived up to their expectations so far as they find themselves in Fourth place but Seven points of the automatic promotion places. They have some really good attacking places in Gayle, Rodriguez, Robson-Kanu and Livermore who will undoubtedly cause Town's fragile defence big problems, they do however concede a lot which is their weakness but do we have the attacking options to exploit it ? I think not, their recent form is not great and they go into this game on the back of a thumping at Leeds who ripped them apart at times. I think this could well be a sizeable defeat for Town, anything else will be a massive bonus so it's another disappointing afternoon for us Town fans. Home win. COYB'S.




The Opposition – West Bromwich Albion
The club was founded as West Bromwich Strollers in 1878 by workers from George Salter's Spring Works in West Bromwich, in Staffordshire. They were renamed West Bromwich Albion in 1880. Albion joined the Football Association in 1883; this enabled them to enter the FA Cup for the first time in the 1883–84 season. In 1885 the club turned professional, and in 1886 they reached the FA Cup final for the first time, losing 2–0 to Blackburn Rovers in a replay. They reached the final again in 1887, but lost 2–0 to Aston Villa. In 1888 the team won the trophy for the first time, beating strong favourites Preston North End 2–1 in the final. As FA Cup winners, they qualified to play in a Football World Championship game against Scottish Cup winners Renton, which ended in a 4–1 defeat.

In March 1888, William McGregor wrote to what he considered to be the top five English teams, including Albion, informing them of his intention to form an association of clubs that would play each other home and away each season. Thus when the Football League started later that year, Albion became one of the twelve founder members. Albion's second FA Cup success came in 1892, beating Aston Villa 3–0. They met Villa again in the 1895 final, but lost 1–0. The team suffered relegation to Division Two in 1900–01, their first season at The Hawthorns. They were promoted as champions the following season but relegated again in 1903–04. The club won the Division Two championship once more in 1910–11, and the following season reached another FA Cup Final, where they were defeated by Second Division Barnsley in a replay.

Albion won the Football League title in 1919–20 for the only time in their history following the end of World War I, their totals of 104 goals and 60 points both breaking the previous league records. The team finished as Division One runners-up in 1924–25, narrowly losing out to Huddersfield Town, but were relegated in 1926–27. In 1930–31, they won promotion as well as the FA Cup, beating Birmingham 2–1 in the final. The "Double" of winning the FA Cup and promotion has not been achieved before or since. Albion reached the final again in 1935, losing to Sheffield Wednesday, but were relegated three years later. They gained promotion in 1948–49, and there followed the club's longest unbroken spell in the top flight of English football, a total of 24 years.

In 1953–54, Albion came close to being the first team in the 20th century to win the League and Cup double. They succeeded in winning the FA Cup, beating Preston North End 3–2, but injuries and a loss of form towards the end of the season meant that they finished as runners-up to fierce rivals Wolverhampton Wanderers in the league. They remained one of the top English sides for the remainder of the decade, reaching the semi-final of the 1957 FA Cup and achieving three consecutive top five finishes in Division One between 1957–58 and 1959–60.

Although their league form was less impressive during the 1960s, the second half of the decade saw West Brom establish a reputation as a successful cup side. Albion entered the Football League Cup for the first time in 1965–66 and, under manager Jimmy Hagan, won the final by defeating West Ham United 5–3 on aggregate. That was the last two-legged final and, the following year, Albion reached the final again, the first played at Wembley. They lost 3–2 to Third Division Queens Park Rangers after being 2–0 up at half-time. Albion's cup form continued under Hagan's successor Alan Ashman. He guided the club to their last major trophy to date, the 1968 FA Cup, when they beat Everton in extra time . Albion reached the FA Cup semi-final and European Cup Winners Cup quarter-final in 1969, and were defeated 2–1 by Manchester City in the 1970 League Cup Final.

The club were less successful during the reign of Don Howe, and were relegated to Division Two at the end of 1972–73, but gained promotion three years later under the guidance of player-manager Johnny Giles. Under Ron Atkinson, Albion reached the 1978 FA Cup semi-final but lost to Ipswich Town. In May of that year, Albion became the first English professional team to play in China, going unbeaten on their five-game trip. In 1978–79, the team finished third in Division One, their highest placing for over 20 years, and also reached the UEFA Cup quarter-final, where they were defeated by Red Star Belgrade. The team around this time was notable for simultaneously fielding three black players: Cyrille Regis, Laurie Cunningham and Brendon Batson; and is considered to be an integral part of the acceptance of black footballers in the English leagues. In his second spell as manager, Ronnie Allen guided the team to both domestic cup semi-finals in 1981–82. The mid-1980s saw the start of Albion's longest and deepest decline. They were relegated in 1985–86 with the worst record in the club's history, beginning a period of sixteen years outside the top flight. Five years later, the club were relegated to the Third Division for the first and only time.

Albion had spent the majority of their history in the top-flight of English football, but when the FA Premier League was founded in 1992 the club found themselves in the third tier, which had been renamed Division Two. In 1992–93, Albion finished fourth and entered the playoffs for the first time, having just missed out the previous year. Albion's first appearance at Wembley for over 20 years – and their last ever at the original stadium – saw them beat Port Vale 3–0 to return to the second level – now renamed the First Division. Manager Ossie Ardiles then joined Tottenham Hotspur, however, and a succession of managers over the next few seasons saw Albion consolidate their Division One status without ever mounting a serious promotion challenge.

The appointment of Gary Megson in March 2000 heralded an upturn in the club's fortunes. Megson guided Albion to Division One safety in 1999–2000, and to the play-offs a year later. He went on to lead the club to promotion to the Premier League in 2001–02. After being relegated in their first Premier League season, they made an immediate return to the top flight in 2003–04. In 2004–05, Megson's successor, former Albion midfielder Bryan Robson, led the team to a last-day "Great Escape", when Albion became the first Premier League club to avoid relegation having been bottom of the table at Christmas. This feat was repeated by Sunderland in the 2013–14 season and Leicester the following year, but West Brom remain the only team to escape relegation having also been bottom during the final day of the season. Despite this success, they failed to avoid the drop the following season, and Robson was replaced by Tony Mowbray in October 2006. The club competed in the Championship promotion playoff final at Wembley Stadium on 28 May 2007, but lost 1–0 to Derby County.

The following season, Mowbray led the Baggies to Wembley again, this time in the semi-finals of the FA Cup, where they lost 1–0 to Portsmouth. One month later, Albion were promoted to the Premier League as winners of the Championship, but were relegated at the end of the 2008–09 campaign. Mowbray left the club to manage Celtic and was replaced by Roberto Di Matteo, who led the club back to the Premier League at the first attempt, but was dismissed in February 2011 and replaced by Roy Hodgson. May 2012 saw Hodgson, having led West Brom to a tenth-place finish in his first season, leave to become the manager of the England national team. Steve Clarke then led Albion to an eighth-place finish in 2012–13, their highest in the Premier League, but was sacked halfway through the following season and replaced by Pepe Mel, who left by mutual consent at the end of the campaign. After the brief tenure of Alan Irvine, Tony Pulis was appointed head coach on 1 January 2015. On 5 August 2016, it was announced the club had been sold to a Chinese investment club headed up by Guochuan Lai, and John Williams replaced Peace as chairman. Pulis was sacked due to poor results in November 2017, and was replaced by Alan Pardew later that month after just one win in eighteen league matches, Pardew left by mutual consent in April 2018. Despite a good run of form under caretaker manager Darren Moore, during which time he won the Manager of the Month award for April 2018, West Brom were relegated after eight seasons in the Premier League. On Friday, 18 May 2018, Moore was confirmed as the manager of the club on a three-year contract.

The Manager – Darren Moore
Form Guide
West Bromwich Albion Last 5 Matches - Currently in 4th place with 60 points
12 Feb West Bromwich 2 - 2 Nottm Forest


16 Feb Aston Villa 0 - 2 West Bromwich


19 Feb QP Rangers 2 - 3 West Bromwich


23 Feb West Bromwich 0 - 1 Sheffield Utd


1 Mar Leeds Utd 4 - 0 West Bromwich

Ipswich Last 5 Matches - Currently in 24th place with 21 points
10 Feb Norwich City 3 - 0 Ipswich Town


13 Feb Ipswich Town 1 - 1 Derby County


16 Feb Ipswich Town 1 - 1 Stoke City


23 Feb Wigan Athletic 1 - 1 Ipswich Town


2 Mar Ipswich Town 1 - 2 Reading

Marko's Caption Contest – THE DON CUP
Not many entries this week. Understandable. The top 7 are the ones battling it out heading into the last few weeks.

The 5 going to nicscreamer for the Dougal reference. Hoping the judges were right thinking you were meaning Father Teds dougal and not the Magic Roundabout. Must admit I had visions of Ardel O'Hanlon myself!
Reading scores:



Nicscreamer 5pts (Dougal)
Ando 4pts (Subbuteo)
Todd66 & Blueblood (clip) 3pts
DerickIpsw 2pts (Neville)
LEAGUE TABLE



ANDO 83
NICSCREAMER 81
DERICKIPSW 73
FROSTY 64
BLUEMIKE 62
AYLESBURYBLUE 56
BLUEBLOOD 48
TANGFASTIC 45
NUMBER 9 42
IPSWICHTOWNNO1 39
WATERSHIP DOWN 24
JOHNNYB 13
PATTHEGIMP 12
KERRY BLUE 11
BLUEPETER 11
BLUEWILF 7
TODD66 6
MASSEYFERGUSON 6
SHED ON TOUR 6
BARMY BILLY 6
QUASAR 4
MARVINBAY1973 2
ASHFORDBLUE 1
GOLDANDBLACK 1
CHARNWOOD 1
KL BLUE 1
OHIOTRACTORBOY 1

WBA caption picture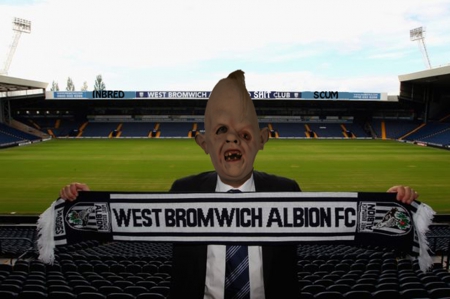 Match Referee – Andy Woolmer
WEST BROMWICH ALBION

1

IPSWICH TOWN

0