Plymouth Argyle

v

Ipswich Town

Saturday 5th December 2020 – 15:00


Home Park
Pre-Match Thoughts - Mike
Shooting Blanks.........




For the Third successive game Town failed to find the net as our run of poor form continued at Oxford United on Tuesday evening, ok so we managed to stop the rot to a degree by holding out for a point but the fact remains it was once again another insipid and totally uninspiring Ninety plus minutes for the Town players, in fact it wasn't until the Ninety First minute that we actually had an effort on target, quite how we expect to win any game with that sort of statistic is beyond me, and dare I say it many other bemused and fed up Tractor Boys & Girls. Pretty it ain't, attractive it ain't, entertaining it most certainly ain't but there is at least bucket loads of frustration, disappointment, anger and loss of interest all around.

Yes we can point to the Injury list, we've done it for years now but the tactics are no longer working, gone is the movement and attacking tempo that we had in the early games of this season, it is just anonymous now, instead we are subjected to this tippy tappy across the back nonsense that helps with the possession stat but achieves very little else, this was against an Oxford team that has struggled to keep clean sheets for god knows how long now and who have been pretty inept in front of goal, somehow we managed to help on both fronts as they looked by far the more likely to score. Our Midfield lacked any drive or creativity, with the exception of Andre Dozzell who it has to be said looked a cut above, but in truth he is wasted on the lot he is teamed up with, his brain thinks so much quicker and more often than not his incisive passes look poor because of it.

I like Aaron Drinan but I cannot for the life of me understand why Kayden Jackson and Oli Hawkins are left on the bench, at least One of those Two needed to be on the pitch too, you cannot keep leaving your best players on the bench. Luckily for us results went very much our way but as has been said on this very forum, we just seem incapable of taking advantage of it, there are no good teams in this League, that is a fact and yet we still contrive to make hard work of it.

The arguments over whether Paul Lambert should stay or go will rumble on all season now and I have to be honest it is boring me already, it is just something else to put me off even wanting to think about going back to a Ninety percent empty Portman Road, I am struggling to muster up any enthusiasm for it at all right now.

The Tractor rumbles on all the way down to Home Park to take on Plymouth Argyle in the next thrilling installment, I think a win is vital but I don't see where the goals are coming from, the injury situation shows no sign of abating yet either so we have to go with the same again. They find themselves in Fifteenth place having lost the last Three games to Rochdale, Peterborough and Fleetwood while conceding Ten goals in the process, even lowly Rochdale plundered Four goals at Home Park in Midweek so this could make us look even more abject should we fail to find the net. Sadly I can't see beyond a home win, I hope I am wrong, defeat will make things very frosty around these parts while a win may just do more harm than good in the long term. COYB'S
The Opposition – Plymouth Argyle
The club was founded in 1886 as Argyle Football Club, the first match taking place on 16 October 1886.


Much speculation surrounds the origin of the name Argyle. One explanation is that the club was named after the Argyll and Sutherland Highlanders, an army regiment with a strong football side of its own. Another theory is given by the local geography–suggesting the name comes either from the nearby public house, The Argyle Tavern, where the founder members may have met, or from a local street Argyle Terrace. The club adopted its current name when it became fully professional in 1903.


The club was disbanded 1894, before being resurrected in 1897 as one part of a general sports club, the Argyle Athletic Club. The club joined the Southern League, effectively the English 3rd tier, in 1903 becoming professional in the process. Argyle won the Southern League in 1912–13, then in 1920–21 entered the Football League Third Division as a founder member, along with most of the Southern League, where they finished 11th in their first season.


Between 1921–22 and 1926–27, Argyle finished second in the new Third Division South six seasons in a row, thereby missing promotion. Argyle eventually won promotion to Football League Division Two in 1929–30, when they topped the Third Division South, with attendances that season regularly reaching 20,000. Manager Bob Jack resigned in 1937, having spent a grand total of 27 years in charge of the Pilgrims.


Argyle's 20-year stay in Division Two came to an end in 1949–50 after finishing 21st – two points short of survival. They were back in Division Two before long, after winning the Third Division South in 1951–52.


The closest they ever came to playing in the Football League First Division (top tier) was in 1952–53, when they reached fourth place in the Football League Second Division, their highest finish to date. They were relegated again in 1955–56, just 3 points behind Notts County. The Pilgrim's reputation as a 'yo-yo club' continued after they won Division Three – by then a national league – in 1958–59. Argyle returned to Division Three after relegation in 1967–68.


After spending six years in Division Three, Argyle finally returned to Division Two in 1974–75, but they were back down again in 1976–77.


Since then, the team has wavered between the 2nd and 3rd tier, before being double relegated in 2010–11. That was directly due to the club having been declared insolvent, following which they were deducted the 10 points they needed for survival. The club returned to the 3rd tier after finishing second in 2016–17.


On 14 August 2018, it was announced that shareholder Simon Hallett had purchased part of James Brent's stake in the club, and had become the new majority shareholder and owner, and that former director, David Felwick, would return to the club as chairman when Brent stepped down on 31 October 2018. However, on 10 October 2018, it was reported that David Felwick was unable to take over as chairman, citing personal reasons, so on 1 November 2018, Hallett became both majority owner and chair of Plymouth Argyle.


On 5 June 2019, Ryan Lowe was announced as manager of Plymouth Argyle, guiding them to a third-place finish and an immediate return to League One in a season interrupted by the COVID-19 pandemic in the United Kingdom.
The Manager – Ryan Lowe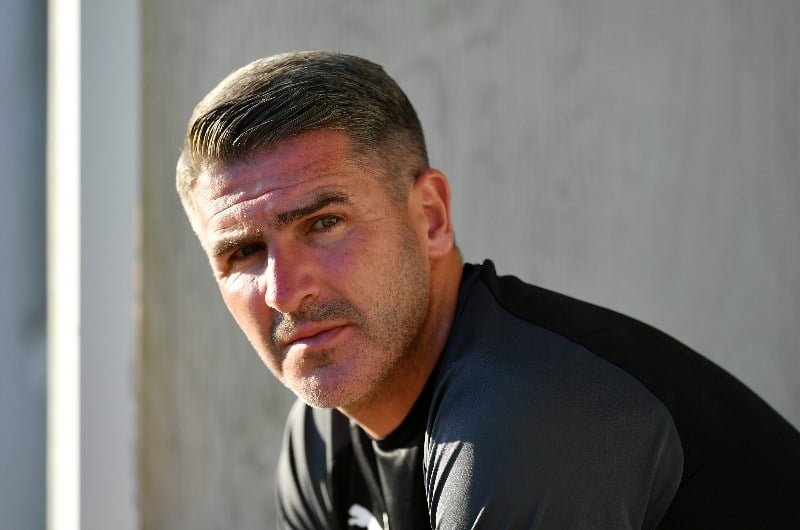 Form Guide
Plymouth Argyle Last 5 Matches – Currently in 13th place with 19 points
3 Nov Plymouth 4 - 2 Swindon Town


16 Nov Plymouth 2 - 2 Portsmouth


21 Nov Fleetwood 5 - 1 Plymouth


24 Nov Peterborough 1 - 0 Plymouth


1 Dec Plymouth 0 - 4 Rochdale

Ipswich Last 5 Matches – Currently in 5th place with 26 points
3 Nov Sunderland 2 - 1 Ipswich Town


21 Nov Ipswich Town 2 - 1 Shrewsbury


24 Nov Ipswich Town 0 - 3 Hull City


28 Nov Ipswich Town 0 - 2 Charlton


1 Dec Oxford Utd 0 - 0 Ipswich Town

Match Referee – Ollie Yates
PLYMOUTH ARGYLE
1
IPSWICH TOWN

2