Ipswich Town
v
Swindon Town

Saturday 9th January 2021 - 15:00

Portman Road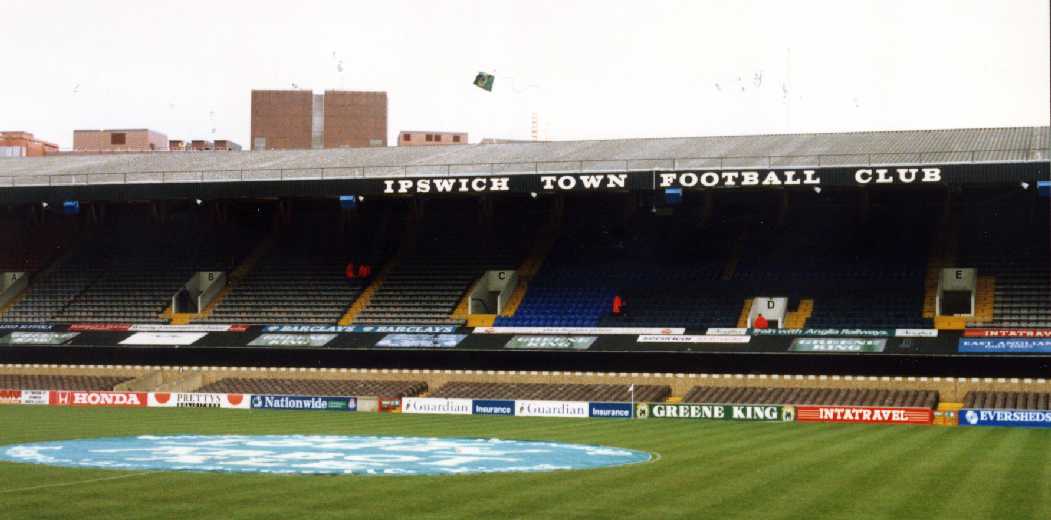 Pre-Match Thoughts – Mike
Hopefully Back To Business..........




I must admit I have kind of become detached from all things ITFC related these last few weeks, it seems weeks and week since we last played as this awful situation the world finds itself in continues to mess with every walk of life, Football is no different and at our level Covid 19 has been biting hard with lots of games now being lost as squads up and down the Country are being affected by it, in fact we have been one of the worst hit with no less than Eleven confirmed cases within the playing squad etc, hopefully are all doing well and are on the mend now but the threat is still very much there and it may well not be the last instance of the nature we see at Portman Road.

It may seem like an age since we last took to the field but in fact it will only have been Twenty Five days by the time we step onto the grass to take on Swindon Town, some say it has come at the right time what with our much discussed injury list seemingly rising with each passing game, hopefully some are well on the road to recovery and having them return will boost the squad no end. Quite how the long lay off will affect the team is anyone's guess but let's be honest we are usually pretty damn awful after an International break so this could be ugly, hopefully those who have been fit will have kept themselves in good shape and match fit, losing the last Four games against Peterborough Utd, Northampton Town, AFC Wimbledon & Fleetwood Town could well have been much worse but like us some of the bigger clubs have also seen games called off which means we have only slipped down to Seventh place in the table and incredibly we are still only Five points off the Top Two places with a game in hand.

Our form prior to the enforced break was a bit up and down but we had managed to scrap out two wins in the last Three games, albeit making hard work of seeing off bottom club Burton Albion last time out. Our opponents Swindon Town are on a really poor run of form with just a solitary point taken from their last Five league games, their last outing saw them thrashed 1-4 at home to MK Dons so we can assume their confidence will be pretty low although the break may have been a welcome thing for them.

The Robins top scorer is a well known face around these parts, Brett Pitman had a bit of a mixed time at Portman Road but there is little doubt he knows where the goal is and is always one to watch, ungainly he may be but Pitman is certainly not lacking in ability and Town's often shaky defence must be on their guard against this former old boy. Swindon ship an average of Two goals a game and only Burton Albion have conceded more so Town must take the game to them and create a lot more than we have been doing in recent games, the points are there to be won and win them we will as long as we approach it in the right way, despite it being on Sky which rarely does us any favours I think Town can get up and running again with a win and that would be a great way to return to the fold, I doubt it will be easy or straightforward, we never seem to make that happen but I do see the Boys in Blue running out winners, god it's good to HOPEFULLY be back. COYB'S.
The Opposition – Swindon Town
Swindon Town Football Club was founded by Reverend William Pitt of Liddington in 1879. The team turned professional in 1894 and joined the Southern League which was founded in the same year. During this period Septimus Atterbury played for the club.

Swindon reached the FA Cup semi-finals for the first time in the 1909–10 season, losing to eventual winners Newcastle United. Barnsley and Swindon were invited to compete for the Dubonnet Cup in 1910 at the Parc des Princes Stadium in Paris. The result was a 2–1 victory for Swindon with Harold Fleming scoring both of the club's goals.

The following season, 1910–11, Swindon Town won the Southern League championship, earning them a Charity Shield match with the Football League champions Manchester United. This, the highest-scoring Charity Shield game to date, was played on 25 September 1911 at Stamford Bridge with Manchester United winning 8–4. Some of the proceeds of this game were later donated to the survivors of the Titanic. In 1912 Swindon Town reached the semi finals of the FA Cup for a second time in 3 years, losing to Barnsley after a replay 1–0.

Swindon entered the Football League in 1920 as a founding member of Division Three and defeated Luton Town 9–1 in their first game of the season. This result stands as a record for the club in League matches.

After the outbreak of World War II, the War Department took over the County Ground in 1940, where for a while POWs (Prisoners of War) were housed in huts placed on the pitch; for this the club received compensation of £4,570 in 1945. World War II affected Swindon Town more than most other football clubs and the club was almost disbanded; the club needed a large amount of time to recover and for this reason it failed to make any real impression in the league and would not climb into the second division until 1963 when they finished runners up to Northampton Town. The club was relegated back into Division Three in 1965, but it was about to create a sensation.

In 1969, Swindon beat Arsenal 3–1 to win the League Cup for the only time in the club's history. As winners of the League Cup, Swindon were assured of a place in their first European competition: the Inter-Cities Fairs Cup. However, the Football Association had previously agreed to inclusion criteria with the organizers which mandated that only League Cup winners from Division One would be able to take part. As the team were not eligible, the short lived Anglo-Italian competitions were created to give teams from lower divisions experience in Europe. The first of these, the 1969 Anglo-Italian League Cup, was contested over two legs against Coppa Italia winners A.S. Roma. Swindon won 5–2, with the scorer of two goals in the League Cup final – Don Rogers – scoring once and new acquisition Arthur Horsfield acquiring his first hat-trick for the club. The team then went on to win the 1970 Anglo-Italian Cup competition in a tournament beset by hooliganism. The final against S.S.C. Napoli was abandoned after 79 minutes following pitch invasions and a missile barrage, with teargas being employed to allow the teams to return to the dressing room.

Following management changes, Swindon had a long unsuccessful period culminating in them being relegated in 1982 to the Fourth Division, the lowest professional Football League at the time. They were eventually promoted as champions in 1986 with the club achieving a Football League record of 102 points, the second club to score over 100 points in a season, York City having totalled 101 two years earlier. A year later they won the Third Division play-offs to achieve a second successive promotion. Promotion campaign Manager Lou Macari left in 1989 to take charge of West Ham United with veteran midfielder, and former Argentine international, Ossie Ardiles replacing him. In his first season, Swindon were Second Division play-off winners, but the club later admitted 36 charges of breaching league rules, 35 due to illegal payments made to players, and were relegated to the Third Division — giving Sunderland promotion to the First Division and Tranmere Rovers to the Second Division. The scandal saw then chairman Brian Hillier being given a six-month prison sentence and chief accountant Vince Farrar being put on probation. A later appeal saw Swindon Town being allowed to stay in the Second Division.

Ardiles remained in charge until March 1991, when he departed for Newcastle United and was succeeded by new player-manager Glenn Hoddle.

Swindon progressed well during the 1991–92 season, Hoddle's first full season as manager, and just missed out on the Second Division play-offs, having briefly led the table in the autumn. A year later they beat Leicester City 4–3 in the new Division One play-off final to achieve promotion to the Premier League — bringing top-division football to the club for the first time.

Hoddle moved to Chelsea before the 1993–94 FA Premier League season began, and was replaced by assistant John Gorman, but Swindon never adjusted to the pace of Premier League football. They were relegated after recording only five wins and conceding 100 goals — the latter record yet to be broken — and have never returned to the top flight. One of the few successes of the season was a 2–2 draw against champions Manchester United in the league.

The following year, Swindon were relegated for the second consecutive time and slipped into Division Two. Gorman had been sacked as manager in November 1994, and although his successor, player-manager Steve McMahon, was unable to avoid relegation, he did take Swindon to the semi-finals of the League Cup. McMahon then succeeded in getting Swindon back into Division One on his first attempt, winning the Division Two championship in 1995–96.

McMahon remained as manager until September 1998, when he left by mutual consent after Swindon lost five of their nine opening games of the 1998–99 season. The club then went through five managers in five years (Andy King was appointed twice), during which time they were again relegated into Division Two. The highlight of the next few seasons was a fifth-place finish in 2003–04 as financial troubles persisted. A first-round playoff loss to Brighton & Hove Albion on penalties meant Swindon extended their stay in the third tier, now renamed League One.

The club has been beset by financial difficulties throughout its recent history, having been placed into administration twice and also twice fought off winding-up orders from Her Majesty's Customs and Excise over unpaid tax. The board currently has to make yearly payments of £100,000 to creditors (2% of the annual turnover), and only managed to begin the 2006–07 season after sourcing £500,000 to pay for players' wages.

In 2006, caretaker manager (and former player) Iffy Onuora was unable to save Swindon from relegation to League Twomeaning they became the first ever former Premier League team to be relegated to the lowest Football League division.

Dennis Wise agreed to become the new Swindon manager in May 2006 following the relegation, with Gustavo Poyet joining the coaching staff. After a good start to the season, the pair moved to Leeds United in October. Veteran defender Adrian Williams and Barry Hunter took temporary charge until Paul Sturrock was appointed on 7 November. Sturrock guided Swindon to promotion back to Football League One in his first season with the club, earning the third automatic promotion place in a 1–1 draw with Walsall in the last game of the 2006–07 season.

In 2008, Swindon Town was taken over by a consortium, fronted by local businessman Andrew Fitton, with plans to clear all club debts by the end of the 2007–08 season.

Paul Sturrock having departed for Plymouth Argyle, the consortium appointed Sturrock-recommended Maurice Malpas manager, and Swindon finished their first season back in League One in 13th, helped by 15-goal signing Simon Cox. However, the 2008–09 campaign started badly and Malpas was sacked on 14 November 2008, with David Byrne taking over temporarily. Danny Wilson was unveiled as the new manager on 26 December 2008. Wilson helped maintain Swindon's League One status and finished in 15th position, though only four points from the relegation zone, in his first season in charge.

The 2009–10 season would prove a vast improvement, despite the sale of League One top-scorer Simon Cox. The club maintained a play-off position going into the new year, and were at one point in second place with automatic promotion in their own hands. However, a slight slip in form towards the end of the season saw Swindon finish fifth, entering the play-offs against Charlton Athletic. Swindon won the tie on penalties and went on to play in the Football League One play-offs final against Millwall at Wembley Stadium for a place in the Football League Championship. However, they lost 1–0 in what was their first defeat in four appearances at Wembley.

After losing the final Swindon lost their top scorer Billy Paynter who joined Leeds United on a free transfer, and sold club captain Gordon Greer. Still, many bookmakers had Swindon as one of the favourites for promotion to the Championship going into the 2010–11 season. Inconsistent form left Swindon in mid-table for much of the season; however, a 4–2 win at Charlton Athletic in January left fans hoping for a late-season surge. Instead, top-scorer Charlie Austin was sold to Burnley and the team did not win again for 19 matches. When Danny Wilson resigned on 2 March, Paul Hart was brought in but failed to save the Robins, and on 25 April 2011 Swindon were relegated to League Two yet again after losing 3–1 to Sheffield Wednesday. Paul Hart was replaced for the last two games of the season by former player and current reserve and youth team coach Paul Bodin.

Soon after the season ended, the board revealed that high-profile former player Paolo Di Canio would take his first management position at the club. After losing seven of his first 13 games in charge, Swindon went on a 15-match unbeaten run which put them into promotion contention by the midpoint of the 2011–12 season. After a defeat on Boxing Day 2011 to Torquay United, Swindon broke a club record by winning 10 consecutive league games, and by March they were well clear of the chasing pack at the top of League Two. They also enjoyed success in both the FA Cup, beating Premiership side Wigan Athletic in the third round before losing to Championship side Leicester City in the fourth round, and the Football League Trophy, reaching the final at Wembley, where they were runners-up to League One side Chesterfield. On 21 April 2012, Swindon were guaranteed promotion to League One despite losing 3–1 away to Gillingham, because fellow promotion chasers Torquay United failed to win at AFC Wimbledon. They guaranteed their championship of League Two on 28 April after a 5–0 drubbing of Port Vale at home.

On 18 February 2013, with Swindon riding high in League One and in contention for a second consecutive promotion, Di Canio announced his resignation, alleging mistreatment by the board of directors, including the sale of Matt Ritchie behind his back, and the financial instability of the club at the time. In his place came Kevin MacDonald who had previously held caretaker roles at Leicester City and Aston Villa. MacDonald guided Swindon to the League One play-offs; however, they were knocked out after a penalty shoot-out defeat to Brentford. On 13 July 2013, MacDonald left Swindon Town by mutual consent, only three weeks before the start of the 2013–14 season and only five months after taking the Swindon job.

In the 2014–15 season, Swindon reached the League One Play-off final again where they lost 4–0 to Preston after a season in which they were competing for automatic promotion. They went top of the league after a 3–0 win away to Coventry; however, a 2–0 defeat to Sheffield United was the first of a series of results that saw Swindon's form dip, and a 1–0 defeat to bottom club Yeovil Townmeant that Swindon were consigned to finish in the play-offs. They reached Wembley after a record breaking 5–5 draw against Sheffield United, the highest-scoring play-off match in history.

In the 2016–17 season, Swindon claimed a third shock relegation to League Two yet again by finishing third from bottom on 22 April 2017 after losing 2–1 to Scunthorpe United with only one more fixture on the road in hand. Following relegation to League Two for the third time Luke Williams was sacked after Swindon lost 3–0 at Charlton Athletic.

On 9 June 2020, Swindon were crowned League Two champions on the basis of average points per game; matches in the 2019–20 season had been suspended from March due to the COVID-19 pandemic in the United Kingdom.
The Manager – Richie Wellens
Form Guide
Ipswich Last 5 Matches – currently in 7th place with 32 points
15 Dec Ipswich Town 2 - 1 Burton Albion


19 Dec Peterborough pp. Ipswich Town


26 Dec Ipswich Town pp. Northampton


29 Dec AFC Wimbledon pp. Ipswich Town


04 Jan Fleetwood Town pp. Ipswich Town


Swindon Last 5 Matches – currently in 23rd place with 17 point
15 Dec Doncaster 2 - 1 Swindon Town


19 Dec Swindon Town 2 - 2 Charlton


26 Dec Portsmouth pp. Swindon Town


29 Dec Swindon Town 1 - 4 Milton Keynes


2 Jan Swindon Town pp. Wigan Athletic

Match Referee – Sebastian Stockbridge
IPSWICH TOWN

2

SWINDON TOWN

1