Ipswich Town

vs

West Ham United Under 21's

Tuesday 14th September 2021 – 19:45


Portman Road
Pre-Match Thoughts - Mike
Just When You Think It Cannot Get Any Worse.......
Paul Hurst tried it and failed miserably, Paul Cook has tried it and looks to be going the same way, making wholesale changes to a team is always going to be a gamble and at the moment it is a gamble that looks like backfiring big time. Despite the cynics laughing at the "time to gel" thing I am a great believer that it does take time to gel so many new players at once, however, things just seem to be getting worse and worse, we were told that getting a full Two weeks on the training ground would help us no end, if that is true then we would surely have lost Six or Seven Nil yesterday because what we witnessed was horrific in the extreme.

Clearly our biggest issue at the moment is our defence, Six games played and Six different Centre back partnerships hardly lends itself to any kind of continuity and boy are we suffering, add to that a new keeper again being expected to come in and make it a seamless change, it isn't going to happen. I must say I thought for Ten minutes George Edmundson looked exactly the player we are all screaming out for, sadly it didn't last and along with KVY, Cameron Burgess and the new Keeper Christian Walton it was a horror show, worryingly it was worse than anything else we had seen this campaign and this is supposedly our best defensive line up. KVY was nothing sort of disgraceful in more ways than One and fair play to Paul Cook for removing him so early.

A Midfield pairing of Harper & Evans had most of us really excited back in August but that enthusiasm has quickly evaporated as they both look lost, Evans in particular has been woeful, time and time again he tries fancy cross field passes which go out of play almost every time, his presence in the centre of Midfield is lost time and time again and he is caught out of position on numerous occasions, Harper in the last game or Two has not looked the same player either and these two were a big reason as to why we were cut apart so often on Saturday.
I think it has to be acknowledged that Morsy, Edwards, Fraser and Celina will in all probability be definite starters once fit and as such we were under strength but that really is making excuses. I felt Wes Burns, Aluko and Bonne all did ok and were our better players on a day when that is not saying much, others need a long hard look in the mirror. One thing I do not get is having Joe Pigott on the bench, yes Bonne has scored a few goals but for me that is all he offers, Pigott has a far better all round game with his hold up play, aerial ability and neat footwork, he brings others into play and links with the Midfield so much better, maybe we need to look beyond the same formation game after game and change it up a bit, maybe Bonne & Pigott on the pitch together would not be such a bad experiment.

I am certainly not calling for Cook's head, that is silly after Six games but there are One or Two areas that have me concerned, the Six teams we have played are all teams that we should be beating and yet we've failed to win a single One and with much harder tests to come it is a real worry. I think this season is going to be a learning curve for us all and while it is still very early days our chances of Top Two are, for me anyway, gone already, the play off's remain a realistic target for every team in the division and that is what we must aspire to achieve. While I am bitterly disappointed and underwhelmed I am still prepared to give Paul Cook the time he clearly needs, these players all came here to play for Cook and any change at this stage would be foolish, I think Christmas is a good and fair time to judge just where we are.

We take a break from League Action to welcome West Ham Utd U21's to Portman Road in the Papa John's Trophy Group stages, normally it is a virtually unknown team that takes to the field but Cook assures us it will be a strong team that will go into battle, part of me feels the Eleven that let us down so badly against Bolton Wanderers should be given the job of getting a win, let's face it any win right now would be welcome as yet another embarrassing defeat to a team we should beat will only have the cook "outers" becoming louder and louder and who could really blame them. For what it's worth I think we will put out a team strong enough to scrape a win in this one, and let's be honest this cup could well offer us our best chance of some kind of glory !! Town win, keep the faith, hard I know. COYB'S
The Opposition – West Ham United Under 21's
The earliest generally accepted incarnation of West Ham United was founded in 1895 as Thames Ironworks F.C., the works team of the largest and last surviving shipbuilder on the Thames, Thames Ironworks and Shipbuilding Company, by foreman and local league referee Dave Taylor and owner Arnold Hillsand was announced in the Thames Ironworks Gazette of June 1895. Thames Ironworks was based in Leamouth Wharf in Blackwall and Canning Town on both banks of the River Lea, where the Lea meets the Thames. Thames Ironworks built many ships and other structures, the most famous being HMS Warrior. The last ship built there was the dreadnought HMS Thunderer in 1912 and the yard shut soon after.


The repair yard of the Castle Shipping Line was a very near neighbour and their work team, initially known as the Castle Swifts, would informally merge with the Thames Ironworks own team.


The team played on a strictly amateur basis for 1895 at least, with a team featuring a number of works employees. Thomas Freeman was a ships fireman and Walter Parks, a clerk. Johnny Stewart, Walter Tranter and James Lindsay were all boilermakers. Other employees included William Chapman, George Sage and Fred Chamberlain, as well as apprentice riveter Charlie Dove, who was to have a great influence on the club's future at a later date.


Thames Ironworks won the West Ham Charity Cup, contested by clubs in the West Ham locality, in 1895, then won the London League in 1897. They turned professional in 1898 upon entering the Southern League Second Division, and were promoted to the First Division at the first attempt. The following year they came second from bottom, but had established themselves as a fully fledged competitive team. They comfortably fended off the challenge of local rivals Fulham in a relegation play-off, 5–1 in late April 1900 and retained their First Division status.


The team initially played in full dark blue kits, as inspired by Mr. Hills, who had been an Oxford University "Blue," but changed the following season by adopting the sky blue shirts and white shorts combination worn from 1897 to 1899.


Following growing disputes over the running and financing of the club, in June 1900 Thames Ironworks F.C. was disbanded, then almost immediately relaunched as West Ham United F.C. — reflecting the West Ham, London district where they played — on 5 July 1900 with Syd King as their manager and future manager Charlie Paynter as his assistant. Because of the original "works team" roots and links (still represented upon the club badge), they are still known as "the Irons" or "the Hammers" amongst fans and the media.


The reborn club continued to play their games at the Memorial Grounds in Plaistow (funded by Arnold Hills) but moved to a pitch in the Upton Park area in the guise of the Boleyn Ground stadium in 1904. West Ham's first game in their new home was against fierce rivals Millwall (themselves an Ironworks team, albeit for a rival company) drawing a crowd of 10,000 and with West Ham running out 3–0 winners, and as the Daily Mirror wrote on 2 September 1904, "Favoured by the weather turning fine after heavy rains of the morning, West Ham United began their season most auspiciously yesterday evening; when they beat Millwall by 3 goals to 0 on their new enclosure at Upton Park."


In 1919, still under King's leadership, West Ham gained entrance to the Football League Second Division, their first game being a 1–1 draw with Lincoln City, and were promoted to Division One in 1923, also making it to the first ever FA Cup Final to be held at the old Wembley stadium. Their opponents were Bolton Wanderers. This was also known as the White Horse Final, so named because an estimated 200,000 people came to see the match; spilling out on to the pitch, which had to be cleared prior to kick-off, by "Billie," a giant white horse (actually grey) being ridden by PC George Scorey. The Cup Final match itself ended 2–0 to Bolton. The team enjoyed mixed success in Division 1 but retained their status for ten years and reached the FA Cup semi-final in 1933.


In 1932, the club was relegated to Division Twoand long term custodian Syd King was sacked after serving the club in the role of manager for 32 years, and as a player from 1899 to 1903. Following relegation, King had mental health problems. He appeared drunk at a board meeting and soon after committed suicide. He was replaced with his assistant manager Charlie Paynter, who himself had been with West Ham in a number of roles since 1897 and who went on to serve the team in this role until 1950 for a total of 480 games. The club spent most of the next 30 years in this division, first under Paynter and then later under the leadership of former player Ted Fenton.


Fenton succeeded in getting the club once again promoted to the top level of English football in 1958. With the considerable input of player Malcolm Allison, Fenton helped develop both the initial batch of future West Ham stars and West Ham's approach to the game.


Ron Greenwood was appointed as Fenton's successor in 1961 and soon led the club to two major trophies, winning the 1964 FA Cup Final. The team was led by the young Bobby Moore. West Ham also won the European Cup Winners' Cup.


They also won the FA Cup in 1975 by defeating Fulham 2–0. The Fulham team had former England captains Alan Mullery and West Ham legend Bobby Moore.


After a difficult start to the 1974–75 season, Greenwood moved himself "upstairs" to become general manager and, without informing the board, appointed his assistant John Lyall as team manager. The result was instant success – the team scored 20 goals in their first four games combined and won the FA Cup, becoming the last team to win the FA Cup with an all-English side when they beat Fulham 2–0 in the 1975 final.


In 1978, West Ham were again relegated to Division Two, but Lyall was retained as manager and led the team to an FA Cup Final win against Arsenal in 1980, their last major honour. This is notable as no team outside the top division has won the trophy since. West Ham were promoted to Division One in 1981, and finished in the top ten of the first division for the next three seasons before achieving their highest-ever league finish of third in 1985–86. However, they suffered relegation again in 1989, which resulted in Lyall's sacking. Lyall left West Ham after 34 years service.


After Lyall, Lou Macari briefly led the team, though he resigned after less than a single season in order to clear his name of allegations of illegal betting while manager of Swindon Town. He was replaced by former player Billy Bonds. In Bonds' first full season, 1990–91, West Ham again secured promotion to Division One. Now back in the top flight, Bonds saw West Ham through one of their most controversial seasons. With the club planning to introduce a bond scheme, there was crowd unrest. West Ham finished last and were relegated back to Division Two after only one season. However, they rebounded strongly in 1992–93. With Trevor Morley and Clive Allen scoring 40 goals, they guaranteed themselves second place on the last day of the season with a 2–0 home win against Cambridge United, and with it promotion to the Premier League.


Assistant manager Harry Redknapp was also now taking a bigger role in the transfer of players, with the club's approval. With rumours of his old club AFC Bournemouth being prepared to offer him a position. Redknapp became manager on 10 August 1994.


His first season in charge saw West Ham fighting the threat of relegation until the last few weeks, while his third season would also see another relegation battle.


In 1999, West Ham finished fifth, their highest position in the top flight since 1986. Things began to falter for Redknapp with the sale for £18 million to Leeds of Rio Ferdinand in November 2000. Redknapp used the transfer money poorly with purchases such as Ragnvald Soma, who cost £800,000 and played only seven league games, Camara, and Song. Chairman Brown lost patience with Redknapp due to his demands for further transfer funds. In June 2001, called to a meeting with Brown expecting to discuss contracts, he was fired.


With several names, such as former player Alan Curbishley, now linked with the job, Chairman Brown recruited from within the club, appointing reserve team coach Glenn Roeder as manager on 9 May 2001. Finishing seventh in his first seasonRoeder, in his office at Upton Park, suffered a blocked blood vessel in his brain. As Roeder needed medical help and recuperation, former stalwart Trevor Brooking stood in as caretaker manager. Despite not losing another game, the Hammers were relegated on the last day of the season at Birmingham City with a record for a relegated club of 42 points from a 38-game season. Ten seasons of top-tier football were over.


The next season, now in the second tier, Roeder resumed his stint as manager. Results were still poor, however, and after an away defeat to Rotherham United, he was sacked on 24 August 2003. Brooking again took over as caretaker. He lost only one game, a 2–0 away defeat to Gillinghamand is known as "the best manager West Ham never had."


Former Crystal Palace player and manager of Reading Alan Pardew was lined up to be the next bench boss and he was appointed manager on 18 October 2003, their tenth manager. Pardew in his first season in charge, they made the playoff final only to lose to Crystal Palace. West Ham won in the 2005 playoff final, securing a return to the Premier League.


On their return to the top division, West Ham finished in ninth place, The highlight of the 2005–06 season, however, was reaching the FA Cup final and taking favourites Liverpool to a penalty shootout after a 3–3 draw. West Ham lost the shootout, but nonetheless gained entry to the following season's UEFA Cup as Liverpool had already qualified for the Champions League. The club was eventually bought by an Icelandic consortium, led by Eggert Magnússon, in November 2006. Manager Alan Pardew was sacked after poor form during the seasonand was replaced by former Charlton Athletic manager Alan Curbishley.


The signings of Mascherano and Tevez were investigated by the Premier League, who were concerned that details of the transfers had been omitted from official records. The club was found guilty and fined £5.5 million in April 2007. However, West Ham avoided a points deduction which ultimately became critical in their avoidance of relegation at the end of the 2006–07 season. Following on from this event, Wigan Athletic chairman Dave Whelan, supported by other sides facing possible relegation, including Fulham and Sheffield United, threatened legal action. West Ham escaped relegation by winning seven of their last nine games to finish 15th.


In the 2007–08 season, West Ham achieved a tenth-place finish.


Alan Curbishley resigned on 3 September 2008.[84] His successor was former Chelsea striker Gianfranco Zola, who took over on 11 September 2008 to become the club's first non-British manager. In the 2008–09 season, West Ham finished ninth.


In August 2009, the financial concerns of Icelandic owners parent companies left the current owners unable to provide any funds until a new owner was found. The club's shirt sponsor SBOBET provided the club with help. West Ham had a poor season which involved a prolonged battle against relegation. They finally secured their survival with two games remaining and on 11 May 2010, two days after the end of the 2009–10 season, West Ham announced the termination of Zola's contract with immediate effect.

On 3 June 2010, Avram Grant signed a four-year deal to become the next manager of West Ham subject to a work permit. West Ham's form continued to be poor with the team seldom outside the relegation zone. On 15 May 2011, West Ham's relegation to the Championship was confirmed after a comeback from Wigan at the DW Stadium. Following the loss, West Ham announced the sacking of manager Avram Grant just one season into his tenure. On 1 June 2011, Sam Allardyce was appointed as manager as Grant's replacement.


The club finished third in the 2011–12 Football League Championship with 86 points and took part in the play-offs. They beat Cardiff City in the play-off semi-final to reach the final against Blackpool at Wembley on 19 May 2012 which they won.


West Ham, on their return to the Premier League finished 12th at the end of the year. On 22 March 2013, West Ham secured a 99-year lease deal on the Olympic Stadium, with it planned to be used as their home ground from the 2016–17 season. Tenth place was secured at the end of the season. with nine home wins and only three away from home.


In 2013–14, West Ham finished 13th in the Premier League. A feature of the season were the criticisms of manager Sam Allardyce by supporters relating to his perceived negative playing tactics. West Ham finished 12th in the 2014–15 Premier League, one place higher than the previous season. Minutes after the last game of the season, on 24 May 2015, the club announced that Allardyce's contract would not be renewed and that they were seeking a new manager.


On 9 June 2015, former West Ham player Slaven Bilić was appointed as manager on a three-year contract. West Ham finished 7th in the Premier League. The season also marked the last season where the team played at the Boleyn Ground, with them moving to the London Stadium from next season - ending their 112-year stay at the stadium.


At the end of the tough first season at the London Stadium, the team finished 11th.However, the team suffered a poor start to the following season, Bilić was sacked on 6 November 2017. He was replaced by former Sunderland boss David Moyes on a contract till the end of the season. The team battled inconsistent form for the rest of the season but managed to avoid relegation and finish 13th. Moyes was not offered a new contract and left the club on the expiration of it on 16 May 2018.


On 22 May 2018, the club appointed former Manchester City boss Manuel Pellegrini as the new manager on a three-year deal contract. In his first season in charge, the Hammers finished 10th, once again suffering from inconsistent form. However, after a poor first half to the following season, Pellegrini was sacked in December 2019 with the team only one point above the relegation zone. He was replaced by David Moyes, who returned for a second spell in charge a day later.


On 22 July 2020, the club secured their Premier League status for another season. Despite losing the opening two games of the new season, West Ham's form improved and by the end of November, the club sat in fifth place. The club would not drop out of a European spot for the rest of the season and went on to qualify for the 2021–22 UEFA Europa League group stages after finishing in 6th - exceeding many expectations. Moyes signed a new 3-year contract on 12 June 2021.

The Academy Manager – Dmitri Halajko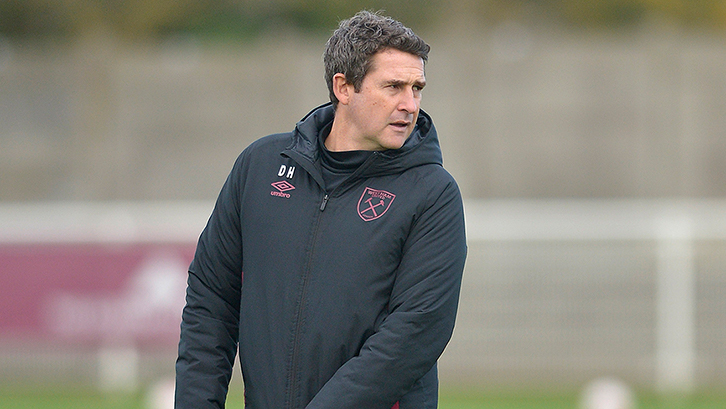 Match Referee – Charles Breakspear
IPSWICH TOWN

1

WEST HAM UNDER 21's

0