Accrington Stanley

v

Ipswich Town

Saturday 2nd October 2021 – 15:00



Wham Stadium
Pre Match Thoughts - Mike
"Sixy Football".............




It had to happen, sooner or later this Town team were going to rip someone apart and finally we found our groove as we hit Doncaster Rovers for Six at Portman Road to register our first home win of the season, it may have been a while coming but we did it in style and while it may not have been "Sexy Football" there were elements of the performance that were really impressive. I think it has to be recognised that Doncaster were about as bad as it gets at any level of Football and I doubt there would have been a team from League Two even that would not have beaten them on the night but you can only beat what is in front of you and maybe some of what we did went a way to making them look so poor.

Much had been written about the positive effect a certain Sam Morsy was going to have on the team once he was clear to play, the hype and expectation has been massive and boss Paul Cook has certainly heaped the pressure on his new captains shoulders, but we need not have panicked as Morsy took it all in his stride and fulfilled our hopes from the off, his debut performance was composed, efficient, controlled etc etc, he did everything simply and barely put a tackle or a pass an Inch out of place, while he is the typical Defensive Midfielder who likes to sit he also gets forward a bit too and picks offensive passes to get the team moving forward, all very encouraging.

I think another big plus was Lee Evans getting a Hat -trick and the Morsy effect almost certainly allowed Evans more freedom and space to get forward into attacking positions, Evans took his goals with aplomb and if he can continue to offer this type of threat we then have yet another attacking option at our disposal, as if we haven't got enough already. That man Macauley Bonne wasn't to be denied either as he helped himself to a brace to take his seasons total to an impressive Seven so far, George Edmundson popping up at the death to complete the rout.
Lee Evans, Sam Morsy & Macauley Bonne will take most of the plaudits but in truth every player on the night did their bit efficiently, for me Wes Burns has been the player of the season so far, such is his work rate and effort he is usually burnt out by 75 minutes, Scott Fraser was very impressive too, the back Four & Keeper all did their jobs well and the clean sheet will boost confidence further, I am convinced we have the right man between the sticks and he will go from strength to strength after his early season wobble.

The only player not mentioned so far is Bersant Celina who I think it is fair to say I have been a little tough on since we were linked with his return to Portman Road. I think what last night has told us is that you don't put square pegs in round holes, Celina is not a Number Ten and it showed in a pretty average first half, being switched out wide Left made a big difference to Bersant and he improved greatly as he had a hand in Three of the goals, I still feel at times he can be a bit of a luxury player and against better teams that effort may not be enough but there is no doubt he has talent and skill and it could just be he is still a way off full fitness so I am happy to give him time, how lovely is it to have Kyle Edwards & Conor Chaplin chomping at the bit to grab the shirt, nobody can sit on their laurels and expect to start.

The one thing that is a slight concern is how the likes of Edwards, Chaplin, Pigott, Harper, Norwood etc will take it being bit part players, all those players should walk into any League One starting Eleven which goes to show the ridiculous strength of our squad depth, Joe Pigott in particular worries me, the main man last season and scoring goals for fun to not even being able to get a place on our bench, surely that is not sitting well with him and to be fair it would be understandable as when he has played I feel he has done very well, albeit without having much luck in front of goal, the way Cook likes his team to play only allows for One out and out Striker and Bonne is not going anywhere anytime soon so Pigott is still going to have to bide his time as an impact sub at best until January at least when we may be faced with losing Bonne back to his parent club.

One thing that definitely stands out for me is the team spirit within the side, after every goal and at the final whistle everyone is congratulating each other with hugs, hand shakes, high Fives you name it and I think it looks so genuine, for a group that have only just been thrown together they appear to have bonded really well, I also noticed the group huddle just before kick off which I am sure Morsy instigated, I may be wrong but not sure we have been doing that every game, either way it is all very positive as a happy squad is more often than not a successful one.

Having taken Seven points from a possible Nine it is important we try to keep the momentum going and next up is a long trip North to take on those Milk Guzzling, Tweed cap wearing Lancastrians from Accrington Stanley. Stanley had started the season well but in recent games have slipped from grace somewhat, only a single point from the last Twelve sees them in 12th place with Thirteen points, what has me licking my lips is the fact they have conceded more goals than anyone else in the division and with our attacking options that must be an opportunity to capitalize on this and come home with another win, our fire power may be too much for them to contain.

Aside from Colby Bishop none of the Accrington players are known to me, Bishop along with Matt Butcher & Michael Nottingham have all contributed Three goals but is clearly at the back where they struggle and we have to attack it, play to our strength's which is attack and I feel this is very winnable indeed, our confidence should be high and our tails up whereas Accrington confidence could be fragile after conceding Five at Oxford on Tuesday evening. No game is easy, especially for us but I feel pretty confident we can make it Ten points from Twelve and if that is achieved I think any early season doubts would be well and truly removed. Town win for me as the Tractor gathers pace. COYB'S
The Opposition – Accrington Stanley
The original town club, Accrington, was amongst the twelve founder members of the Football League in 1888, before resigning from the league after just five years. A team called Stanley Villa already existed at the time, named as such because they were based at the Stanley W.M.C. on Stanley Street in Accrington. With the demise of Accrington, Stanley Villa took the town name to become Accrington Stanley.

Accrington had been without a football team following the collapse of the original Accrington Stanley in 1966. The original team had been formed in 1891 and played in the Football League from 1921 to March 1962, but had spent its final four seasons in the Lancashire Combination. At a meeting at Bold Street Working Men's Club in 1968 the revival was initiated, and in August 1970 the new club played at a new ground, the Crown Ground. Eric Whalley, a local businessman, took control of the club in 1995 and began the development of the club's ground. After the club was relegated in 1999, Whalley appointed John Coleman as manager.

The club's rise to the Football League is attributed in part to the windfall of hundreds of thousands of pounds reaped by the sell-on clause in the December 2001 transfer of former Stanley star Brett Ormerod to Southampton, which paid Blackpool over a million pounds for his contract. Stanley had taken £50,000 from Blackpool in 1997, with the agreement that Blackpool would pay Accrington a quarter of what it might have received if it in turn transferred Ormerod to another team. The 2002–03 championship of the Northern Premier League followed quickly on Accrington's getting the cash.

Following the 2002–03 win of the Northern Premier League, the club was promoted for the first time in its history to the Football Conference. The club's first-ever game in the league was away to another re-formed club, Aldershot Town, on Sunday 10 August 2003. The game was shown live on Sky Sports and resulted in a 1–2 loss. The season was a success, with a final league position of 10th being achieved. The highlight of that first season in the 5th tier was a sensational run to the FA Cup 3rd round, only losing in a replay away to League One side Colchester United.

The following season saw the club become a full time professional outfit. The 2004–05 also resulted in a 10th-place finish.

The 2005–06 season saw the return of Stanley to the Football League. Finishing on 91 points, the club went on a 19-game unbeaten run stretching from October to March, leaving the club an easy passage to League Two after 46 years away.

The club was involved in a relegation battle throughout its first season in the 4th tier. A run of 5 wins in the last 9 games of the season led to a 20th-place finish and was enough to save the club from relegation in its first season back in the Football League.

The 2007–08 season produced more of the same, with the club involved in another relegation battle.5 wins in the final 12 games were enough to secure a 17th-place finish and another season in the 4th tier of English Football.

Performance during the 2008–09 season improved, with the club achieving a modest 16th-place finish in League Two.

The 2009–10 season was far better, with the club pushing for a playoff place at the turn of the year. A run of 9 wins in 10 League games saw the club with a chance of making the playoffs, only for this to fade in March/April.

The club reached the Football League Two play-offs during the 2010–11 season, one of the most successful in its history. A run of 1 loss in 19 games, from February till May, saw the club finish in a best-ever 5th position, eventually losing to League Two newcomers Stevenage in the Playoff Semi-finals.

2011–12 was a season of transition for the club. The loss of no less than six of the playoff-chasing side of the previous season was a tough act to follow. Following a shaky start to the season the arrival of Bryan Hughes in October transformed the club's fortunes. A run of 6 wins in 7 games over the Christmas period saw the club briefly enter the play-offs. However, following the sale of club captain Andrew Procter to Preston North End in the January 2012 transfer window, the third-longest serving management team of John Coleman and Jimmy Bell departed for Rochdale.

Former Burnley and club favourite Paul Cook was brought in as manager, along with the promotion of Leam Richardson from caretaker manager to full-time assistant. Only 3 wins in the final 17 games of the season was a pretty poor finish the season. However, this meant the club achieved a solid mid-table finish in 14th position.

On 18 September 2014, Coleman was confirmed as manager of Accrington Stanley for his second spell with the club.

On 17 April 2018, they were promoted to League One following a 2-0 win over Yeovil Town.

Last season Stanley finished in 11th place.
The Manager – John Coleman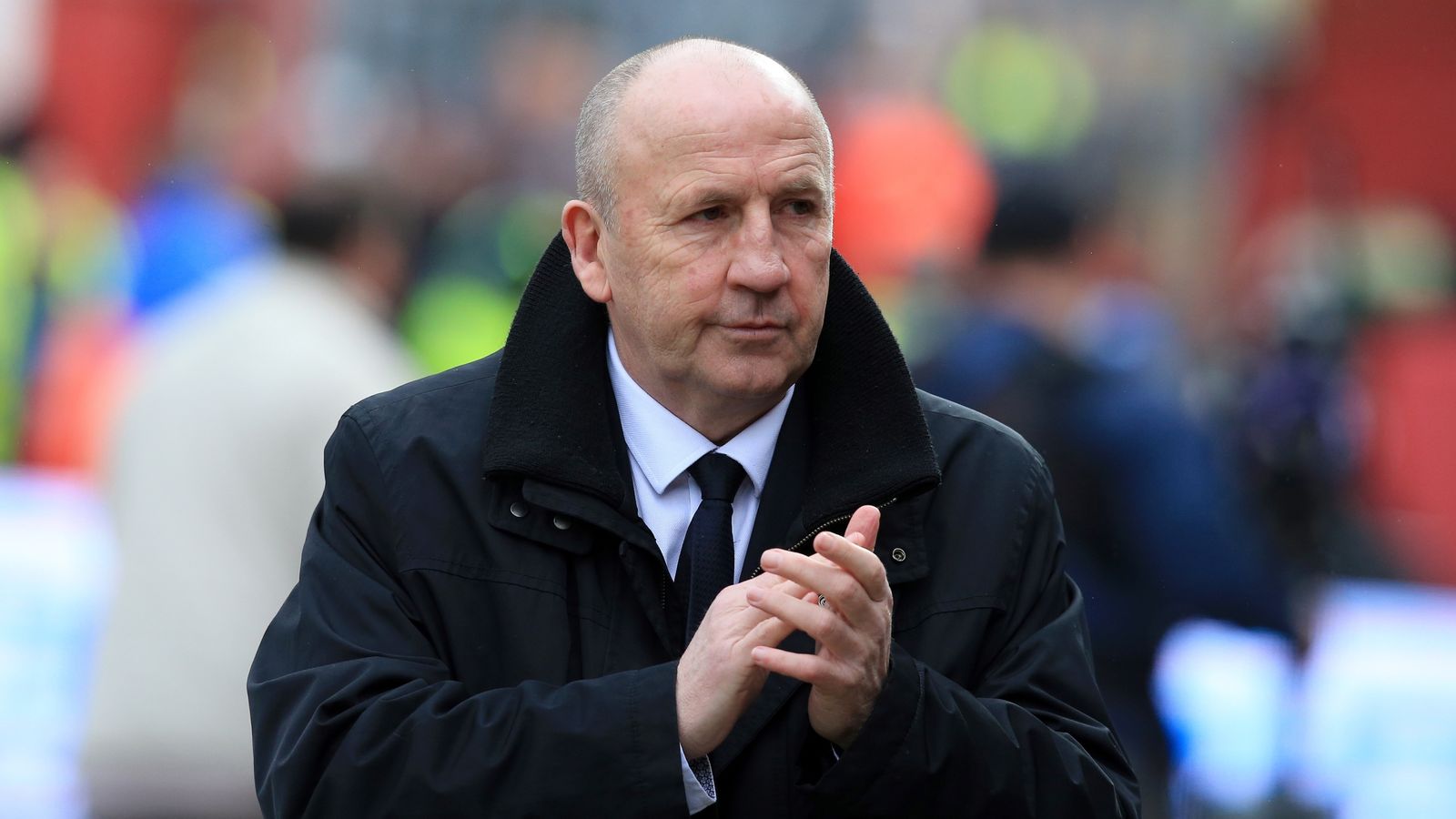 Form Guide
Accrington Stanley Last 5 Matches – Currently in 12th place with 13 points
4 Sep Accrington 1 - 0 Shrewsbury


11 Sep Sunderland 2 - 1 Accrington


18 Sep Accrington 1 - 4 Wigan Athletic


25 Sep Morecambe 3 - 3 Accrington


28 Sep Oxford Utd 5 - 1 Accrington

Ipswich Last 5 Matches – Currently in 19th place with 10 points
28 Aug Ipswich Town 2 - 2 AFC Wimbledon


11 Sep Ipswich Town 2 - 5 Bolton


18 Sep Lincoln City 0 - 1 Ipswich Town


25 Sep Ipswich Town 1 - 1 Sheffield Wed


28 Sep Ipswich Town 6 - 0 Doncaster

Match Referee – Martin Coy
ACCRINGTON STANLEY

1

IPSWICH TOWN

2