Ipswich Town

vs

Oldham Athletic

Saturday 6th November 2021 – 15:00


Portman Road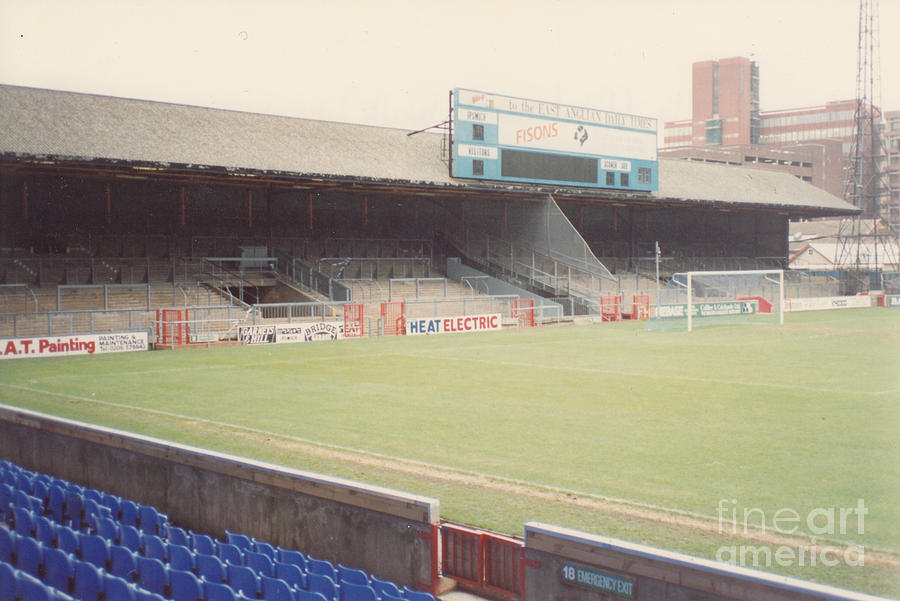 Pre-Match Thoughts - Mike
Almost The Perfect Away Performance.........




Twenty minutes into the Wycombe Wanderers game I was thinking "here we go again" another no show by Town when up against One of the better sides in the division, pinned back, under the cosh a bit and a goal down, it wasn't looking good. What followed was some turnaround and probably as good an away Performance as we are likely to see. Town took the game by the scruff of the neck and turned the game on it's head, so much so that by the final whistle we had taken high flying Wycombe apart on their own patch.


The Performance was not only an excellent team effort, there was very strong individual Performances all over the pitch, from the excellent Sam Morsy in Midfield, to Bersant Celina in the Number 10 role, Wes Burns with his energy, Toto and Edmundson with their grit and strength, Evans spraying the passes around, Bonne with another superbly taken strikers finish, Walton in goal with a world class save at a crucial time, Edwards with his trickery to set up the Second and Cameron Burgess being forced to play at Left Back but looking as good as anything we have seen in that position this season, and who can forget KVY who put in a superb performance upon his return to the side and finally looking like the player we all remember from when he arrived at Portman Road, yes indeed, everyone played their part, Wycombe are pretty much unbeatable at home but we did a real job on them.

Looking ahead to the January window I just wonder how much movement in and out there will be at Portman Road ? One thing is for sure, unlike recent years we won't be sitting back and settling for what we have, I think its pretty certain we will strengthen where it's deemed necessary. I think it is almost certain that One or Two will depart too, Kayden Jackson looks a strong candidate while James Norwood is looking like his Town days are numbered, if reports are true that he's been told to stay away from Portman Road are anything to go by that is, it has also been doing the rounds that he's been spending match days watching Amateur Football and posting all sorts of nonsense on Instagram. All in all I think we could see quite an interesting window once again.

I'm a tad disappointed that we now turn our attention to the FA Cup and a first round tie at home to League Two stragglers Oldham Athletic, I say disappointed because I think it would have been ideal to continue with League action and build on the superb result at Adams Park on Tuesday, it is what it is and our focus has to be on keeping the momentum going with what I suspect will be a much changed team, I can see the likes of Hladky, Woolfenden, Harper, El Mizouni, Fraser and Pigott all being involved here and that should still be easily good enough to avoid another cup embarrassment.

The fans are pretty split on whether or not we should take the Cup seriously or whether all our focus should be purely on promotion, for me Promotion is the be all and end all of the season, that said I believe you should try to win every game and a good cup run can be exciting, so they tell me anyway, I can't remember what it feels like.

I think Town's back up players will have too much for Oldham and I fully expect us to be in the draw for the second round. So I am going for a Town win by a clear couple of goals. Wembley here we come !!! COYB'S.
The Opposition – Oldham Athletic
In July 1895, licensee John Garland with his son formed a football club named Pine Villa Football Club with a group of friends inside the Featherstall & Junction Inn. The club was initially named after the Pine Mill whose shadow the club played in. The term Villa is thought to have originated due to Aston Villa's dominance at the time of formation. The club changed its appearance and name in 1899 to Oldham Athletic Football Club. The club immediately gained professional status and played in both the Lancashire Combination and Lancashire League. Unlike many clubs, Oldham Athletic gained quick success and gained acceptance into the Football League in 1907–08. After three years in the Second Division, Latics gained promotion to the First Division.

Within a couple of seasons, Oldham had announced themselves serious contenders, finishing 4th in the league in 1912–13, and reaching the F.A. Cup semi-finals the same season, losing out 1–0 versus Aston Villa. In 1914–15, Latics reached the quarter-finals of the FA Cup but were knocked out once again after a 0–3 replay against Sheffield United. In the league that season they almost won it all; Latics lost the league by one point, as close as they have ever come to winning the league. Latics early success was only halted by the First World War.

Following the return of competitive football after the First World War, Oldham Athletic struggled to find their early success before they returned to the Second Division in 1923 – it would be another 68 years before they played top division football again.

Many of the players from their former squads had either retired from football or had been killed in the war. Their highest success came in the 1929–30 season as they finished in 3rd, missing out on promotion by finishing two points behind Chelsea. From then on they slowly but surely fell down the league table, until a final placing of 21st at the end of the 1934–35 season saw them relegated to the Third Division North. They found life in this new division much more to their liking, coming 7th in their first season and following this with three seasons in the top five.

Promotion back to the Second Division looked like it might just be a possibility, but the outbreak of the Second World War in 1939 brought an end to League Football. Players' contracts were terminated, and relying largely on guest players, the club was to play in the war-time Northern League until August 1946.

Following the return of competitive football there was to be no immediate success for Oldham Athletic, it wasn't until the appointment of George Hardwick as player-manager in November 1950 that the club found any real form.

Hardwick's appointment came at a cost, with a £15,000 transfer fee paid to Middlesbrough. This was a huge amount at the time, especially for a third division club, but it was to stir up the town and its fans, who now looked forward to seeing a man who had been captain of England only two years previously in charge of its club's fortunes. In Hardwick's first full season in charge they finished 4th after topping the table for a considerable time. Home gates stayed high, with an amazing 33,450 watching a 1–0 win over local rivals Stockport County in March 1952, after a January game in the snow had established a new club scoring record when Chester were beaten 11–2. Eric Gemmell scored seven of these to establish an individual club record for one game which still stands to date. The season after, Oldham Athletic proudly finished champions of the division and won promotion to the Second Division. With an ageing squad and little money to recruit, however, the season that followed was a massive disappointment. Only eight games were won, Oldham finished in last place and quickly returned to the Third Division North, where a first equally disappointing season saw them finish no higher than 10th.

Hardwick resigned in 1955 and between then and 1960, they continued to struggle, finishing below the top 20 on three occasions. With a 15th-place finish in 1958–59, Oldham became a founding member of a newly formed Fourth Division. In the following season they finished in the 23rd position – their lowest position in the entire League, and had to apply for reelection, which they passed as the League chose to drop Gateshead, who had finished above them, in favour of newcomers Peterborough United.

Ken Bates entered the picture at Oldham Athletic in the early 1960s (where he was chairman for 5 years), and along with the appointment of manager Jack Rowley, the club's fortunes turned for the better. During the 1962–63 season, Oldham Athletic again gained promotion to the Third Division as Rowley left as manager.

In the 1968–69, Jack Rowley once more returned as manager. With their inconsistency, Rowley and Bates could not save the club from a last-place finish and inevitable relegation. Midway through the 1969–70 season, Rowley and Bates both left the club as Jimmy Frizzell became the Latics manager, a position he held for the next 13 seasons.

Jimmy Frizzell, a Scottish-born defender, became Oldham's player-manager during the 1969–70 season. In the 1970–71 season, Oldham saw their best result since 1962–63 as they finished in third place, earning promotion back to the Third Division.

In the 1973–74 season, the Latics finished in 1st place and returned to the Second Division for the first time in 21 years. Oldham's trip back to the Second Division was far more successful than their previous visit. During Frizzell's remaining time at the club, the Latics remained in the Second Division, but with little FA Cup and Football League Cup success.

In June 1982, the club appointed Joe Royle as their manager. Royle's side finished 7th in his first season in charge, but fell to 19th in his second. In the 1986–87 season, Oldham narrowly missed promotion to the First Division finishing three points behind Portsmouth and losing in the inaugural play-offs to Leeds United, when previous seasons would have seen them automatically promoted.

Royle's Latics reached Wembley Stadium in the 1990 Football League Cup Final versus Nottingham Forest, where they lost 1–0. The next season, Oldham did not have the same cup success, but instead found success by winning the Second Division and returning to the First Division for the first time in 68 years. In their first season back in the top flight, the club finished 17th and became one of the founding members of the newly formed Premier League. After two further seasons at the top level, Oldham faced relegation yet again and during the following season, the Joe Royle era came to an end, as he left the club for Everton.

In the 1994 season, Oldham failed to win any of their seven remaining league games following the semi-final and were relegated on the final day of the season.

Graeme Sharp took over as Oldham's player-manager on the departure of Joe Royle in November 1994, but he was unable to mount a promotion challenge and the pressure continued to build up a year later when Oldham narrowly avoided relegation. Relegation to Division Two happened at the end of the 1996–97 season, just after Sharp had resigned to be succeeded by Neil Warnock. As one of the biggest clubs in Division Two for 1997–98, and being managed by Warnock who had achieved no less than five promotions with other clubs in the last 11 years, Oldham Athletic were tipped for an immediate return to Division One, but they finished a disappointing 13th in the league and Warnock resigned. Oldham would ultimately stay in the third tier for 21 years.

In 2001, Oxford-based businessman Chris Moore purchased Oldham Athletic, vowing to take the club back to Premier League football within five years. Oldham finished fifth and their promotion dreams were ended in the playoffs, and their fans were furious when Moore decided to end his interest with the club, leaving behind large debts and a weak squad, and after selling the better players at a fraction of their market value at the time. For a while, it looked as though the club would go out of business, but a takeover deal was soon completed.

In 2004–05, Simon Blitz and two other partners, Simon Corney and Danny Gazal, purchased Oldham Athletic, trying to rescue the club from possible liquidation. While trying to repay debts, Oldham struggled for several seasons, barely avoiding relegation once more in 2004–05.

In January 2015, it was reported that Oldham was attempting to sign Ched Evans, an accused rapist. The move faced a significant public backlash, including from politicians, while a petition against the signing gained 60,000 signatures and Verlin Rainwater Solutions withdrew club sponsorship. Oldham ultimately decided not to sign Evans due to "unbearable pressure" while condemning the "vile and abusive threats, some including death threats, which have been made to our fans, sponsors and staff".

In January 2018, Moroccan football agent Abdallah Lemsagam agreed a deal with the club's majority shareholder Simon Corney, which ended Corney's 14-year association with Oldham Athletic.

Lemsagam currently owns 97 per cent of the football club, while the Supporters Trust maintain their 3 per cent stake. The takeover did not include Boundary Park's North Stand, which the club does not own but has use of on match days. In the two years prior to the Lemsagam deal, Oldham had faced a number of winding-up orders for non-payment of their tax bills, and saw their ground raided by HMRC in November 2017.

Oldham Athletic were relegated to League Two on 5 May 2018. They had not been in the fourth tier since 1971. The club faced further HMRC winding-up petitions in late 2019 and early 2020. Former owner Blitz sought to put the club into administration on 6 March 2020 because of debts owed to his company, Brass Bank, which owns Boundary Park, but the case was adjourned to 21 April after a "significant" sum of the debt was paid, as was Oldham's tax debt to HMRC. One-time Watford owner Laurence Bassini was reported to be interested in buying the club, but this was labelled as "false" during the 6 March 2020 hearing.

Former Australia international Harry Kewell took over as Oldham manager in August 2020, at the start of the 2020-21 EFL League Two season and recorded 11 wins, 6 draws and 15 defeats before he was sacked by the club in March 2021. He left the club 10 points above the relegation places; some fans regarded the club's decision as premature given that Oldham had recently beaten promotion challengers Newport, Forest Green and Salford City. Keith Curle stepped in as temporary head coach, and made the move permanent in May 2021, but his efforts to build a stronger squad were hampered by an EFL transfer embargo, COVID-19 illness, and fans protests against the club's owners. On 7 September 2021, with the club in 23rd position in the fourth tier, Lemsagam insisted he did not wish to sell his stake in the club.

The Manager – Keith Curle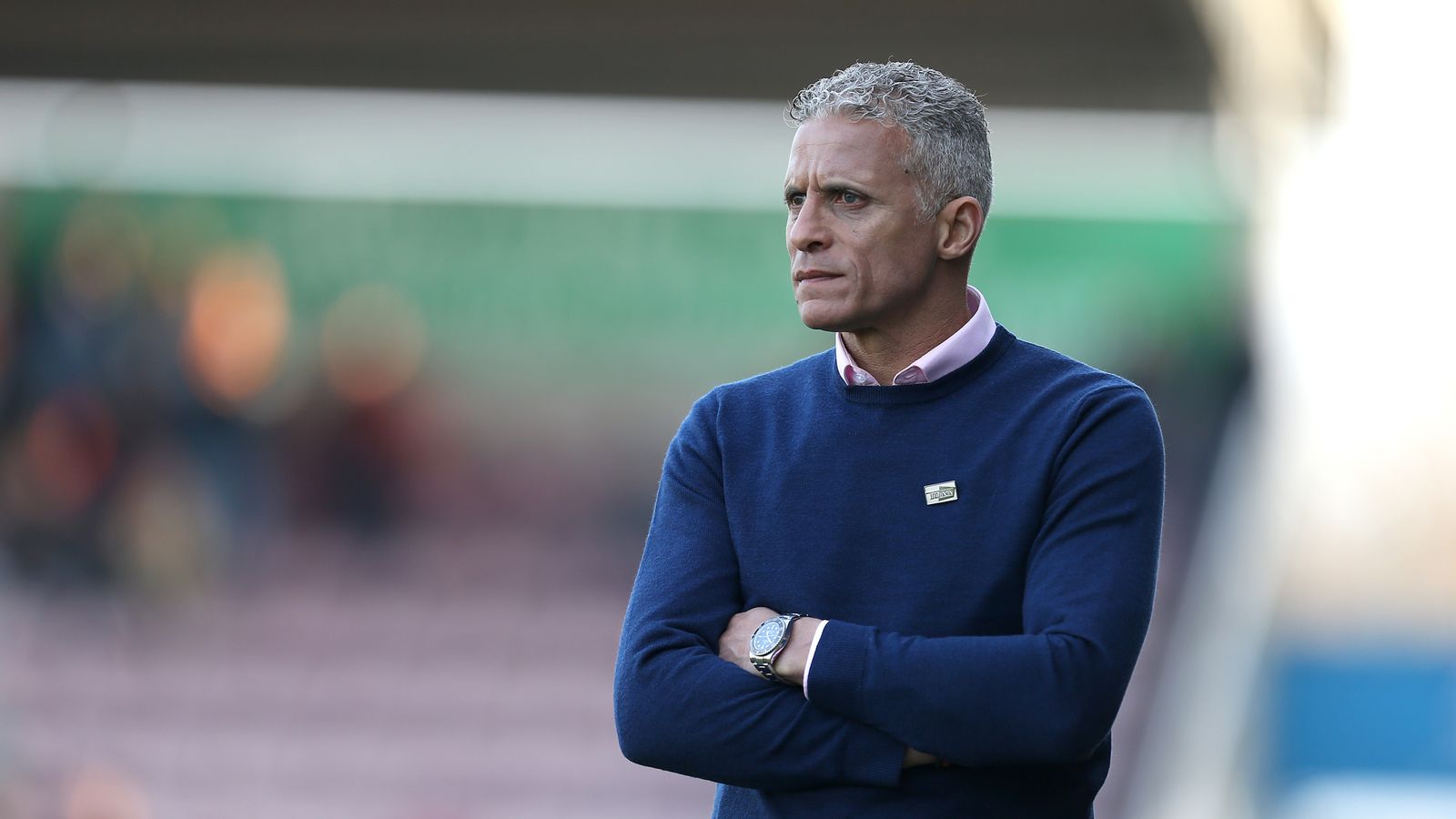 Match Referee – Neil Hair
IPSWICH TOWN

1

OLDHAM ATHLETIC

0