Ipswich Town

vs Colchester United

Tuesday 9th November 2021 – 19:45


Portman Road
Pre-Match Thoughts - Mike
A Cup Run, You're Having A Laugh..........





Quite what the hell that performance was I really have no idea ! On a day when an Ipswich Town manager finally decides to take the FA Cup seriously by going with his full strength side the players decide they won't take it seriously and pretty much fail to turn up, just Four days after the euphoria of Wycombe we are dished up that utter dross. No team has a divine right to beat anyone merely by turning up but pretty much everyone expected us to turn Oldham over, a team sitting just above the drop zone and in danger of falling out of the Football League and who have all manner of off the pitch issues going on somehow contrived to get a more than deserved draw and a replay at their place, in fact had it not been for a classy penalty save from Christian Walton we would in all probability be one of the main headlines on the back of all the Newspapers this morning.
It won't be long until we are at the midway point of the season and yet we are STILL talking the same language about how inconsistent we are, it is repetitive stuff and really quite boring in truth, Cook doesn't seen to have an answer to it, if he did it would be eradicated from our game by now, it has nothing to do with gelling either, that excuse is long gone, we gelled perfectly at Wycombe so why not at home to Oldham ? No for me it's just a lack of consistency and that is what has me concerned in that this season will in fact be nothing more than an up and down affair that ultimately ends in disappointment. On our day we are capable of beating anyone, then on another day we couldn't beat an Egg.

I didn't see too many positives against Oldham, Wes Burns as always the pick of the bunch and his first half showing was excellent, the save by Walton was superb and saved our blushes, while for the most part Edmundson was solid and composed, aside from those little grains of comfort we were poor everywhere else, Bonne for me was woeful and while a bit of it was down to lack of supply I think if you take his efforts inside the box away then he ain't all that, personally I would like to see Joe Piggot get his chance with a run in the side.

I would expect Town to again go strong in the replay, after all why wouldn't you now ? and in all probability we will win through but that does not detract from our continued shortcomings. By the time we go there we will obviously know what the prize is for getting through and hopefully that will be incentive enough for the players to actually give a damn and try to put in a performance which is worthy of the name and good enough to get the job done.

I think our only chance of cup glory is in the Papa John's Trophy and even that is probably remote, our next outing sees us take on Colchester Utd at Portman Road, a win here will see us through to the next stage but going on what Paul Cook has said that is no way certain as our team on the night is going to be much changed and very inexperienced. Standing in our way could well be several Town "Old boys" who would like nothing more than to do a job on their former employers, the likes of Chambers, Skuse, Judge, Sears, Eastman, Nouble and maybe even loanee Armando Dobra could all feature, depending on how serious Colchester utd take this tournament.

I have no idea how this one will pan out and in truth I couldn't really care less, it's pointless and a hindrance and dare I say it it's another potential banana skin of a cup tie. For what it is worth I can see us failing to get the result we need to send us through and in doing so ending our involvement in this farce. COYB'S.
The Opposition – Colchester United
Until 1937, Colchester Town were Colchester's main club and were the original tenants of Layer Road. Colchester Town joined the Eastern Counties League in 1935, but their poor performances in the league convinced supporters that the club should turn professional, much like nearby Ipswich Town. With club officials against the idea of turning professional, a new professional club was formed in March 1937, Colchester United, which would also play at Layer Road. United joined the Southern Football League as crowds for Town matches dwindled. In December 1937, Colchester United formed a reserve team, signing many of Town's players. As a result of this and Town struggling with £300 debts, Colchester Town folded the same month.
The club were Southern League champions in 1939 prior to the Second World War. Following the war, in 1947–48, the U's produced one of the most notable FA Cup runs by a non-league side, defeating fellow non-leaguers Banbury Spencer in the first round, before beating Football League clubs Wrexham, Huddersfield Town and Bradford Park Avenue. They finally fell to Blackpool in the fifth round. This set them in good stead for potential election to the Football League.
Colchester United were elected to the Football League in 1950 on the back of their second Southern League Cup win and ending the 1949–50 season second to Merthyr Tydfil on goal average alone. They spent eleven years in the Third Division South and Third Division following the league's reorganisation, with a best finish of third place in 1957, just one point behind rivals Ipswich Town and Torquay United.
The club suffered their first relegation in 1961 as they finished 23rd in the Third Division, but didn't have to wait long until their first Football League promotion, spending just one season in the Fourth Division as they ended the season second to Millwall by just one point. This trend continued over the next two decades as they were relegated to the Fourth Division in 1965 and promoted to the Third Division in 1966, then relegated in 1968 and promoted in 1974, relegated in 1976 and promoted in 1977 before a final relegation to the Fourth Division in 1981.
During this time, the club embarked on one of the most notable runs in FA Cup history, as manager d*ck Graham took his ageing side to the 1970–71 quarter-finals, dispatching non-league Ringmer, Cambridge United, Barnet and Rochdale following a replay. With the draw having been made prior to the replay against Rochdale, the U's knew they would face a home tie with First Division Leeds United, and duly trounced Dale 5–0. In the match with Leeds, the U's raced to an unprecedented 3–0 lead in front of a 16,000 Layer Road crowd, with two goals from Ray Crawford and one from Dave Simmons. Leeds did grab two goals back but Colchester held on for a famous 3–2 victory. The club faced Everton in the quarter-finals but succumbed to a 5–0 defeat in front of 53,028 at Goodison Park.
Financial difficulties and a number of changes at board level in the mid-1980s caused a slide towards the lower end of the Fourth Division table and crowd numbers to dwindle. Despite a brief turn around in form under former Rangers manager Jock Wallace, United were relegated from the Football League for the first time since their election.
Despite their relegation, the U's remained a full-time club while playing in the Football Conference, as they sold their Layer Road ground to the Colchester Borough Council to clear the club's debts. The club finished the season as runners-up to Barnet during their first season outside of the Football League, but, under the stewardship of player-manager Roy McDonough, the U's won the league the following season on goal difference over bitter rivals Wycombe Wanderers. In addition to earning a swift return to League football, the club also won the FA Trophy in 1992.
The club had a successful 1995–96 season as they reached the 1995–96 Football League play-offs, but were defeated by Plymouth Argyle at the semi-final stage. The club narrowly missed the play-offs in 1996–97 but did however reach the Football League Trophy Final held at Wembley. The U's drew 0–0 with Carlisle United but were defeated 4–3 on penalties. The following season however, Colchester were promoted via the Third Division play-off Final with a 1–0 Wembley win against Torquay United.
Colchester consolidated their position in the third tier of English football for a number of seasons, before achieving their then-highest league finish of second place only to Essex rivals Southend United in the 2005–06 season. Under Phil Parkinson's stewardship, the U's were promoted to the second tier for the first time in their history. However, when Parkinson left to take the reins at Hull City, his assistant Geraint Williams was handed the daunting task of guiding Colchester into their first season in the Championship. He led the side to a 10th position finish, above East Anglian rivals Ipswich Town, Norwich City and Essex rivals Southend United, while gaining the Pride of Anglia title in the process for the first time in their history. The momentum however did not continue into their second season in the Championship, as they finished bottom of the league and were relegated back to League One.
During the club's second season in the Championship, Layer Road hosted its final game on 26 April 2008 as the U's fell to a 1–0 defeat to Stoke City. The club then moved to their new ground, the Colchester Community Stadium, in the summer of 2008 in preparation for life back in the third tier. Despite hoping to make an immediate return to the Championship, the club made a dreadful start to the 2008–09 campaign, which saw manager Geraint Williams lose his job, leaving the club second from bottom. He was replaced by former Wycombe Wanderers manager Paul Lambert as he guided the club to a mid-table finish.
The 2009–10 season kicked off with a bang as Colchester United thrashed recently relegated Norwich City 7–1 on the opening day of the season at Carrow Road. Manager Lambert then defected to Norwich when their manager Bryan Gunn was sacked following a poor start to the season. This ensured a fiery return fixture, held at the Community Stadium in January 2010. The game saw a record crowd of 10,064 watch as the U's fell to a 5–0 defeat, with Ian Henderson being sent off on his United debut against his former club. The season ended with Colchester finishing in 8th position. The club finished in 10th position for both the 2010–11 and 2011–12 seasons, before narrowly avoiding relegation to League Two in the 2012–13 season, defeating Carlisle United 2–0 on the final day of the season to ensure their safety. The club then finished the 2013–14 season in 16th position.
Colchester secured League One safety on the final day of the 2014–15 season when they beat promotion hopefuls Preston North End 1–0 on 3 May 2015. However, Colchester could not stave off relegation to League Two in the 2015–16 season as they finished the campaign in 23rd position, confining them to the fourth tier of English football for the first time in 18 years
Last season Colchester finished in 20th place in League 2.
The Manager – Hayden Mullins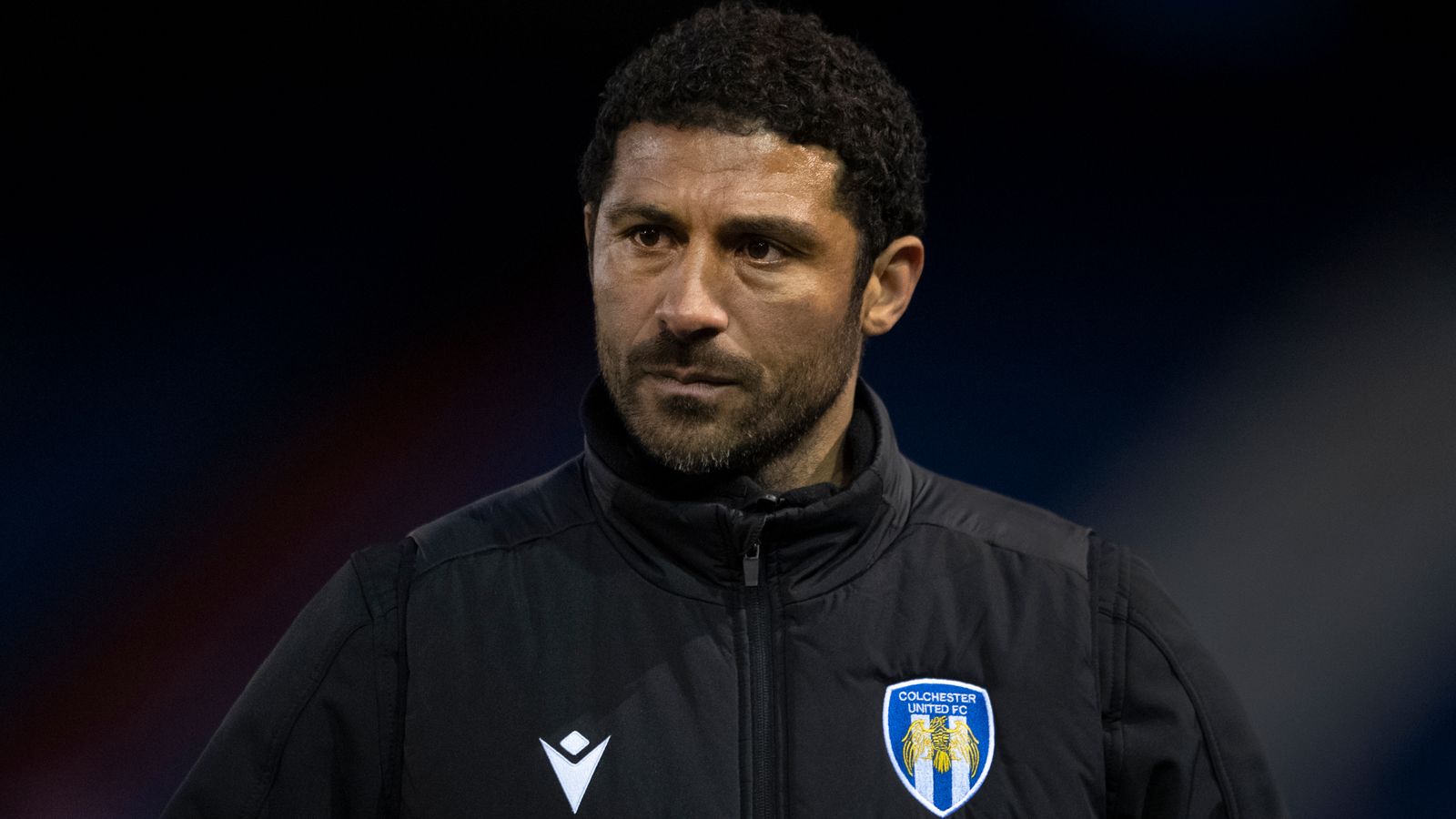 Group I – EFLT Table
Match Referee – Paul Howard
IPSWICH TOWN

1 COLCHESTER UNITED 0