Wigan Athletic

v Ipswich Town

Saturday 11th December2021 – 15:00




DW Stadium
Pre-Match Thoughts - Mike
The Valley Of Death.........
The ugly scenes at the end of the game Tuesday night pretty much sum up just what a mess we are in as a Football club right now, to see players involved in arguments with the fans and then being subjected to physical abuse is distressing and disappointing to say the least, I can totally understand the frustration and by all means boo if you have to but what played out after our latest defeat was over the mark and totally unacceptable in my eyes.
With John McGreal stepping in to cover until a new and permanent manager is found it was hoped we may see a bit of a bounce with the performance, alas it was not to be as it was very much a case of same old same old, in fact it could be argued that Town turned in one of their worst performances of the season and that's saying something. What was equally as disappointing for me was the fact that JM had a bit of a free hit at this game and yet changed nothing, he took no chances and basically it may as well have been Paul Cook in the dugout such was the familiarity of the lame performance we witnessed, after a decent opening 20 minutes our players just seemed to fall apart, we looked lost and clueless, the basics suddenly became monumental tasks, players started to go awol while others made mistake after mistake, so bad was it we didn't muster a single effort on target which is really really poor.
I think whoever the new manager is is going to find it quite a big job to get the boys back up and firing again, confidence is low, we still have no idea of our best team, we still haven't found a formation that works for the squad of players we have, it really is a massive mess which is why I pray we go for experience in the short term to sort it out, obviously Neil Warnock is being mentioned and rightly so, I also have no issue with either Farke or Lennon, all managers that have been there in done it but most of the other names scare me and leave me feeling pretty underwhelmed and while Cook most definitely had to go I would prefer him over many of those we are linked to.
A lot of talk is now going on regarding Mark Ashton, suddenly he isn't the messiah most were proclaiming him to be not Three months ago, instead he could just be the underhand devil in disguise building his own empire, personally I think its all tosh and a bit ott, I still believe he's the best signing we've made and to date has done a fabulous job under extreme pressure.
Talk of a power struggle between Cook and Ashton just makes no sense, every man and his dog seems to know about Ashton and how he works so Cook would be no different, that being the case why stay ? He could have walked, instead he said Ashton had been fantastic and of great support, is that being diplomat or a liar ? I personally think Cook was being honest and correct. I still maintain it wasn't the owners choice of manager and it was the boards decision to sack Cook, not Ashton's, yes he would have input but ultimately the decision laid with O'Leary and other and again for me they got it spot on.
The games don't come any easier and next up its a trip to promotion chasing Wigan Athletic who have certainly ridiculed the nonsensical theory that you can't bring in 17 new players and not make it work, you can if you have the right manager with the right players playing the right formation, sadly we haven't been afforded that luxury yet. Leam Richardson is doing a first class job and the apprentice has certainly shown the master how to do it.
I have no idea how Mcgreal will approach this game nor how the players will respond to Tuesday's nightmare but if we do not improve considerably I can see us being on the end of a hiding. I think Town will improve but only enough to keep the defeat respectable, they keep coming out after games to talk about how they need to improve so let's see some proof they actually mean it, stand up and be counted, put in a, Wycombe or Portsmouth type performance as opposed to one of the many other ones that have fallen well short of what we expect. Unfortunately I can so no further than a Wigan Athletic win by at least a couple of goals, I sincerely hope this is John Mcgreal's last game in charge too. Wigan win for me. COYB'S
The Opposition – Wigan Athletic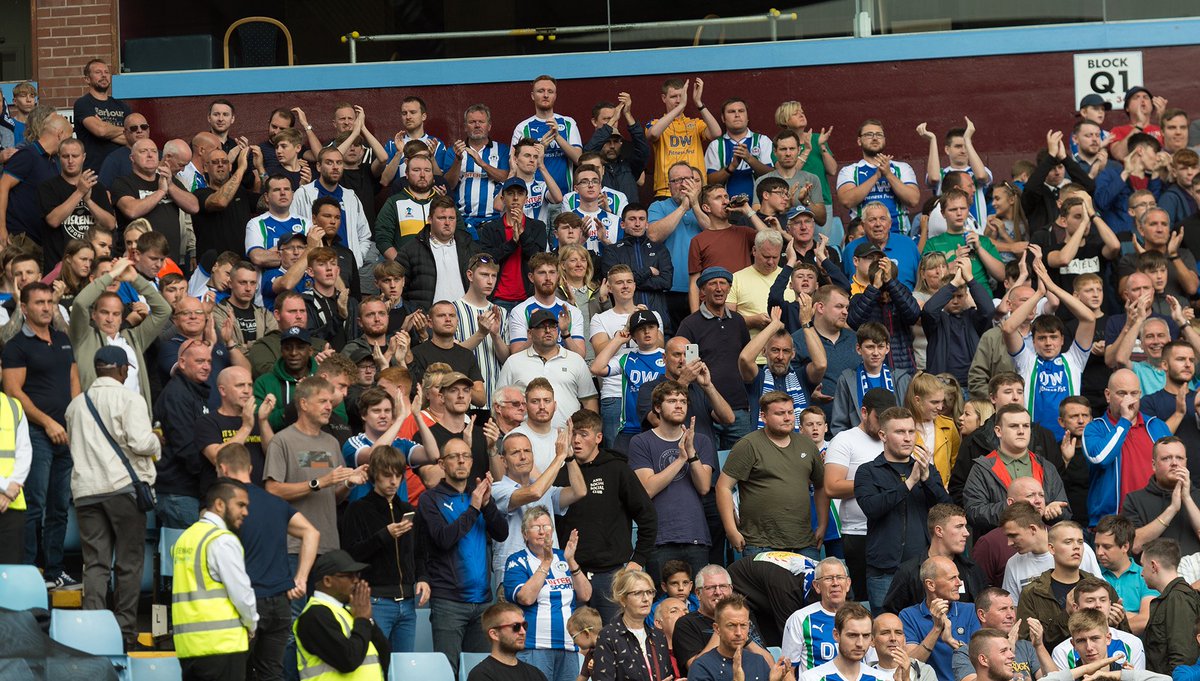 Founded in 1932, the club plays at the DW Stadium since 1999, sharing the stadium with rugby league club Wigan Warriors. They previously played at Springfield Park for 67 years.

Wigan Athletic played in the lower Leagues until 2nd June 1978 when they were finally elected to the Football League after 34 attempts and near misses over the preceeding 46 years, including one controversial but headline-making application in 1972 to join the Scottish League Second Division.

They gained their first Football League promotion under the management of former Liverpool player Larry Lloyd in 1981–82, when a points tally of 91 saw them join the former Division Three for the first time, beginning a 10-year spell in English football's third tier, until they were relegated for the first time in the club's League history in 1992–93.

Wigan struggled in the fourth tier of English Football, finishing well down the table and average attendences fell to 1,845 by 1995.

Local entrepreneur Dave Whelan acquired the club in 1995, providing funds to move into the JJB Stadium, now named the DW Stadium in his honour.

Through Whelan's business connections in Spain he attracted three Spaniards to the club – Roberto Martínez, Isidro Diaz, and Jesus Seba – who became known as 'The Three Amigos'.

Whelan appointed John Deehan as manager during the 1995–96 season. Deehan took the Latics within two points of a play-off place in his first season; and the following year Wigan Athletic became Division Three champions.

In the summer of 2001, highly regarded young manager Paul Jewell took over as manager. His first season in charge saw mixed results, but Jewell's second season in charge was far more successful. Wigan Athletic went on a run to the quarter finals of the League Cup, and won the Division Two championship, securing promotion to the second tier of the English Football League for the first time in their history.

After losing their first ever game in Division One, Wigan Athletic confounded expectations to go unbeaten for the next 17 games and and finish seventh in Division One.

The following season in the last fixture at home the Latics won promotion to the top division of the English football for the first time in their 73-year history by finishing second in the League.

The club's first ever Premier League season (2005-06) saw a 10th place, which remains the club's highest ever league placing.

Over the next four seasons Wigan struggled for Premier survival with a number of managers taking the helm over this period.

Wigan appointed Roberto Martínez, then manager of Swansea City, as manager prior to the 2009–10 Premier League season.

At the beginning of the 2010–11 season, Wigan fell to the bottom of the league by the end of February. However, despite remaining in the bottom three for the majority of the season, Wigan managed to retain their Premier League status on the last day of the season.

In the 2011-12 season Wigan reached the FA Cup Final for the first time in their history and went on to beat Manchester City 1–0, with a goal in injury time, earning a place in the following seasons Europa League. Unfortunately for Wigan this season also ended their eight year spell in the Premier League and they became the first team to be relegated and win the FA Cup in the same season.

On 14 June 2013, Dave Whelan revealed that a deal had been agreed with Owen Coyle to become the new manager of Wigan Athletic replacing outgoing manager Roberto Martinez who left for Everton. Coyle left the club by mutual agreement on 2 December 2013 having won seven games out of twenty-three. Uwe Rosler replaced him on 7 December.

On 9 March 2014 Wigan beat Manchester City in the 6th Round of the FA Cup to reach the semi-final at Wembley for the second successive year, where they played Arsenal, and lost on penalties after normal time and extra time resulted in a 1–1 draw. After finishing 5th in the Championship, Wigan lost their Championship play-off semi-final to Queens Park Rangers.

Rösler was sacked in November 2014 with the club in the relegation places, and was replaced by Malky Mackay. Whelan resigned as chairman on 3 March 2015, remaining as owner but handing over the chairmanship to his grandson David Sharpe. The following month, with Wigan in danger of relegation to League One, Mackay was sacked and replaced by former Wigan captain Gary Caldwell, yet the team ended the season with relegation.

Over the coming summer the club underwent a transformation with the majority of the playing staff that had been relegated leaving and a raft of new signings arriving.

The club soon found themselves challenging for promotion in the play-off places by mid-November. Following an impressive run of form in the second half of the season where the side lost only once in 23 matches the club effectively sealed promotion at the first attempt.


In October 2016, following a poor start to the season, Caldwell was sacked as manager and replaced by Manchester United coach Warren Joyce. Results did not improve under Joyce, who was sacked in March 2017. Wigan were subsequently relegated back to League One in April and interim manager Graham Barrow left, ending a 15-year association with the club.

Paul Cook, who had just won League Two with Portsmouth, was appointed Wigan manager in June 2017.

The 2017/18 season was a good one for Wigan, the club finished 1st in League One and were promoted to the Championship. They reached the FA Cup quarterfinals after beating Premier League teams, Bournemouth, West Ham United and Premier League champions Manchester City. At the end of the season it was announced that the Whelan family had agreed a deal to sell the club, stadium and training facilities to the Hong Kong based International Entertainment Corporation in a £22m deal.

In the 2018–19 season, Wigan finished 18th in the Championship with 52 points, well clear of the relegation zone.

On 4 June 2020, IEC sold the majority of Wigan Athletic shareholdings to Hong Kong-based Next Leader Fund; the sale was formally ratified and approved by the shareholders of IEC, the Hong Kong Stock Exchange and the EFL. On 1 July 2020, the club - standing 14th in the Championship, eight points clear of relegation, in a season delayed due the COVID-19 pandemic - announced it had gone into administration as Next Leader Fund had refused to invest promised money.

On 4 July, Wigan, previously unbeaten in nine games, lost 3–0 at Brentford. Three days later, on 7 July, 75, around half, of the club's non-playing staff were made redundant by the administrators.

Meanwhile, on 7 July 2020 the club had appealed against the 12-point deduction imposed by the EFL for entering administration. On 14 July, Wigan recorded their biggest League victory, beating Hull City 8–0. This, combined with other results, meant Wigan would not finish in the relegation places, so the 12-point deduction would be applied at the end of the current season. Wigan's appeal against the points deduction, heard on 31 July, was set to cost the club between £400,000 and £500,000. Wigan drew 1–1 against Fulham in their final game of the season; the 12-point deduction pushed Wigan into the bottom three, meaning the club would play in League One if its appeal was unsuccessful. On 4 August, the club's relegation was confirmed and, following the resignation of manager Paul Cook, Leam Richardson was appointed caretaker manager.


On 17 August 2020, it was reported that Au Yeung Wai Kay, the club's owner, had, on 23 June, asked Begbies Traynor about putting it into administration before completing his takeover. Begbies Traynor disputed the account, produced by an independent commission, saying administration was one of several scenarios discussed. The commission said Kay was "not open" with Wigan officials about his conversation with Begbies Traynor, and subsequently gave "either false or knowingly misleading" assurances about future funding. The administrator was still attempting to find a buyer; if no agreement was reached by 31 August, Begbies Traynor said it would have to consider whether the club can be funded into the 2020–21 season, due to start on Saturday 12 September 2020. On 20 August, Kay was reported to be waiving a £36m debt owed to him by the club in an effort to expedite its sale. Wigan supporters began a fund-raising effort, initially raising £500,000 to help secure the club's future, and then raising £200,000 more. Administrators had been confident a sale would be agreed by their deadline, but later revised their opinion.

On 9 September 2020, with the club's situation set to be discussed at an EFL meeting, the administrators were reportedly "quietly optimistic" about Wigan being allowed to start the EFL season despite being ownerless. They appointed John Sheridan as the club's new manager, who was in charge as Wigan lost their first League game of the season 2–0 at Ipswich Town. On 21 September, the administrators reported that bids would need to top £3m to secure the sale as the club had a "considerable liability" to HM Revenue and Customs, owed wages to players, and also had to pay for August's unsuccessful appeal against the points deduction.

On 30 September, the administrators said they had reached an agreement with an unnamed bidder from Spain to purchase the club, and were working on paperwork to gain EFL approval. In early November, former Wigan manager Roberto Martinez was reported to assisting with the Spanish bid. On 13 November, after three wins in 15 Wigan games, manager Sheridan left to become Swindon Town's new manager. On 20 November, additional time was granted to the prospective new owners to complete their purchase. In early December, with the club bottom of League One, it emerged that a member of the Spanish consortium had a disqualifying condition, so Wigan's administrators had to make a fresh application to the EFL on behalf of Felipe Moreno, owner of Spanish LaLiga 2 side Leganés.

However, on 5 January 2021, the Moreno take-over bid fell through; administrators began talking to other bidders, with, on 15 January 11 parties said to be interested in buying the club. By early March 2021, the administrators were in advanced talks with a consortium, Phoenix 2021 Ltd, led by a Bahrain businessman, Talal Mubarak al-Hammad, and a takeover was agreed on 15 March, subject to EFL approval and finalisation of paperwork. Under the proposed deal, Al-Hammad will become chairman, and Mal Brannigan (previously involved with Dundalk and Dundee United) will be chief executive. EFL approval for the takeover was confirmed on 30 March 2021. In May, the former administrators repaid £171,000 raised by supporters to keep the club going when it first went into administration. The club finished the 2020–21 season in 20th position, one point above the relegation places.

The Manager – Leam Richardson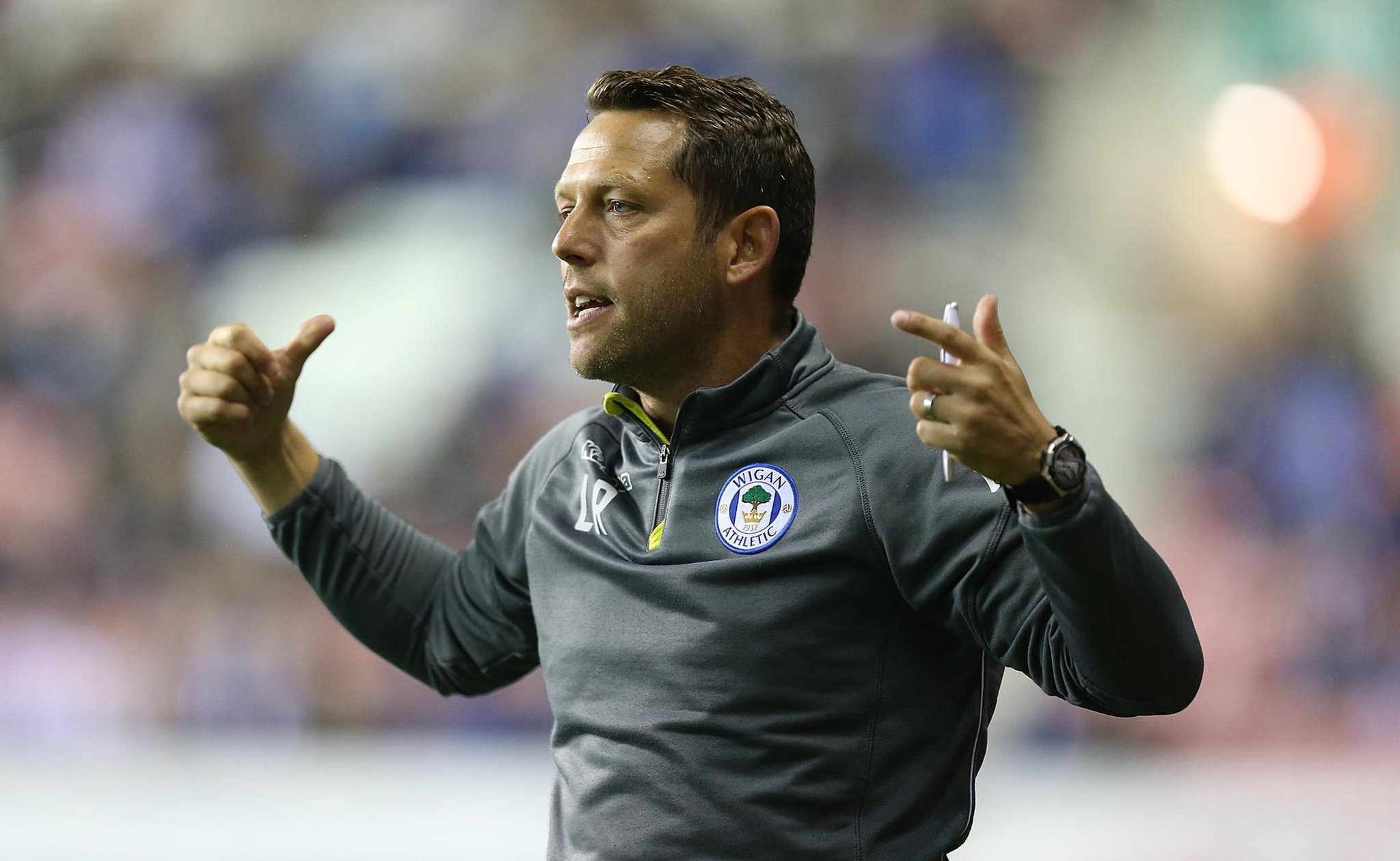 Wigan Athletic Last 5 Matches - Currently in 2nd place with 41 points
2 Nov Fleetwood 2 - 3 Wigan Athletic


20 Nov Wigan Athletic pp. Oxford Utd


23 Nov Cambridge Utd 2 - 2 Wigan Athletic


27 Nov Plymouth 1 - 2 Wigan Athletic


8 Dec Wigan Athletic 2 - 1 Shrewsbury
Ipswich Last 5 Matches - Currently in 11th place with 27 points
13 Nov Ipswich Town 0 - 0 Oxford Utd


20 Nov Sunderland 2 - 0 Ipswich Town


23 Nov Ipswich Town 0 - 2 Rotherham


28 Nov Ipswich Town 2 - 1 Crewe Alexandra


7 Dec Charlton 2 - 0 Ipswich Town
Match Referee – Trevor Kettle
WIGAN ATHLETIC
2
IPSWICH TOWN
1