Accrington Stanley

v

Ipswich Town

Saturday 5th January 2019 – 15:00



Crown Ground
Pre Match Thoughts - Mike
The Game Is Up

So here you have it, me the eternal optimist has conceded we are down, facing League One full in the face, that is the severity of our defeat at the hands of a hopeless Millwall side who somehow weathered an opening half storm to walk away with Three gifted points. I can't lie, I was convinced we would beat both Millwall & Rotherham, quietly confident in fact and for Forty Five minutes I felt quite smug as we played some really good football, moving the ball around quickly and confidently, finding our passes, creating chances and keeping it solid at the back, we just did not look like a team who are getting relegated, the big downfall once again is that we did not convert the Four or Five chances that came our way following Jack Lankester's 3rd minute opener which gave us the ideal start and we all know that we are good for a gift or Two at the back in every game and so it came to pass.

I hate making excuses for defeats but again the standard of refereeing left me, and lot of others, stunned, can an individual get so many things wrong ? OK a lot of them are not game changers but it doesn't half have an influence the more it happens and for me I can make an argument for all Three of Millwall's goals being caused by dodgy decisions, either in the build up or execution, the second in particular was laughable as it seems you cannot even make clean and impressive tackles anymore. There were some positives I guess, that first half saw great individual showings from a few Town players, how good was it to see Teddy Bishop back and crunching into tackles again, or Flynn Downes putting it about like a seasoned pro, I also thought Ellis Harrison had his best game in a Town shirt by a distance and led the line superbly, his hold up play was excellent and yet again he was fouled time and time again but had virtually no protection from the tosser in Black.

Looking at the league Table now makes for grim reading, yes we may be able to reel in Reading & Bolton that is only Seven points (ONLY !!) but Rotherham in the Fourth bottom spot are now a massive ten points clear and that looks beyond us although of course it would be down to Seven also if we should beat them on Saturday week. While it isn't impossible I just think such is the mess we are in we are doomed to the drop and I am finding hard to take right now, I try to tell myself it may not be as bad as it first seems but it's cutting no ice with me, it is a bloody disaster !! All we can do now is take each game as it comes and do a lot of praying, I see it that we need ten more wins to have a chance. And now the end is near, and so we face the final curtain.........


Some Respite, Or Is There ???

We break away from League duty this weekend for the excitement of FA Cup Third round day (Gulp), where fans up and down the country look out for those famous cup shocks (Gulp), where the minnows look to take a bigger scalp (Gulp), sadly I am describing us in every way only once again we are the hunted and not the hunter, The Wham Stadium, Accrington looks a damn good bet for one of those shocks and should it occur will only add more misery to an already desperate season. For various reasons we need to win this, just please give us a crumb or Two of comfort to cling to, a place in the Fourth round would be something to enthuse about I guess, I have forgotten what it feels like.

One thing about our trip to Accrington is that it will set us in good stead for next season where every other weekend will see a journey of this ilk, Spotland, Bloomfield Road, Adams Park, Highbury Stadium (Fleetwood not Arsenal !!!), yes the bristles stand up on the back of my neck just typing it.

I can't pretend I know much about Accrington Stanley (Who are they ?) but it seems their current form is pretty poor, especially at home so this will be a home banker. They are currently in Mid table which I guess probably exceeds their sensible aspirations, seeing as we supposedly signed two of their better players we know what to expect quality wise, a glance at their team sheet doesn't help at all as I know nothing about any of them so all joking aside this would be really bad should we not come back with a place in Round Four secure. With over One Thousand Tractor Boys and Girls making the 495 Mile round trip all I hope is that we play our strongest team and actually give it a real go. Surely even we can do this ??? 2-0 Town win. Wembley here we come !!!!


The Opposition – Accrington Stanley
The original town club, Accrington, was amongst the twelve founder members of the Football League in 1888, before resigning from the league after just five years. A team called Stanley Villa already existed at the time, named as such because they were based at the Stanley W.M.C. on Stanley Street in Accrington. With the demise of Accrington, Stanley Villa took the town name to become Accrington Stanley.

Accrington had been without a football team following the collapse of the original Accrington Stanley in 1966. The original team had been formed in 1891 and played in the Football League from 1921 to March 1962, but had spent its final four seasons in the Lancashire Combination. At a meeting at Bold Street Working Men's Club in 1968 the revival was initiated, and in August 1970 the new club played at a new ground, the Crown Ground. Eric Whalley, a local businessman, took control of the club in 1995 and began the development of the club's ground. After the club was relegated in 1999, Whalley appointed John Coleman as manager.

The club's rise to the Football League is attributed in part to the windfall of hundreds of thousands of pounds reaped by the sell-on clause in the December 2001 transfer of former Stanley star Brett Ormerod to Southampton, which paid Blackpool over a million pounds for his contract. Stanley had taken £50,000 from Blackpool in 1997, with the agreement that Blackpool would pay Accrington a quarter of what it might have received if it in turn transferred Ormerod to another team. The 2002–03 championship of the Northern Premier League followed quickly on Accrington's getting the cash.

Following the 2002–03 win of the Northern Premier League, the club was promoted for the first time in its history to the Football Conference. The club's first-ever game in the league was away to another re-formed club, Aldershot Town, on Sunday 10 August 2003. The game was shown live on Sky Sports and resulted in a 1–2 loss. The season was a success, with a final league position of 10th being achieved. The highlight of that first season in the 5th tier was a sensational run to the FA Cup 3rd round, only losing in a replay away to League One side Colchester United.

The following season saw the club become a full time professional outfit. The 2004–05 also resulted in a 10th-place finish.

The 2005–06 season saw the return of Stanley to the Football League. Finishing on 91 points, the club went on a 19-game unbeaten run stretching from October to March, leaving the club an easy passage to League Two after 46 years away.

The club was involved in a relegation battle throughout its first season in the 4th tier. A run of 5 wins in the last 9 games of the season led to a 20th-place finish and was enough to save the club from relegation in its first season back in the Football League.

The 2007–08 season produced more of the same, with the club involved in another relegation battle.5 wins in the final 12 games were enough to secure a 17th-place finish and another season in the 4th tier of English Football.

Performance during the 2008–09 season improved, with the club achieving a modest 16th-place finish in League Two.

The 2009–10 season was far better, with the club pushing for a playoff place at the turn of the year. A run of 9 wins in 10 League games saw the club with a chance of making the playoffs, only for this to fade in March/April.

The club reached the Football League Two play-offs during the 2010–11 season, one of the most successful in its history. A run of 1 loss in 19 games, from February till May, saw the club finish in a best-ever 5th position, eventually losing to League Two newcomers Stevenage in the Playoff Semi-finals.

2011–12 was a season of transition for the club. The loss of no less than six of the playoff-chasing side of the previous season was a tough act to follow. Following a shaky start to the season the arrival of Bryan Hughes in October transformed the club's fortunes. A run of 6 wins in 7 games over the Christmas period saw the club briefly enter the play-offs. However, following the sale of club captain Andrew Procter to Preston North End in the January 2012 transfer window, the third-longest serving management team of John Coleman and Jimmy Bell departed for Rochdale.

Former Burnley and club favourite Paul Cook was brought in as manager, along with the promotion of Leam Richardson from caretaker manager to full-time assistant. Only 3 wins in the final 17 games of the season was a pretty poor finish the season. However, this meant the club achieved a solid mid-table finish in 14th position.

On 18 September 2014, Coleman was confirmed as manager of Accrington Stanley for his second spell with the club.

On 17 April 2018, they were promoted to League One following a 2-0 win over Yeovil Town

The Manager – John Coleman
Media Watch - K L Blue
We're such a well run club...…………………………….
https://www.eadt.co.uk/sport/paul-lambe ... -1-5837312
Form Guide
Accrington Stanley Last 5 Matches

15 Dec Southend Utd 3 - 0 Accrington


22 Dec Plymouth 0 - 3 Accrington


26 Dec Accrington 2 - 1 Shrewsbury


29 Dec Accrington 0 - 4 Peterborough


1 Jan Bradford 3 - 0 Accrington


Ipswich Last 5 Matches

15 Dec Ipswich Town 1 - 0 Wigan Athletic


22 Dec Ipswich Town 1 - 1 Sheffield Utd


26 Dec QP Rangers 3 - 0 Ipswich Town


29 Dec Middlesbrough 2 - 0 Ipswich Town


1 Jan Ipswich Town 2 - 3 Millwall


Marko's Caption Contest – THE DON CUP
Sorry it's late, but here it is. Happy New Year to you all. Away from football, I hope all of you had a decent festive season.
Regarding this years Don Cup, I'll say the same thing I said a year ago about eventual winner, Bluemike; "It's his to lose." Although I'm saying it to Nicscreamer this year. Ten point gap. (That sounds familiar) It's up to the folks on his tail to reign that lead in.
SHEFF UTD SCORES

Nicscreamer 5pts
AylesburyBlue 4pts
Number9 3pts
Watership Down 2pts

MIDDLESBOROUGH SCORES

Ando 5pts
Derickipsw 4pts
Nicscreamer & Number9 3pts
Kerry Blue 2pts


LEAGUE TABLE

NICSCREAMER 55
ANDO 45
TANGFASTIC 45
DERICKIPSW 43
FROSTY 43
BLUEMIKE 42
AYLESBURYBLUE 33
NUMBER 9 32
BLUEBLOOD 29
IPSWICHTOWNNO1 27
WATERSHIP DOWN 13
JOHNNYB 8
PATTHEGIMP 8
BLUEPETER 7
BARMY BILLY 6
BLUEWILF 5
SHED ON TOUR 5
MASSEYFERGUSON 3
MARVINBAY1973 2
KERRY BLUE 2
CHARNWOOD 1
KL BLUE 1
OHIOTRACTORBOY 1



ACCRINGTON STANLEY Pic:

Match Referee – Dean Whitestone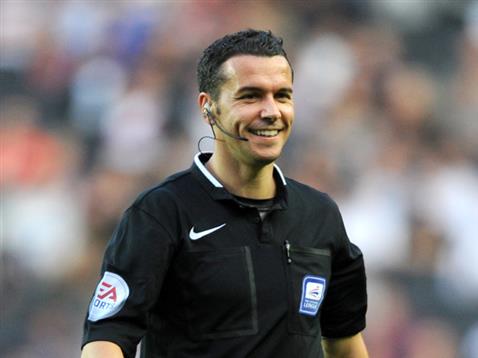 ACCRINGTON STANLEY

1

IPSWICH TOWN

1