Ipswich Town

v

Rotherham United

Saturday 12th January 2019 – 15:00


Portman Road
Pre-Match Thoughts Mike





Rock Bottom ............


Well have we hit it yet ? It certainly felt like it travelling back from Accrington last Saturday night having witnessed a toothless, gutless and downright unacceptable performance by the so called footballers who serve our club at this present time. Losing I can just about take, providing you get 100% effort and commitment from the team, very rarely have I felt this has not been the case but I just cannot believe some, no most of the Town players, gave it their best shot, for me it was unacceptable and it has nothing to do with sour grapes at losing to the "minnows" after all in recent seasons I have got used to it, coming back from bloody Exeter on a Tuesday night springs to mind !! What I felt was that some of our players just did not want to be out there, it almost looked as though they felt it was beneath them but as I said in my after match report they need to get used to it because it's going to be the norm next season for sure.

Boss Paul Lambert saw it the same way and has lambasted the team as not being good enough to a point where some are going to be shipped out, good job I say but where on earth does he start because aside from Teddy Bishop and to a lesser degree Toto Nsiala the rest of them were poor, Flynn Downes could be excused too as he let the occasion get to him at times and had to be withdrawn early for his own good. We will all have our own ideas as to who are not good enough and to who Lambert is referring to but I will be amazed if it does not include the likes of Spence, Edwards, Nolan & Jackson to name but Four, time will tell and things are already afoot to bring some new faces in.

What I struggle to understand is just how inconsistent we are, the first half against Millwall saw us play some great football, there were also impressive spells in the games against Stoke, Wigan & Sheffield Utd but on the flip side the utter dross witnessed against QPR and now Accrington has to be seen to be believed, without any kind of consistency you have no chance of achieving anything and this is where we find ourselves. So yes I think it is safe to say that we really have hit rock bottom.


Lambert or Hurst ?


I have heard it said in some quarters, including on this very forum, that we have not improved at all since Paul Lambert took over the reigns and on the face of it can you really argue ? It's been suggested that Lambert is very good at "spin" and knowing exactly what things to say to get the fans on board and by and large that has worked and he has come across as a breath of fresh air, however looking at the on field progress it has to be said it is hard to find any, other than it being far more pleasing on the Eye of course. The biggest argument in Lambert's favour is that this is very much Hurst's team and as such Lambert has his hands tied firmly behind his back, that said shouldn't a manager of Lambert's experience be able to get more out of this set of players than a rookie manager stepping up into the Championship ?

Paul Hurst took charge of the first Fifteen league games where he accrued Nine points giving him an average of 0.60 points per game, Lambert has been in charge for Eleven games which have seen us pick up Six points at an average of 0.55 points per game, not a lot in it. When Town secured a 1-1 draw at home to Norwich on 1st Sept they then went on a run of games that saw us lose Twice in Seven outings with Five draws and a solitary win at Swansea, Three defeats then followed which saw the demise of Hurst, to date Lambert's Ipswich have had a run of Three defeats Twice already including the current run which could yet be extended and in Five of those games we have failed to score !! Hurst suffered Eight defeats in Fifteen games while Lambert already has Seven in Four less games, I remember coming away from games at Rotherham, Sheff Wed & Birmingham wondering how on earth Hurt's team had not won those games, I think it is fair to say I can only say that once in Lambert's tenure and that was the game at home to Millwall.

Reading this it probably appears that I am more in favour of Hurst than Lambert, trust me I am not, I am glad we made the change and I am glad we have Paul Lambert at the helm, what I am doing is playing devils advocate and pointing out that even when we feel better about a situation or an individual mind games can often take over, clearly results wise there has been no improvement at all and judging by the Accrington game it has got much much worse but of course the cup does silly things to teams but when some Town fans make the point that things have got no better in terms of results etc they are totally correct. What I am confident in is that given the time and backing we have by far the better man of the Two to take us forward.


Next Up For A Gift


Next up it is Rotherham's turn for a Bye weekend as they make the visit to Portman Road to collect the free points which are on offer. I picked up a coupon the other day for the match and instead of odds on Town's first goalscorer they were offering prices on who makes the first mistake which leads to a Rotherham goal, Spence hot favourite at 5/4, Gerken 5/2, Chambers 3/1 and Pennington 5/1. of course all joking aside it has become a bit of a nightmare lately with error after error making our job even harder than it already is, we just gift goals & Points away with alarming regularity. If we could go error free for the remainder of the season we may just have the tiniest of chances of survival (hahaha) but the reality is we all know the players are just not good enough.

My Head says we will struggle once again but my Heart tells me we thrash them to kick off this incredible unbeaten run to achieve the impossible, sadly I think I know which is more likely but all the same I am going with my Heart and predicting a reaction from the cup debacle last week as we take Rotherham apart to bring home the points and keep even the most optimistic of Town fans dreaming of the impossible. Town win, COYB'S.
The Opposition – Rotherham United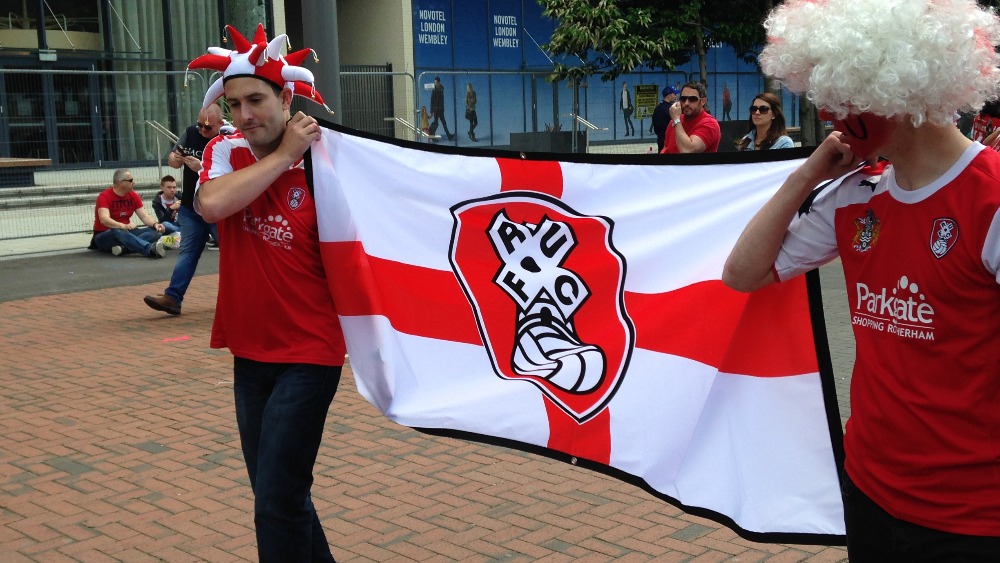 Rotherham United FC (known as the 'Millers') was formed in February 1925 after the merger of two clubs, Thornhill United and Rotherham Town, who had been playing in the area since the 1870s.   
   
The club's traditional home was Millmoor in Rotherham, where the team played from 1907 to 2008.   
   
The red and white was adopted around 1928 after they originally played in amber and black, and Rotherham spent their time in Division 3, only just remaining in the Football League in 1931 as they had to apply for re-election.    
   
Immediately after the Second World War, things were looking up. United finished as runners-up three times in succession between 1947 and 1949 and were then champions of Division Three (North) in 1951. Rotherham reached their highest ever league position of third in the Football League Second Division in 1955.    
   
The club held on to its place in Division Two until 1968 and then went into a decline that took them down to Division Four in 1973. In 1975, they were promoted back to the Third Division, finishing in the 3rd promotion spot in the Fourth Division. The Millers won the Division Three title in 1981.   
   
During the 1990s, Rotherham were promoted and relegated between the Football League's lowest two divisions and they slipped into the Fourth Division in 1991, just two years after being promoted, but reclaimed their status in the third tier (renamed Division Two for the 1992–93 season due to the launch of the FA Premier League). They survived at this level for five years, never looking like promotion contenders, before being relegated in 1997.   
   
In 1997, just after relegation to Division Three, Ronnie Moore took charge of Rotherham United. His first season ended in a mid-table finish and then his second in a play-off semi-final defeat on penalties. It was third time lucky in 1999–2000, as Rotherham finished as Division Three runners-up and gained promotion to Division Two. They were favourites to be relegated in the 2000–01 season, but surprised many by finishing runners-up in Division Two and gaining a second successive promotion.    
   
Rotherham managed to remain in Division One for four seasons until relegation to League 1 in 2005.   
   
Early in 2006, it was announced that the club faced an uncertain future unless a funding gap in the region of £140,000 per month could be plugged. An eleventh-hour intervention by a consortium of local businessmen kept them in business, but they suffered relegation to League 2 and entered into administration in 2008, being deducted 10 points.   
   
Local businessman Tony Stewart then took over as Chairman for the 2008–09 season and took the club out of administration via a Creditors Voluntary Agreement, resulting in a further 17-point deduction. The Millers were subsequently forced to leave Millmoor, their home of over 100 years, for the Don Valley Stadium in Sheffield, after disputes with the landlords.   
   
Chairman Stewart appointed Steve Evans as manager on 9 April 2012. Evans got them promoted back to League 1 in the 2012–13 season. The same season also signalled a new era for Rotherham United as the club returned to playing home matches in Rotherham, at the newly-built New York Stadium.   
   
Rotherham gained back-to-back promotions by winning the 2013-2014 League One play-off final. Rotherham beat Leyton Orient 4-3 on penalties after a 2-2 draw, having come back from 2-0 down.  
 
In the 2014–15 Championship season, Rotherham's first after a nine-year absence, their survival was jeopardised by a points deduction for fielding the ineligible Farrend Rawson during their home win against Brighton & Hove Albion, Farrend Rawson's loan had expired two days prior to the match, and despite the club insisting it was an external administrative error, they were subsequently thrown back into a relegation battle with Wigan Athletic and Millwall, but safety was secured in the penultimate game of the season, a 2–1 home victory against Reading.

Rotherham sold key players from their promotion winning campaigns before the 2015–16 season, including Ben Pringle, Craig Morgan and Kari Arnason. Evans left the club in September and former Leeds United manager Neil Redfearn was appointed as his replacement, being sacked in February 2016 after a run of six defeats in eight games.

Neil Warnock was appointed as manager for the rest of the season, and the club stayed up, finishing 21st. Warnock left the club in May 2016 after not agreeing a contract extension. Alan Stubbs became the new Rotherham boss in June 2016, but was sacked in October.

Rotherham replaced Stubbs with Kenny Jackett, who himself was replaced with Paul Warne, as Rotherham finished the season bottom of the league and were relegated to League One.

At the first attempt, Rotherham returned to the Championship, defeating Shrewsbury in the play-off final.
The Manager – Paul Warne
Media Watch - K L Blue
Future Captain?
https://footballleagueworld.co.uk/futur ... er-update/
Reply to Martin Samuel
https://www.twtd.co.uk/blogs/21763/dear-martin-samuel
...
Carlos Edwards View
https://www.eadt.co.uk/sport/edwards-to ... -1-5843849
Form Guide
Ipswich Last 5 Matches – Currently in 24th place with 15 points
15 Dec Ipswich Town 1 - 0 Wigan Athletic


22 Dec Ipswich Town 1 - 1 Sheffield Utd


26 Dec QP Rangers 3 - 0 Ipswich Town


29 Dec Middlesbrough 2 - 0 Ipswich Town


1 Jan Ipswich Town 2 - 3 Millwall






Rotherham Last 5 Matches – Currently in 21st place with 25 points
15 Dec Rotherham 1 - 1 Reading


22 Dec Rotherham 0 - 4 West Bromwich


26 Dec Bolton 2 - 1 Rotherham


29 Dec Bristol City 1 - 0 Rotherham


1 Jan Rotherham 2 - 1 Preston

Marko's Caption Contest – THE DON CUP
I had these scores to the preview guys early. Didn't think anyone would be posting funny stuff after that Stanley debacle. Chins up though, let's hear some nice things said about Mr Mevans.
ACCRINGTON SCORES:
Ando 5pts (sleepover)
AylesburyBlue & Frosty 4pts
Todd66 3pts
Kerry Blue & Nicscreamer 2pts
LEAGUE TABLE
NICSCREAMER 57
ANDO 50
FROSTY 47
TANGFASTIC 45
DERICKIPSW 44
BLUEMIKE 42
AYLESBURYBLUE 37
NUMBER 9 33
BLUEBLOOD 29
IPSWICHTOWNNO1 28
WATERSHIP DOWN 14
JOHNNYB 9
PATTHEGIMP 8
BLUEPETER 7
BARMY BILLY 6
BLUEWILF 5
SHED ON TOUR 5
KERRY BLUE 4
TODD66 3
MASSEYFERGUSON 3
MARVINBAY1973 2
CHARNWOOD 1
KL BLUE 1
OHIOTRACTORBOY 1

CAPTION PICTURE:
Match referee – James Linington
IPSWICH TOWN

2

ROTHERHAM UNITED

1