Bolton Wanderers

v

Ipswich Town

Saturday 20th January 2018 – 15:00


Macron Stadium
Pre Match Thoughts - Mike
Saturday's victory over Leeds Utd ended the poor run we had been on and it saw us record our first win since coming out on top against Reading back in the Middle of December, in what would probably go down as one of the best games seen at Portman Road this season Town still found it tough to overcome a Ten man Leeds outfit following the justified sending off of Eunan O'Kane for his headbutt on Jonas Knudsen, I have read many comments about how frustrating it was to still make heavy weather of it despite the numerical advantage but it is very hard to play against Ten men, in some ways it can be harder than against Eleven who go looikng to win the game so I think it should still be marked down as a positive days work. Of course it took a moment of sublime brilliance from Bersant Celina to secure the points, man what a goal that was, it would not look out of place in any Goal of the season competition, Town also managed to hit the woodwork twice so it was not as if we weren't knocking on the door at times, my understanding is that Dean Gerken only had to make one really serious save despite Leeds creating some good openings after going a goal behind. It appears Jonas Knudsen showed once again why he is so much better as a Left CB than a natural Fullback and alongside Chambo the pair of them had staunch games, the Midfield pairing of Connolly & Skuse seems to have continued where they left off too by complimenting each other so well which is very pleasing to hear as we are still strethced beyond belief in the Midfield area.

One thing that appears to have been excellent at the weekend was the atmosphere for the game, of course Leeds bringing so many fans was always going to make a huge difference but Town fans responded too and I am reliably informed they more than played a part, it brings me to the old argument of moving Away fans down to the North Stand end on a regular basis, it would make for a great atmosphere at most games and I am sure it would not be impossible to implement, let's face it Portman Road has for some years now been pretty ordinary where noise is concerned, apart from the odd game against Norwich and Newcastle that is, the players remarked on how much of a lift it gave them hearing all the town fans getting behind them, definitely food for thought.

With the Transfer window more than half way through we still find ourselves dipping a toe rather than diving right in, the arrival of Aaron Drinan was known about long ago so hardly feels like a new signing while the recent arrival of Chris Goteni has hardly got the pulses racing, of course time will tell on that one and we wish him well. It still looks more likely that some may be leaving as Tommy Smith & David McGoldrick seem possibles to depart, from what I am hearing of Didsy's efforts last weekend it would seem a sensible move for all concerned, MM was quick to shoot down the conspiracy theories regarding Bart's dubious non appearance against Leeds and of course it does raise doubts as to whether he too will still be at Ipswich come 31st January, some seem suicidal at the thought but I must say providing we bring in a good, dependable replacement while bagging Four Million into the bargain it would not bother me that much if I am honest, i've never hidden my feelings that as a shot stopper he is the best at this level but at everything else I find him bang average.

Incredibly we find ourselves still only Four points off the Play Off places so it is still very much all to play for, games against the likes of Bolton just have to be won which is why this weekends trip to lancashire is very important, drwas now are not going to cut it and defeat is unthinkable, it has to be Three points, if we had Huws, Webster, Adeyemi, Dozzell etc etc available to us I would honestly feel we would have a chance of the play offs but realistically we will find it hard to get the Thirteen wins required, that is not to say it is impossible but a very tall order indeed, one good thing is that Sheff Utd and Bristol City are now starting to feel the heat and I cannot help but think Cardiff too may just run out of steam so there could well be Two places still very much up for grabs. Town are good enough to win at Bolton, of that there is no doubt, and despite some recent improvement from the Trotters I feel a Town win is on the cards to keep our slim hopes alive for a while longer. COYB'S!

The Opposition – Bolton Wanderers
The club was founded by the Reverend Thomas Ogden, the schoolmaster at Christ Church in 1874 as Christ Church F.C. It was initially run from the church of the same name on Deane Road, Bolton, on the site where the Innovation factory of the University of Bolton now stands. The club left the location following a dispute with the vicar, and changed its name to Bolton Wanderers in 1877. The name was chosen as the club initially had a lot of difficulty finding a permanent ground to play on, having used three venues in its first four years of existence.

Bolton were one of the 12 founder members of the Football League, which formed in 1888. Having remained in the Football League since its formation, Bolton have spent more time in the top flight (Premier League/old First Division) than out of it.

The period before and after the First World War was Bolton's most consistent period of top-flight success as measured by league finishes, with the club finishing outside the top 8 of the First Division on only two occasions between 1911–12 and 1927–28. In this period Bolton equalled their record finish of third twice, in 1920–21 and 1924–25.

On 28 April 1923, Bolton won their first major trophy in their third FA Cup final, beating West Ham United in the first ever Wembley FA Cup final. They followed this up with two further FA Cup Final victories in 1926 & 1929.

From 1935 to 1964, Bolton enjoyed an uninterrupted stay in the top flight.

The years of the Second World War saw most of the Wanderers' playing staff see action on the front, a rare occurrence within elite football, as top sportsmen were generally assigned to physical training assignments, away from enemy fire. However, 15 Bolton professionals, led by their captain Harry Goslin, volunteered for active service in 1939, and were enlisted in the 53rd Bolton Artillery regiment. Only Goslin would not return from the war.

On 9 March 1946, the club's home was the scene of the Burnden Park disaster, which at the time was the worst tragedy in British football history. 33 Bolton Wanderers fans were crushed to death, and another 400 injured, in an FA Cup quarter-final.

Bolton Wanderers have not won a major trophy since 1958, when they overcame Manchester United in the FA Cup final at Wembley Stadium.

While Bolton finished 4th the following season, the next 20 years would prove to be a fallow period. The club suffered relegation to the Second Division in 1963–64, and were then relegated again to the Third Division for the first time in their history in 1970–71. This stay in the Third Division lasted just two years before the club were promoted as champions in 1972–73. Hopes were high at Burnden Park in May 1978 when Bolton sealed the Second Division title and gained promotion to the First Division. However, they only remained there for two seasons before being relegated, and then slipped back into the 3rd Division at the end of the 1982/83 season.

Bolton failed to win promotion in the 1983–84 season, and would remain in the Third Division for another three seasons. In 1986 Nat Lofthouse was appointed President of the football club, a position he would hold until his death on 15 January 2011. At the end of the 1986–87 season, Bolton Wanderers suffered relegation to the Fourth Division for the first time in their history, but won promotion back to the Third Division at the first attempt.

Bolton reached the Premiership in 1995 in the Division One play-off Final. The same year Bolton progressed to the League Cup Final, but were defeated by Liverpool. Bolton were bottom for virtually all of the 1995–96 Premiership campaign and were relegated.

The club won promotion back to the Premiership at the first attempt thanks to a season in which they achieved 98 league points and 100 goals in the process of securing the Division One championship. Unfortunately yet again, Bolton were relegated after only one season in the top flight. This season also marked the club's departure from Burnden Park to the Reebok Stadium.

In 2000–01 Bolton were promoted back to the Premiership after winning the play-off final. Bolton struggled in the following two seasons, but survived in the Premiership.

Bolton reached the League Cup final in 2004, but lost to Middlesbrough. Nevertheless, the club finished eighth in the league, at the time the highest finish in their Premiership history.

In 2005 Bolton finished sixth in the league, thus earning qualification for the UEFA Cup for the first time in their history. Between 2003–04 and 2006–07, Bolton recorded consecutive top-eight finishes. Bolton survived in the 2009–10 season as they finished 14th with 39 points. This secured a tenth successive top flight campaign for Bolton.

On 13 May 2012, Bolton Wanderers were relegated to the Championship by one point on the last day of the season.

The Championship season started badly for Bolton, with only three wins in ten league matches and a second round exit from the League Cup following a loss at Crawley Town, Bolton sacked manager Owen Coyle on 9 October 2012. Fourteen days later Dougie Freedman joined the club as manager, who guided them to a 7th place finish at the conclusion of the season.

Although Freedman made a number of signings for the 2013/14 campaign, Bolton ended the season firmly mid-table, with the expectations of another promotion push not met.

The 14/15 season started similarly, failing to win any of their first 6 games and only one of the first ten. Freedman left the club on 3 October 2014 by mutual consent, with Neil Lennon taking the helm.

In December 2015, Bolton, who were £172.9 million in debt, were handed a winding-up petition from HM Revenue and Customs over unpaid taxes, and a transfer embargo for the following month's window. On 18 January 2016, the club avoided an immediate winding-up order after their case was adjourned until 22 February to give it time to either close a deal with a potential buyer or raise sufficient short-term funds from asset sales.

On 9 April 2016, Bolton confirmed their relegation to the third tier for the first time since 1993. Lennon was removed from his position for the final few games of the season, replaced by Academy manager Jimmy Phillips.

The financial situation was somewhat improved as a takeover bid by Dean Holdsworth's Sports Shield was successful.

The 2016-2017 season provided some much-needed respite for beleaguered BWFC fans, as the club successfully achieved promotion from League One at the first attempt. New manager Phil Parkinson was instrumental in this, working despite an ongoing transfer embargo and ownership disputes between Holdsworth and Ken Anderson.

The Manager – Phil Parkinson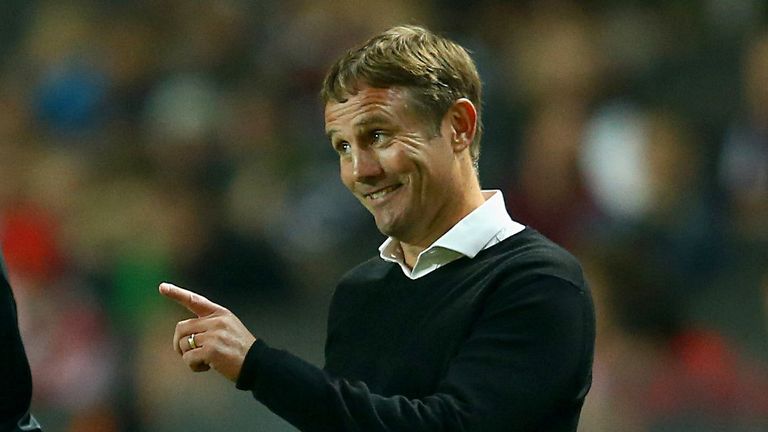 Past Match Video - Trev
Media Watch – K L Blue
Form Guide
Bolton Last 5 Matches - Currently in 21st place with 25 points
23 Dec Bolton 2 - 0 Cardiff City


26 Dec Middlesbrough 2 - 0 Bolton


30 Dec Sheffield Utd 0 - 1 Bolton


1 Jan Bolton 1 - 0 Hull City


13 Jan Brentford 2 - 0 Bolton
Ipswich Last 5 Matches – Currently in 12th place with 39 points
23 Dec Wolverhampton 1 - 0 Ipswich Town


26 Dec Ipswich Town 0 - 0 QP Rangers


30 Dec Ipswich Town 1 - 2 Derby County


2 Jan Fulham 4 - 1 Ipswich Town


13 Jan Ipswich Town 1 - 0 Leeds Utd
Fixtures of Interest that could affect Towns League position
NORWICH

VS

SHEFFIELD UTD






PRESTON N.E.

VS

BIRMINGHAM CITY






QUEENS PARK RANGERS

VS

MIDDLESBROUGH






READING

VS

BRENTFORD
Match Referee – Peter Bankes
BOLTON WANDERERS

1

IPSWICH TOWN

2