Ipswich Town

v

Doncaster Rovers

Saturday 14th September 2019 – 15:00


Portman Road
Pre-Match Thoughts - Mike
Does Anybody Care ???




So Town kept their good start to the season going with a come from behind victory over Tottenham Hotspur U21s in the first group match in the EFL Trophy (or whatever it's called), the big question is "does anyone actually care"? Everyone I speak to replies with the same comment, "I would rather go out of this competition and concentrate on the League" Now don't get me wrong the league really is the be all and end all of this season but surely it's good to win any game we take part in, after all it gives Paul Lambert the opportunity to play some of the younger players, the fringe players and players returning from injuries, I personally don't see any negatives in this at all and I am sure a certain Jordan Roberts was chuffed to get a run out and Two goals into the bargain, add to that Emyr Huws & Jon Nolan gained some valuable game time in their quest to return to full fitness which again could be crucial in the coming months.

I think the biggest plus of the night was the performance of a certain Armando Dobra who once again took his chance when it came along, having stood out at Luton in the Carabao Cup where he netted our goal Dobra again drew the plaudits for his all round display which was capped off by Two assists for Jordan Roberts to plunder the goals and in doing so has surely given boss Paul Lambert yet another option going forward as he looks every bit ready to be thrust into League One battle should the need arise, yes he was playing against U21s on this occasion but that was not the case at Luton Town and again he more than held his own.

I think with a home game to come against Gillingham and a trip up the road to Colchester we have given ourselves every chance of progressing through from the group stages of this competition where I believe it reverts to a straight knock out, let's be honest any trip to Wembley would be most welcome no matter what tournament it is and while there is still a long long way to go you can bet your bottom dollar should that happen Town fans would be clamouring for cup final tickets so let's not pretend too much that we don't care if we win or lose, that mentality will soon go out of the window should we progress further.




Back To The Bread & Butter




I must be honest I was chuffed to bits when Saturday's trip to Spotland was called off as I would have missed it but OMG a weekend without Football really is horrible in the extreme and I cannot wait to get back in the groove this weekend when Doncaster Rovers come calling. Having slipped to Third in the table due to our inactivity it gives us a really good chance of regaining our rightful spot at the top, of course Wycombe wanderers & Coventry City may have something to say about it but with trips to Gillingham & Burton for those Two the chance is very much there for us. Donny themselves have started pretty well and are unbeaten in their opening five games, winning the last Three in decent fashion, home wins against Lincoln City, Fleetwood Town & Rotherham Utd are decent results and they should not be underestimated, in James Coppinger they have a very dangerous player who needs to be shackled closely, getting on he may be but he still has it and can unlock a defence at any time so he for me is the one we need to watch but I believe if Town can play their game and take it to them we should have enough in the locker to grab another Three points, I think it will be harder than Shrewsbury Town were so patience could be the key and again the crowd will have a massive part to play, the support has been superb so let's crank it up again and cheer the boys to another home win, Town to take it by the odd goal or Three.

The Opposition – Doncaster Rovers

The club was formed in 1879 by Albert Jenkins, a fitter at Doncaster's Great Northern Railway works. He gathered together some friends to play a match against the Yorkshire Institute for the Deaf and Dumb in September 1879. On walking back from the game, the team took a rest at the Hall Cross, and had a discussion in which they decided to play more and called themselves Doncaster Rovers.

They were first elected to the Football League in 1901, as a replacement for New Brighton Tower. Their first season in the League was in fact the one when Doncaster achieved their highest position ever (7th in the Football League Second Division). They only lasted two seasons in the league before being voted out in favour of local rivals Bradford City, having finished the 1902 season in the bottom three.

They spent the subsequent season in the Midland League, only managing 11th place out of 18 but were elected back to Division 2. This time, in 1904–05, Doncaster finished bottom with W3 D2 L29, adrift by 12 points, gaining only 8 points – an unfortunate still standing record. They were voted out once again.

They remained in the Midland League until they were again accepted into the Football League Division 3 North for 1923–24 to replace Stalybridge Celtic.

The next few seasons saw them rise towards the top of the table, then decline towards the bottom, before in the early 1930s finishing consistently near the top and finally becoming Champions in 1934–35.

Rovers spent two seasons in Division 2, before being relegated in 1936–37.

Doncaster Rovers were involved in the longest ever competitive football match, against Stockport County at Edgeley Park on 30 March 1946, in a Division Three (North) cup tie. The match was deadlocked at 2–2 at 90 minutes, and after two 10-minute periods of extra time there was no further score. The rule at that time was that the game would carry on until one team scored. However, after 203 minutes, and with darkness closing in, the game was finally stopped.

In 1946–47 Doncaster set a record for the most games won in a league season (33), when they won the Third Division North title. The following season saw them relegated from the Second Division, but two years later, they won the Third Division North again. This time they stayed in the Second Division for eight seasons, their most successful period to date.

During the early 1990s, Ken Richardson, who was later described by detectives as "the type that would trample a two-year-old child to pick up a 2p bit"took over as the majority shareholder of the club. He ploughed a lot of money into Doncaster Rovers with one thing on his mind, a new stadium. When he was refused a new stadium by the council he soon lost interest. Richardson hired three men to torch Belle Vue and planned to sell the ground to developers. The attempt put Richardson in jail for four years. In 1998 Rovers dropped out of the league with a −83 goal difference.

The Westferry Consortium took over the Club just before the beginning of the 1998–99 season with a commitment to invest heavily in the club. They also brought in John Ryan as a non-executive chairman and he took over at the end of this season. Having aspirations of returning it to the second tier where he had seen them when he was a boy, he stated he would build a new stadium within ten years, both of which he went on to achieve within the ten years. Doncaster found their best form in 50 years in the 2000s.

After five seasons in the Conference League, under the helm of manager Dave Penney the club returned to the fourth tier (known at the time as Division Three) after winning the 2003 Conference Play-Off final.

In 2003–04, the first season they were back in the Football League, Rovers achieved promotion to the third tier as Champions.

A new stadium was completed in December 2006. Doncaster's first game at the new Keepmoat Stadium was against Huddersfield Town on New Year's Day, 2007.

On 1 April 2007, Doncaster Rovers travelled to the Millennium Stadium, Cardiff to play Bristol Rovers in the Football League Trophy final which they won 3-2 to claim their first major trophy.

2007–08 proved to be one of the most exciting seasons in Doncaster's history. Defeat on the final day of the season cost them automatic promotion but they won their semi-final playoff to advance to the League One play-off final at Wembley on Sunday 25 May 2008 where they beat Leeds United 1–0 to move into Football League Championship after a half century absence.

The first half of the 2008–09 season saw Doncaster struggling to adapt to the Championship despite a promising start which saw them bottom of the Championship on 20 December 2008. Rovers managed to turn things around and ultimately ended their first season in the Championship comfortably in 14th position.

Doncaster finished two places higher in 12th in the 2009/10 season, however the 2010–11 season proved to be Doncaster's most trying season in the Championship thus far finishing in 21st place.

Doncaster Rovers struggled in the 2011–12 season and were relegated to League One with three games still to play.

The squad was rebuilt for the 2012–13 season with 19 players leaving. Expectations were low, but after an average start, Doncaster finished the season one point above Bournemouth as Champions.

Following promotion to the Championship for the 2013–14 season, Paul Dickov was brought in as manager. To boost support for their chosen charity, Bluebell Wood Children's Hospice, the club signed Louis Tomlinson of boy band One Direction on a non-contract basis.

On 9 November, John Ryan gave an emotional farewell and stepped down as Chairman of the Club after 15 years, amid reports of boardroom disagreements following a proposed takeover bid by a hedge-fund consortium lead by Sequentia Capital.

On 3 May 2014 Doncaster were relegated back to League One after just one season following a defeat to Leicester City on the final day of the season.

Rovers finished the 2014–15 season in 13th place, before being relegated to League Two after finishing 21st in 2015–16 with new manager Darren Ferguson.

The 2016–17 season saw them being promoted back to League 1 at the first attempt in 3rd position.

Last season Doncaster finished in 6th place in League 1 where they met Charlton in the playoff semi-finals, ultimately losing on penalties after the scores were tied 4-4 after the two matches.

The Manager – Darren Moore
Form Guide
Ipswich Last 5 Matches – Currently in 3rd place with 14 points
10 Aug Ipswich Town 1 - 1 Sunderland


17 Aug Peterborough 2 - 2 Ipswich Town


20 Aug Ipswich Town 2 - 1 Wimbledon


24 Aug Bolton 0 - 5 Ipswich Town


31 Aug Ipswich Town 3 - 0 Shrewsbury

Doncaster Rovers Last 5 Matches – Currently in 7th place with 11 points
3 Aug Doncaster 1 - 1 Gillingham


10 Aug Rochdale 1 - 1 Doncaster


17 Aug Doncaster 3 - 2 Fleetwood


20 Aug Bolton pp. Doncaster


24 Aug Doncaster 2 - 1 Lincoln


7 Sep Doncaster 2 - 1 Rotherham
Marko's Caption Contest – THE DON CUP
Another decent week of captions for the Shrewsbury game. Couple of pre-season favourites decided to skip it for whatever reason but hopefully they're back this week.
Shrewsbury Town scores:



JohnnyB 5pts
DerickIpsw (cap 1) & Number 9 (cap 2) 4pts
AylesburyBlue (cap 2), Quasar & Shed on Tour (cap 2) 3pts
Ando (cap 2) & Blue Wilf (cap 1) 2pts
LEAGUE TABLE
AylesburyBlue 20
Bluemike 14
Tangfastic 13
Ando 12
Shed on Tour 11
DerickIpsw 11
Number9 11
Johnny B 9
Kerry Blue 8
Blue Wilf 8
Frosty 7
Barmy Billy 7
Quasar 7
Blueblood 6
Todd66 6
Nicscreamer 4
Watership Down 3
Charnwood 3
IpswichTownNO1 1
AshfordBlue 1
Lucy 1
MasseyFerguson 1
Darren Moore caption....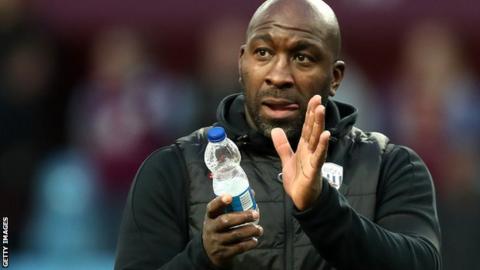 Match Referee - Ollie Yates
IPSWICH TOWN

1

DONCASTER ROVERS

0