Blackpool FC

v

Ipswich Town

Saturday 10th October 2020 – 15:00

Blackpool Football Stadium
Pre-Match Thoughts - Bluemike
The Kids Did Us Proud........




The EFL Trophy may not be high on Town's or anyone else's list of priorities but I must admit to really enjoying the game against Gillingham on Tuesday evening, not only did we get a positive result but the manner in which the youngsters went about it was pleasing to see, with virtually a complete team of inexperienced faces representing Town we took the game to the Gills and looked much the better side throughout, the style of play mirroring that of the first team and dare I say it at times equally as good.

Darren Ambrose hit the nail on the head while commentating that those players will have had the thought in their head that they had been picked to lose the game and that would have fired them up no end, ok Paul Lambert clearly didn't want to lose but he probably wasn't bothered in the slightest had it not gone our way, the players on the other hand wanted to impress and impress they did, the manager refused to single out individuals by insisting it was a very good team effort and of course he is right but I want to single out one and that was Centre Back Elkan Baggott who I thought was superb throughout his debut, cool and composed on the ball, confident bringing it out of defence, accurate with his passing, good in the air, positionally sound the boy did all that was asked of him and more, it's only one game and in a tin pot cup but we may have a real talent on our hands here.
Watch out for the name......Elkan Baggott




Others to impress were Armando Dobra who was as good as Baggott and thundered in a superb goal, Corrie Ndaba, Tyreece Simpson, Ben Folami, Brett McGavin and Liam Gibbs, like Baggott, Dobra looks a real talent and it surely won't be long before he is challenging for the first team squad, the way he turns players while running with the ball is superb, Gibbs was another who looked the part and his tireless work rate was instrumental in setting up the crucial second goal, so all in all it was a satisfying evening and I can't wait to see them all in action again against Crawley next month where victory would see us progress through.




Oh I Do Like To Be Beside The Seaside......




Following the cancellation of Town's home game with Charlton Athletic we wasted little time in arranging a trip to Blackpool FC who also had their intended game cancelled. There is Two trains of thought here, the first that it is good to keep the continuity going while we are doing well and the second is that with a fair few injuries still hampering Lambert and co. that maybe a free weekend would have been the preferred option, personally I am in the former, we need to play games, Blackpool are struggling a little results wise and we are doing the reverse so while nothing is certain it would appear the correct decision to go ahead with the fixture even though we look like being without the likes of Ward, Downes, KVY, Norwood, Drinan etc etc but as we saw on Tuesday it gives others the opportunity to come in and seize their chance.

Blackpool find themselves Fourth bottom with a solitary win and Three defeats to date, their win coming against Swindon Town while one of the teams to beat them were none other than Gillingham which hopefully augers well for us after Tuesday evenings success. The Tangerines were a bit unlucky last time out falling to a late comeback by high flying Lincoln after having been ahead so again they are not to be under estimated.

Town will find themselves coming up against a certain Luke Garbutt who needs no introduction and who will be fired up for it, what we must not do is give away careless Free Kicks around our box because that is the One area where he can and probably will hurt us, although on the flip side he does have issues defensively so depending on where he plays it could work either for us or against us.

I think this could well be a tricky game as they were quietly fancied prior to the big kick off, last season we went there and really should have won it but it was another game that we grabbed defeat from the jaws of victory in so hopefully this time we turn our performance into points. I can see this ending all square but we don't want to see the same town turn up that struggled in the second half against MK Dons, that would only end one way, if we are on our game there is no reason why we cannott get another away win, however I will stick with a low scoring draw on this occasion. COYB'S.
The Opposition – Blackpool FC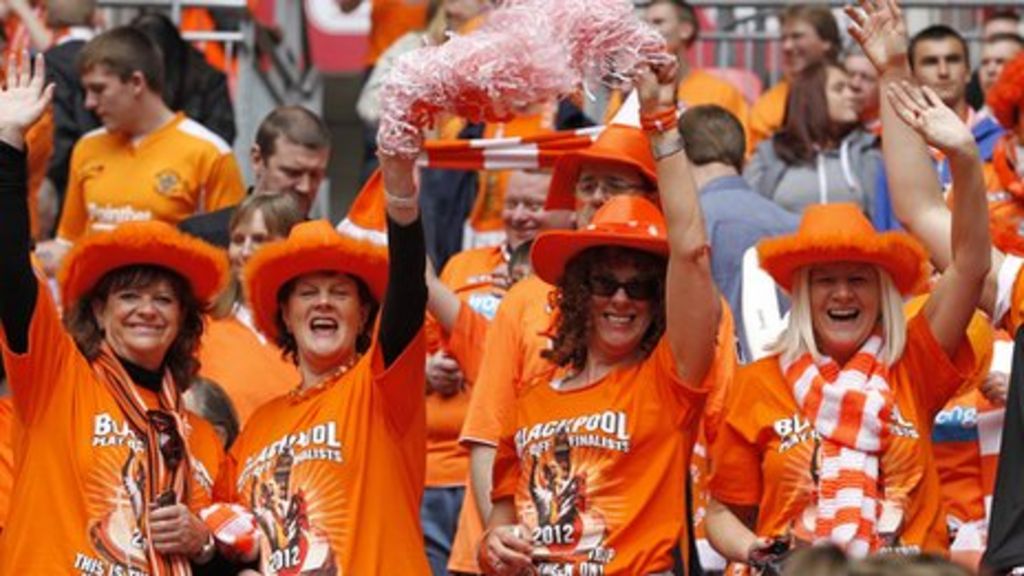 Football had developed in Blackpool by 1877, when Victoria F.C. were founded as a church club with a ground in Caunce Street. This team disbanded a few years later but some of its members are understood to have merged with old boys from St John's School to form a new club called Blackpool St John's. The two factions remained disunited, however, and on 26 July 1887, at a meeting in the Stanley Arms public house, the members resolved to wind up St John's and form a new club to represent the whole town. It was named Blackpool Football Club.

At the conclusion of the following 1888–89 season, Blackpool became founder members of the Lancashire League. In their first season in the competition, the club finished fifth out of the 13 member clubs. They finished as runners-up over the following three seasons (to Bury twice and Liverpool once), before winning the championship themselves on their fourth attempt.

Blackpool's home at that point in time was Raikes Hall (also known as the Royal Palace Gardens), which was part of a large entertainment complex that included a theatre and a boating lake, amongst other attractions. This meant that the club's average attendances were around the 2000 mark, making the club's formative years a financial success.

After struggling to repeat the success of the 1893–94 season, the Blackpool board decided it was time to leave local football behind, so on 13 May 1896 the club became a limited company and applied for entry to the Football League. Their application was successful, and for the club's debut season, 1896–97, they joined the 16-team Second Division. Blackpool's first-ever Football League game took place on 5 September 1896, at Lincoln City, which they lost 3–1 in front of around 1,500 spectators.

For the 1897–98 campaign, the club played their home games at the Athletic Grounds (at the present-day Stanley Park). They remained there for the first seven home games of 1898–99, before returning to Raikes Hall for the remaining 10.

After finishing third-bottom, the club were not re-elected at the end of the 1898–99 season, and spent the 1899–1900 term back in the Lancashire League. They finished third, and after the Football League's annual meeting, on 25 May 1900, were permitted back into Division Two. It was during this season out of the League that Blackpool amalgamated with local rivals South Shore and moved to Bloomfield Road.

During the 10 seasons that followed, Blackpool could finish no higher than 12th place.

The outbreak of war forced the cancellation of League football for four years, during which time regional competitions were introduced. When normality resumed, in 1919–20, Blackpool had appointed their first full-time manager in the form of Bill Norman. Norman guided the club to fourth-placed finishes in his first two league seasons in charge.

The club's form nosedived in the 1921–22 season, with a finishing position of 19th, before bouncing back to a fifth-placed finish the following campaign. Harry Bedford, who had joined the club from Nottingham Forest, was the country's top league scorer, with 32 goals to his name.

Frank Buckley, who replaced Bill Norman after his four years of service. Blackpool finished fourth in Buckley's first season in charge. Buckley guided Blackpool to top-10 finishes in his final two seasons as manager before he left to take the helm at Wolverhampton Wanderers. Buckley's replacement was Sydney Beaumont, who took charge for the 1927–28 season, but he lasted only until the spring after the club finished in 19th position.

Harry Evans was installed as the new Blackpool manager, in an honorary capacity, for the 1928–29 campaign. In his second season, Evans guided Blackpool to the Division Two championship (their only championship to date).Blackpool lasted only three seasons in the First Division. Two third-bottom finishes were followed by a last-placed finish, and the club returned to the Second Division.

The club's relegation prompted the Blackpool board to install a recognised manager, and they opted for Sandy MacFarlane. MacFarlane occupied the Bloomfield Road hot seat for just two seasons, in which the club finished 11th and 4th.

Joe Smith was appointed Blackpool's sixth manager in August 1935, a role in which he remained for the next 23 years. The club finished tenth in Smith's first season. It was Smith's second season in charge, however, that marked the starting point of the success to come. Blackpool finished the 1936–37 season as runners-up in the Second Division and were promoted back to the First Division.

Two seasons of Division One football were played before the Second World War intervened. Blackpool sat atop the table at the time the abandonment occurred. Regional competitions were implemented again between 1939 and 1945. For the 1945–46 season, after the war's conclusion, Blackpool spent one season in the Football League North.

Post-war Blackpool reached the FA Cup Final on three occasions, losing to Manchester United in 1948 and Newcastle United three years later, and winning it in 1953.

For the first and only time in the club's history, four Blackpool players (Johnston, Matthews, Mortensen and debutant Ernie Taylor) represented England in the infamous 6–3 defeat by Hungary at Wembley on 25 November 1953. Of the four, only Matthews would ever represent his country again.

In 1955–56 Blackpool attained their highest-ever finish in the Football League: runners-up to Manchester United, despite losing their final four league games. It was a feat that could not be matched or bettered over the following two seasons, with fourth and seventh-placed finishes, and Smith left Blackpool as the club's most successful and longest-serving manager.

Smith was succeeded, in May 1958, by Ron Suart, the first former Tangerine to return to the club as manager. Mid-table finishes in 1961–62 and 1962–63 (and an appearance in the League Cup semi-finals during the former) were offset by another lowly finish of 18th in 1963–64. Much of the same ensued over the following two seasons, before relegation finally occurred in 1966–67. Blackpool finished bottom of the table, Stuart had resigned four months before the end of the season. His replacement was another former Blackpool player, Stan Mortensen.

Mortensen picked up the pieces for the club's first season back in the Second Division in 30 years, guiding them to a third-placed finish. At the end of the following 1968–69 campaign, the Blackpool board made the decision to sack Mortensen after just over two years in the job. Their decision was met by fans with shock and anger, as Mortensen was as popular a manager as he was a player.

Les Shannon, who spent the majority of his playing career with Blackpool's Lancashire rivals Burnley, was installed as manager for the 1969–70 season. In his first season, he succeeded where Mortensen had failed, by guiding the club back to the top flight as runners-up behind Huddersfield Town. As quickly as Shannon had taken Blackpool up, he saw them return whence they came. The club finished at the foot of the table and were relegated back to Division Two. Before the season's conclusion, Shannon was briefly replaced in a caretaker-manager capacity by Jimmy Meadows, who in turn was permanently replaced by Bob Stokoe. On 12 June 1971, well over a month after the conclusion of the League season, Blackpool won the Anglo-Italian Cup with a 2–1 victory over Bologna in the final.

Blackpool finished amongst the top 10 teams in the Second Division for six consecutive seasons, under three different managers: Stokoe, Harry Potts and Allan Brown. Twice Blackpool narrowly missed promotion to Division One, by two points in 1974 and one point in 1977.

In February 1978, midway through 1977–78, Brown's second season at the helm, Blackpool were seventh in the division. Having just beaten local rivals Blackburn Rovers 5–2, Brown was sacked by chairman Billy Cartmell for personal reasons. The team won only one more game that season, which ended with their relegation to the Division Three for the first time in their history.

Blackpool were relegated with 37 points (the seven teams above them all having 38), and were not to return to the second tier for 29 years.

Bob Stokoe returned for a second stint as manager for the 1978–79 campaign, at the end of which Blackpool finished mid-table. Stokoe resigned during the summer.

Stan Ternent became Blackpool's seventh manager in nine years, only to be replaced in February 1980 by Alan Ball, the popular former Blackpool midfielder who left the club for Everton 14 years earlier. Ball himself only lasted a year in the job, and departed when the club were relegated to the League's basement division. Allan Brown had taken over from Ball in February 1981, and he remained in charge for the following 1981–82 term. Blackpool finished twelfth in their first season in Division Four; however, unable to handle the pressure of the job, Brown resigned during the close season.

Sam Ellis took over from Brown in June 1982, three years after he finished his playing career with Watford. His first season saw Blackpool finish 21st. It was Ellis's third season, however, that brought the success the club had been looking for. Blackpool finished second behind Chesterfield and were back in Division Three. The club managed to finish in the top half of the table for their first three seasons in the Third Division, but slipped to 19th in Ellis's seventh and final season in charge.

On 17 April 1986, the board of directors put the club on the market after councillors rejected plans to sell Bloomfield Road for a supermarket site in a £35 million redevelopment scheme. The club was then sold to Owen Oyston for £1.

For the 1989–90 season, Blackpool appointed Jimmy Mullen as manager. Mullen's reign last only 11 months, however, and he left the club after their relegation back to Division Four. Graham Carr replaced Mullen, but his spell in the manager's seat was even shorter – just four months. He was sacked in November 1990 with Blackpool in 18th place.

Carr's replacement was his assistant, Billy Ayre. Ayre guided the team to a fifth-placed finish and qualification for the play-offs. Blackpool lost to Torquay United in the Wembley final, on penalties after the score was tied 2–2 after regular and extra time.

The following 1991–92 season finished with Blackpool in fourth place, missing out on automatic promotion by one point, which meant another play-offs experience They returned to Wembley, where they faced Scunthorpe United in the final, and were victorious in the penalty shootout and booked their place in the new Division Two.

Blackpool struggled in their first term back in the third tier of English football, Ayre was sacked in the summer of 1994 and was replaced by Sam Allardyce. Allardyce led Blackpool to a mid-table finish in his first season. The 1995–96 season saw Blackpool finish third and claim a place in the play-offs for the third time in six seasons. In the semi-finals, Blackpool travelled to Bradford City and won 2–0. Three days later, they hosted the Yorkshiremen at Bloomfield Road and lost 3–0. Blackpool remained in Division Two, and Allardyce was sacked not long afterwards.

In 1996, owner Oyston was convicted of the rape of a 16-year-old girl. Former Norwich City manager Gary Megson replaced Allardyce, and attained a seventh-placed finish in his only season in charge. Nigel Worthington succeeded Megson in the summer of 1997, and in the Northern Irishman's two full campaigns in the hot seat, Blackpool finished 12th and 14th. Worthington resigned towards the end of the 1999–2000 season, and his seat was filled by the former Liverpool and England midfielder Steve McMahon.

McMahon arrived too late to save the club from relegation to the Third Division (fourth tier) after a 22nd-placed finish in the table. In his first full season in charge, Blackpool were promoted to Division Two by winning the play-offs. The following season the club received its then record outgoing transfer fee; £1.75million from Southampton for Brett Ormerod, eclipsing the £600,000 QPR paid for Trevor Sinclair eight years earlier. They also gained the first of two Football League Trophy wins in 2002 as Blackpool beat Cambridge United 4–1 at the Millennium Stadium. Their second win was in 2004, this time beating Southend United 2–0 again in Cardiff. In the summer following the Trophy win, McMahon resigned, believing he could not take the club any further with the budget he was being offered. Colin Hendry became the new manager, but was replaced by Simon Grayson in November 2005 after an unsuccessful stint which left Blackpool languishing just above the relegation zone of League One (third tier).

In the 2006–07 season Blackpool qualified for the play-offs, and they met Yeovil Town in the final at the new Wembley Stadium, their first appearance at England's national stadium in 15 years. Blackpool won 2–0, a club-record tenth consecutive victory, and were promoted to the Championship in their 100th overall season in the Football League. The promotion marked their return to English football's second tier for the first time in 29 years.

Blackpool finished the 2007–08 season in 19th place, escaping relegation by two points and ensuring their safety in a 1–1 draw with Watford on the final day of the Championship season.
On 23 December 2008, Simon Grayson left the club to join League One club Leeds United after just over three years in charge at Bloomfield Road. Under the guidance of Grayson's assistant, Tony Parkes, in a caretaker manager capacity, Blackpool finished the 2008–09 campaign in 16th place. Parkes left the club on 18 May 2009 after a meeting with chairman Karl Oyston about finances.

On 21 May 2009, Ian Holloway was appointed as manager, signing a one-year contract with the club with an option of a further year. On 31 July it was announced that club president Valeri Belokon was setting up a new transfer fund, into which he was adding a "considerable amount" to invest in new players identified by Holloway.

Blackpool finished the 2009–10 regular season in sixth place in the Championship, their highest finish in the Football League since 1970–71, and claimed a spot in the play-offs. Blackpool defeated Cardiff City 3–2 on 22 May in the Championship play-off final at Wembley Stadium to earn promotion to the Premier League. It was Blackpool's debut appearance in the Premier League in its 18-year existence and their first appearance in English football's top flight in 39 years. Blackpool had now, uniquely, been promoted through all three tiers of the Football League via the play-off system. Furthermore, they won all nine play-off games they were involved in during the 10 seasons between 2001 and 2010. The fixture was dubbed "the richest game in football", because the victorious club would receive a £90 million windfall. It was more than double the £36 million that the winners of the Champions League received.
On 27 January 2011, the Premier League fined Blackpool £25,000 for fielding what they believed to be a weakened team against Aston Villa on 10 November. Ian Holloway, who initially threatened to resign if punishment was dealt, had made 10 changes to the team for the fixture. The club had 14 days to appeal against the decision but chose not to, with Karl Oyston saying that if the punishment was upheld there was a threat of a point deduction and an increase in the fine.

On 22 May 2011, exactly 365 days after their promotion, Blackpool were relegated back to the Championship

On 9 May 2012, Blackpool secured their place in the Championship play-off final in their second consecutive season in the division after beating Birmingham City 3 the semi-finals. They met West Ham United in the final at Wembley on 19 May, losing 2–1, their first play-off final reversal in 21 years.

On 3 November 2012, Ian Holloway decided to leave Blackpool after accepting an offer from fellow Championship club Crystal Palace to be their manager. He was replaced four days later by Michael Appleton, however, after being in charge for just two months, Appleton left for Lancashire neighbours Blackburn Rovers, becoming the shortest-serving manager in Blackpool's history.

On 18 February, after just over a month without an appointment, the club made former England captain Paul Ince their third manager of the campaign. It was under Ince that the club made their best-ever start to a league season. Their victory at Bournemouth on 14 September 2013 gave them 16 points out of a possible 18. The sequence of results was two wins, a draw, and three wins. This was countered by a run of nine defeats in ten games, which resulted in Ince being sacked on 21 January 2014, eleven months into his tenure.

Barry Ferguson was named caretaker manager upon Ince's dismissal. Of Ferguson's twenty league games in charge, Blackpool won just three and finished the 2013–14 season in 20th place. On 11 June 2014, almost five months after Paul Ince's dismissal, the club appointed Belgian José Riga as manager. He was Blackpool's first overseas manager.

Prior to the start of the 2014–15 season Blackpool suffered a major crisis with some 27 players leaving the club; just two weeks before the season started, the club had only eight outfield players and no goalkeeper. Riga was able to assemble a squad in time for Blackpool's first game against Nottingham Forest, but could still only name four substitutes instead of the permitted seven. Blackpool lost the match 2–0.

On 27 October 2014, after fifteen games in charge, Riga was sacked and replaced by Lee Clark.

On 6 April 2015, with six league fixtures remaining, Blackpool were relegated to League One. On 2 May 2015, the final match of the Championship season against Huddersfield Town was abandoned in the 48th minute following an on-pitch protest by hundreds of Blackpool supporters regarding the actions and management style of the directors and owners. The Football League subsequently declared the result the 0–0 scoreline it was at the time of abandonment, which meant Blackpool finished the season with 26 points.

Following the resignation of Lee Clark on 9 May 2015, Blackpool appointed Neil McDonald as manager on 2 June. In May 2016, a second-successive relegation occurred, which put Blackpool in the bottom tier of English professional football for the first time in fifteen years. Less than two weeks later, Neil McDonald was sacked as manager. He was replaced by Gary Bowyer, the club's eighth manager in three-and-a-half years.
.
In May 2017, under Bowyer, Blackpool won promotion to League One after beating Exeter City 2–1 at Wembley in the play-off final. The victory meant that Blackpool became the most successful side in English play-off history, winning their fifth final.

On 10 November 2017, Blackpool was put up for sale by the Oyston family. The sale included the club itself and the properties division that owns Bloomfield Road stadium.

On 2 February 2018, Owen Oyston relieved Karl Oyston of his role as chairman and appointed his 32-year-old daughter, Natalie Christopher, in his place, just two weeks after appointing her to the club's board.

Gary Bowyer resigned in August 2018 after two years in charge, after the first game of the season for undisclosed reasons. He was replaced with his assistant Terry McPhillips as caretaker manager. McPhillips was made the permanent manager a month later.

On 13 February 2019, the football club was put into receivership by the High Court, which forced Owen Oyston to pay ex-director Valeri Belokon some of the £25m he was owed. Oyston was removed from the board of the club by the receiver on 25 February 2019. The receiver was tasked with discharging some of Oyston's assets, as well as Blackpool Football Club (Properties) Ltd, which owns the football club. The ruling could have resulted in the club being deducted twelve league points; however, this was eventually ruled against by the EFL on 11 April 2019.

On 13 June 2019, Simon Sadler was announced as the new owner of the club, officially ending the Oystons' 32-year tenure, purchasing a 96.2% stake. Sadler was born and raised in Blackpool and has worked in asset management in Hong Kong since 2007.

McPhillips resigned as Blackpool manager on 5 July 2019, having informed the club's board that he had no long-term desire to be a manager. He was replaced by Simon Grayson, who returned for a second spell in charge. He became the third manager to return to Bloomfield Road, the others being Bob Stokoe (1970–72 & 1978–79) and Allan Brown (1976–78 & 1981–82).

Despite a strong start, a poor run of results followed and Grayson was sacked for a second time on 12 February 2020.

Liverpool U23s manager Neil Critchley was appointed, in (as a first for the club) a head coach capacity, as his replacement on 2 March 2020. After a curtailed regular season due to the COVID-19 pandemic in the United Kingdom, Blackpool finished the 2019–20 season season in 13th position after standings were amended to reflect a points-per-game ratio.
The Manager– Neil Critchley

Form Guide
Blackpool Last 4 Matches – currently in 21st place with 3 points
12 Sep Plymouth 1 - 0 Blackpool


19 Sep Blackpool 2 - 0 Swindon Town


26 Sep Gillingham 2 - 0 Blackpool


3 Oct Blackpool 2 - 3 Lincoln City
Ipswich Last 4 Matches – currently in 3rd place with 10 points
13 Sep Ipswich Town 2 - 0 Wigan Athletic


19 Sep Bristol Rovers 0 - 2 Ipswich Town


26 Sep Ipswich Town 2 - 0 Rochdale


3 Oct Milton Keynes 1 - 1 Ipswich Town

Marko's Caption Contest – THE DON CUP
Bear with us regarding the caption comp and scoring. Going to blame "the Rona" for this. Having a Shyte affect on everyone's lives in different parts of the world...... things are obviously prioritised differently at the moment. And shout out to buddy's daughter Amanda who has the Rona in Geelong, Oz. Get well soon, Dawling.


Have a pop at this, Dortmund legend & King C*nt.
Match Referee – Christopher Sarginson
BLACKPOOL FC

1
IPSWICH TOWN

2